If you are someone who enjoys trails and the great outdoors, then you know that proper footwear is an absolute must-have.
Whether walking, hiking, or even running, you will need proper shoes to provide the right amount of grip, protection, and comfort for trails.
That is why the Hoka Trail shoes are so popular and sought after, so let's take a look at what they have for you.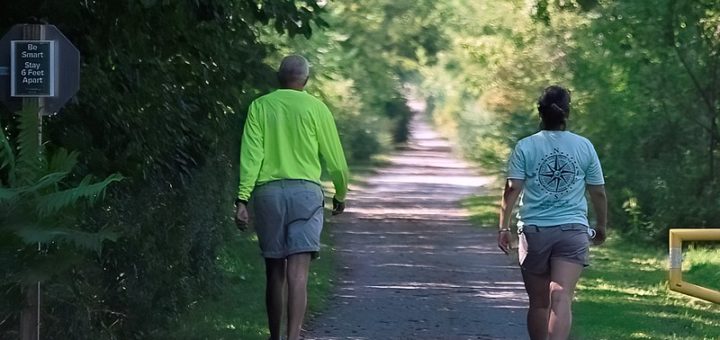 ---
Why You Need Trail Shoes Specifically
So why do you need trail shoes exactly? As a beginner, you may ask this.
Trail shoes are much more robust, but most importantly, their soles are designed specifically for wet, slippery, and uneven trails.
Lug Treads – Trails shoes have very lug tread that provides maximum grip on loose and uneven trails, in wet mud, on loose stones and debris, and even on sand and grass.
Heel to Toe Drop – Most trail shoes have a slightly lower drop than general road running shoes and have a more uniform sole for better balance on uneven trail surfaces. They also provide more even cushioning from the heel to the forefoot.
Support – A trail shoe cradle your foot in a much better position to prevent it from moving around and to keep your ankles more stable in general.
Cushioning – Cushioning will depend on your walking trail. Softer grassy and sandy trails require much less cushioning, whereas harder rocky trails will need some cushioning for impact protection. Hoka Shoe doe offers you different shoe models, with different forms of cushioning as trail shoes.
Waterproofing – Many Trail shoes are waterproof to protect your feet from becoming wet, or they have breathable mesh materials that dry quickly. Gore-Tex is mostly used in Hoka Waterproof shoes.
Underfoot Plate – Sometimes, an underfoot plate is placed between the midsole and outsole to protect your feet from punctures.
---
Choosing Trail Shoes
Trail shoes are either for running, walking, or hiking. You can wear trail running shoes for walking.
Generally, Trail shoes have a much more aggressive and grippy lug than road running shoes, which is the main difference between them.
The Difference Between Trail and Road Shoes
Before choosing Trail running shoes, you need to know your specific foot type and the support you need.
For racing and running on general terrains, a very lightweight trail shoe is required, whereas, for muddy and unstable terrains, you need more waterproof and sturdy trail shoes, and for
Steep and difficult terrains, you will need proper stability and support.
---
Features of a Good Hoka One Trail Shoe
Uppers – Hoka Trails shoes are available in either suede or nubuck leather options or Updated mesh with 3D print overlays in their lighter weight models. The waterproof models have a Gore-Tex lining that breathes well and still protects you against wetness. For stability, they may have a mid-foot seatbelt fit or locked-down fit and added midfoot support. The tongue can be gusseted and breathable for reduced weight.
Midsole – The Midsole may be a CMEVA or EVA midsole with PROFLY technology or compression molded technology. Some designs have a wider forefoot and full midsole as well as an additional cushioning layered insole.
Outsole – The Hoka One Trail range has a rubber outsole with 4mm or 5mm lugs for better grip on uneven terrains and wet terrains. Some of the Trail models have a Vibram Mega grip rubber outsole or a sticky grip outsole.
Technologies – Some models have an additional rubber toe cap and strategic high abrasion rubber zones for durability and grip. The flat-waisted geometry of most of their trail model shoes allows for better ground contact.
Options – The Options available to you will be in size and width, as well as a few more colors to select from.
---
Reviews: The Best Hoka One Trail Shoes
Here are the top favorite Trail shoes models from Hoka One;
---
1
One of the absolute best Hoka One Trail shoes is their Speedgoat 4, it is the most popular.
These trail shoes have updated mesh uppers for breathability with 3D printed overlays for midfoot support as well as a lockdown midfoot fit.
There is a gusseted tongue and lacing eye rows with a small, winged component for a more secure fit.
The midsole is lightweight and minimal, and there is a wider forefoot.
The Vibram Mega Grip rubber outsole has 5mm stepped lugs for superior traction and grip on uneven surfaces.
This is a trail running and walking shoe.
---
2
The Hoka One Kaha is a Trail walking and hiking boot that is a bit heavier duty.
It has full grain genuine nubuck leather uppers and a waterproof gore-tex lining that breathes well.
Inside is a cushioning EVA top layer and a rubberized protective midsole.
The outsole is a Mega Grip Vibram rubber with a 5mm lug tread for exceptional grip on slippery outdoor surfaces.
---
3
The Stinson ATR 6 is a textile training shoe for light trail walking.
It has mesh uppers with seamless overlays and a breathable abrasion-resistant textile lining.
Inside is a removable foam padded insole for cushioning and a lightweight midsole for underfoot support.
The sticky rubber outsole will work well on light trails. However, I would stay clear of very wet and muddy trails with this one.
---
4
The Challenger ATR is another superb trail walking and running shoe from Hoka One.
It has Unifi Reprieve recycled yarn uppers and collars meshes that are very breathable.
The tongue is gusseted, and there are recycled poly laces.
The midsole is a CMEVA foam, and the sole ahs zonal rubber placements to reduce weight,
The all-terrain rubber sole has a 4mm lug tread.
---
5
The Mach 3 from Hoka One is generally a regular running shoe but can be worn on lightless hazardous trails.
There are textile and jacquard mesh uppers and good midfoot lockdown.
Inside is a removable padded insole for soft cushioning.
The midsole has lightweight and durable with Profly technology for underfoot support and shock absorbency.
As for the sole, it consists of a rubberized foam with a textured tread for all terrains.
---
5
The Hoka One Clifton is a good choice for light trails and road walking and running.
The uppers are breathable open engineered mesh with an abrasion-resistant and moisture-wicking textile lining.
There is a removable cushioning insole and a full-length EVA midsole for underfoot protection.
The rubber outsole has inserts for improved grip on slippery surfaces.
---
Index Table: Top Rated Hoka One Trail Shoes
---
---