Driving can hold many dangers, and you need to be at your wits and have the proper footing to break when needed.
The Shoes you wear can impact how you handle the pedals, which basically drive your car. They can make driving safe and easy or difficult and very dangerous.
In this article, we will look at some of the best shoes for driving that you can also wear casually or slip on and off easily in between.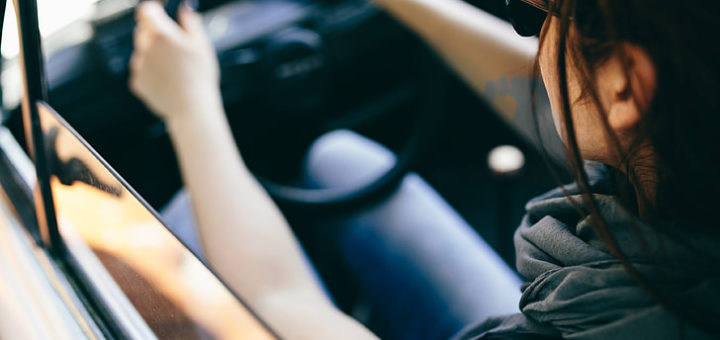 ---
Why do You Need Driving Shoes
So here are a few reasons and scenarios where footwear can affect your driving;
Slip Resistance – A shoe that slips the pedals easily when you try to step on them can be very dangerous. When you need the brakes in an instant, and your foot slips off or slips and steps on the petrol instead, it can be devastating. Therefore the number one factor is a good grip on the pedals, which many shoes and bare feet do not provide.
Heels and Flip Flops – High heels and Flip Flops are the two worst shoe types for driving with easily. The heels can get stuck to the mat underneath your feet or the pedals, and flip flops slip off and get stuck. This can cause you to lose control of your car and suffer severely.
Foot Fatigue – On long trips, shoes that offer no support or comfort can cause foot fatigue, pain, and even numbness, which in turn affects your driving skills and causes Fatigue.
Chunky Shoes – Very Large and Bulky shoes may not be able to step on a single pedal at a time and can be complicated and heavy to use, as well as in the way more than what they are comfortable to drive with.
Driving Barefoot – Driving Barefoot may feel comfortable at first and as if you have much more control. Yet after a while, your feet are going to become terribly tired and strained, and they may sweat and become slippery. So, in the end, driving barefoot is never a good idea.
---
Good Shoe Types for Driving With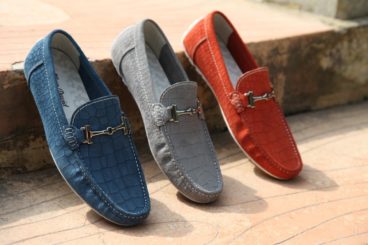 There are, however, a few shoe types and designs that are great two drives with.
All in all, a low flat sole or low heel, slip-resistant rubber sole, and less bulky design shoe with comfort and support features are your best options.
Loafers or Moccasins – Loafers and Moccasins are among the top favorite shoes for driving. Loafers and Moccasins have a comfortable slip-on design; they are usually cushioned and have a high grip rubber outsole. Their shape is also more narrow and less bulky.
Sneakers – Sneakers are also an excellent option for driving if you make sure that the laces are tied correctly or opt for a hook and loop closure. Sneakers can likewise be worn for driving and casually for all occasions, so there is no need to change your shoes between trips.
Sports Sandals – In hotter weather, a comfortable and supportive design sport sandal with a closed or slingback back is ideal. It will keep your feet cool and stay on your feet without slipping. Most sports sandals also have a slip-resistant outsole, which is perfect for driving with.
---
Features of a Good Driving Shoe for Women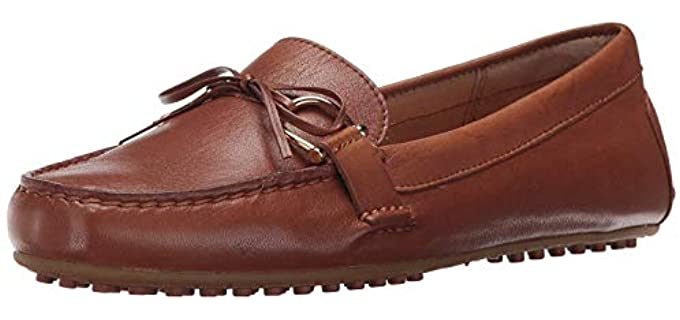 Uppers – Comfortable and lightweight uppers are recommended. Leather, Canvas, Mesh, and synthetic leather are good choices in the upper. A moisture-wicking lining also helps to keep your feet dry and cool.
Sole – The sole minimal cushioning and support are required in driving the only shoe, and more if it will be used for walking and other purposes. However, more features mean added weight: the Sole needs to be flexible and light for easy movement and flexion of the feet.
Outsole – The outsole is RUBBER and must have lug patterns for better grip on the pedals of your car to prevent slips.
Closure – Although I recommended slip-on options rather than laces that can get in the way, if you do opt for a lace-up sneaker, make sure that the laces are tied properly.
---
Reviews: The Best Driving Shoes for Women
Here we have some shoe models that are perfect for Driving with, and ideal for women;
---
1
The Puma Prowl is a versatile and fashionable sneaker that is light and offers a good grip, making it ideal for driving and casual wearing.
The Prowl has a synthetic and fabric upper that is very lightweight and breathable.
There is a comfortable padded insole, and the sole is quite flexible as it is a training shoe.
The design is likewise easy to slip on and off and very fashionable for casual wear.
You can get the prowl in four different color options of white or black.
The rubber sole is durable and offers good traction.
---
2
A good sports sandal such as the ECCO Yucatan is likewise ideal for driving. The Yucatan is an outdoor sandal that many offroad drivers and cyclists also use.
The Nubuck leather upper is lined and padded for your comfort with adjustability features.
The fit is snug and comfortable and with stretchable materials and a moisture-wicking lining.
The Injection PU midsole and RECEPTOR technology provide comfort and superior support.
The lug rubber outsole ensures excellent grip and slips resistance.
The sandal is likewise quite lightweight and available in plenty of colors from which you can choose.
---
3
The Converse Chuck Taylor All-Star truly is one of the most accepted and versatile sneakers that you can find. It suits almost any fashion, formal and casual, and is lightweight, with a superb rubber outsole making it ideal for driving.
You can mix and match a pair of All-Stars Converse with almost any outfit on the planet and look absolutely fashionable.
The Sneaker is also perfect for driving and very versatile.
The canvas uppers are lightweight and breathable, and the lace-up feature ensures you get just the right secure fit.
Furthermore, the footbed is lightly padded for comfort, and the sole is quite flexible.
The shoe is very lightweight and flexible overall.
The rubber outsole has lug patterns on the tread that provide excellent grip and traction.
---
4
I love the Ansley Moccasin because it is ideal as a slip-on and off-driving shoe and makes the perfect warm and plush slipper for wearing at home.
I Highly recommend the Ansley for driving within colder weather conditions as it is lined and insulated.
The uppers are genuine sheepskin leather, and there is sheep wool inside the shoe for warmth.
The sole is a lugged rubber that is perfect for slip resistance and driving.
The shoe slips on and off easily, which makes it the ideal driving shoe.
You can choose between a few neutral color options to get your favorite.
---
5
The Lauren from Ralph Lauren is designed specifically for driving purposes.
The uppers are genuine leather, and the shoe has a slip-on loafer design that is casual and comfortable.
There is a lightly padded insole for comfort and a slight heel.
The rubber sole is designed for optimal grip on the pedals of a car.
The shoe is lightweight and generally runs small and narrow, so it is advised to size up.
There are also three neutral colors from which you may choose.
---
6
The Clarks Dameo Swing is another slip-on loafer style shoe perfect for driving and wearing as a casual comfort shoe.
The uppers are genuine leather and lined for your comfort.
An Ortholite Sockliner and Cushion Soft technology Footbed provides plush cushioned comfort and moisture management.
The rubber sole ensures excellent grip and traction and is very durable.
You can also select from four color options in the Dameo Swing.
---
Index Table: Top Rated Driving Shoes
---
---