If you like playing around with different fashion ideas, or even if you are just a Chukka boot kind of girl, this article is especially for you.
We look at some of the Best Chukka Boots for Women and how you can wear them with different types of outfits.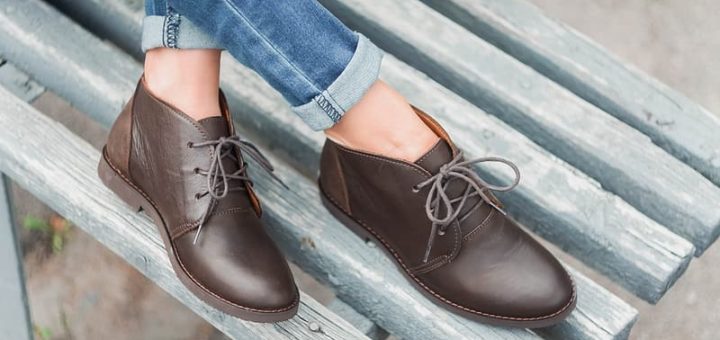 ---
The Chukka Boot
The Chukka Boot is an ankle-high design leather boot with either suede or smooth leather uppers and a rubber or leather sole. The Chukka boot is known for its distinct two or three eyelets lace-up design.
The Name Chukka comes from Polo's game, where Chukka means a "period of play."
Chukka boots mostly consist of genuine leather. However, today it can be found in synthetic material options.
Chukka boots today also come in a large array of colors and prints, besides just the old fashioned natural leather colors.
---
How to Wear Your Chukka Boot
So on the subject of fashion, let us look at a few outfit types for ladies that go superbly with a pair of Chukka boots;
Business Layered Outfit – A cropped pair of skinny pants or jeans, with a patterned button shirt and a knit sweater layered over it, goes well as a professional outfit with Chukka Boots.
Casual Young Look – For something fresh and casual, a large oversized T-Shirt and leggings go well with a comfy pair of Chukka Boots.
Smart Casual – A smart casual look for work and other occasions that works well with Chukka boots is a Cargo design pants, with a white lace top and black leather or blazer type jacket.
Spring and Fall Look – For a fun spring and Fall look, you can wear a colorful printed sweater with a pair of skinny or cuffed jeans and your Chukka Boots.
Dresses – Chukka Boots go well with most dress styles, especially shirt dresses and light frilly dresses. Pair your dress with a zipped coat for cooler days and some warm winter tights.
Skirts – A High waisted flare skirt or a mini skirt with a pair of winter tights for cold weather or none are ideal. Pair this with a t-Shirt or blouse top and a cropped jacket.
---
Features of a Good Chukka Boot for Women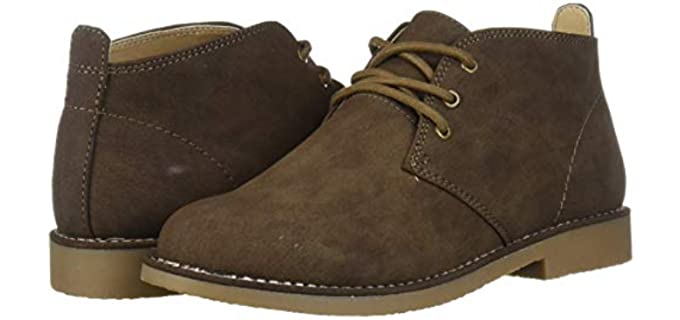 Uppers – The Upper consists of either a genuine or synthetic leather available in nubuck, suede, smooth, and other feel options. There is also usually an interior microfiber lining to wick away moisture. The design is a boot that comes up to your ankle or lower. The Upper is usually not lined in the more classic styles. However, newer models may have a textile or microfiber interior lining.
Midsole and Insole – Chukka boots have a flat sole, so there is usually not much cushioning. However, some models may have a padded insole or midsole or EVA for cushioning.
Outsole – The Outsole can be either synthetic, leather, or a durable rubber, which is usually flat or uniform with a slightly lug tread.
Closure – The Chukka boot in its classic design will have two, no more than three eyelets with a lace-up closure design.
Heel – Some ladies models in Chukka boots may have a slight low heel. Chukka boots generally have a flat sole and very thin leather sole when you look at the older original models. Some models for ladies will have a slightly higher heel and thicker sole for added comfort and sophistication.
Colors and Options – Colors are usually brown and neutral earthy colors in Chukka boot models, though I have seen many other colors and even printed options available.
---
Reviews: The Best Chukka Boots for Women
---
1
Hush Puppies is an orthopedic comfort shoe brand, and their Chukka Boots are the most comfortable, with the largest variety available.
The Hush Puppy boot comes in a huge range of colors, prints, and different materails options such as smooth leather, suede leather, and fabrics.
The sole is a durable and high traction rubber with a shallow heel.
Inside is a breathable skeletal microfiber lining for comfort and a leather sockliner.
There is also a light;y padded polyurethane cushioned footbed for comfort.
---
2
The UGG Neumel is a Chukka design boot ideal for cold winters, with a pure wool lining.
The Upper is a soft suede leather from genuine sheep leather.
Inside is a plush wool lining for insulation and warmth during cold winters.
There are a few neutral color options available from which you can select.
Inside is a soft cushioned EVA sole for your comfort, and there is a durable EVA outsole.
---
3
White Mountain is a popular and trusted shoe brand that makes some of the most outstanding Chukka boots.
The White Mountain Chukka boot has a synthetic smooth sole with a low heel.
Ther is a heel tab for easy on and off convenience.
The uppers are genuine leather, and there is availability in a few neutral color options.
Inside us, a comfortable padded insole.
The outsole has a lug tread for better grip and traction.
---
4
The Clarks Chukka boot comes in a huge range of colors from which you can choose with the Classic Chukka boot style.
The Clarks Chukka boot has a thicker rubber outsole with a slight heel.
The uppers are genuine suede leather and available in many color selections.
The sole is a contrasting yellow color.
Inside is comfortable padded insole for light cushioning.
---
5
The Seneca from Eastland is a genuine leather Chukka boot with a synthetic sole.
The uppers are 100% genuine leather that is smooth and soft.
There are a few neutral color options for your perusal.
The sole is smooth and synthetic with a low heel.
The added heel pull tab makes t easy to pull the shoes on and off.
---
6
The Dials Maj Chukka Boot has an elegant and simplistic design and is available in a few neutral color options.
The Seven Dials Chukka boot has genuine leather uppers in a soft suede feel.
There is a durable synthetic outsole with a low heel.
These also feature a pull tab at the heel for easy on and off.
A few neutral color options are available that you can select from as you desire.
The toe has a softer almond shape, and there is a lace-up closure.
---
Index Table: Top Rated Women's Chukka Boots
---
---