Let us face it, standing on your feet all day takes a huge toll not only on your feet but on your entire body.
One of the best investments you can make when you need to stand for lengthy periods is in a good pair of Adidas shoes for standing all day.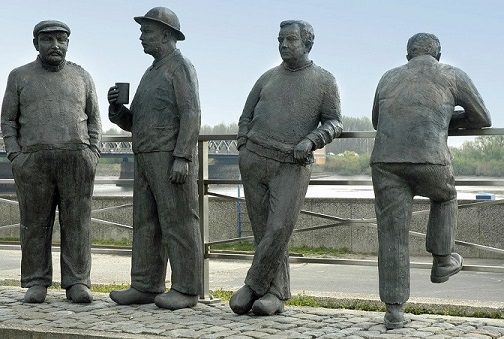 ---
Tips for Sore Feet from Standing All Day
Standing on your feet all day causes immense pressure on your feet, back, and lower limbs. You will often end the day with aching feet and legs, as well as back pain and stiff muscles.
Besides wearing properly supportive footwear, there are more precautions that you can take to
Stretching – Stretching your legs, body, and feet at regular intervals between standing and moving around can help to strengthen and soothe sore muscles and joints.
Foot Massage – a therapeutic Foot massage will soothe and ease painful muscles after a long day.
Healthy Posture – Keep a proper Posture. This prevents fatigue and muscle aches and also improves breathing and digestion.
Foot Soaks – You can soak your feet in Epsom salt or other bath salts to ease and soothe painful muscles and tired feet every night.
Regular Breaks – Take regular breaks between standing to move around, stretch or even sit down for a few minutes.
Proper Shoes – Wear supportive and comfortable shoes, and avoid heels and flat shoes at all costs.
---
How Adidas Shoes will Help You
Adidas shoes are durable and have unique comfort features, which are all that you need for standing on your feet all day;
Comfortable and Breathable Fit – Most Adidas shoes have either a Regular comfortable fit with leather or mesh upper, or the flexible and adaptable KKnit r Primeknit uppers, which are breathable and lightweight. These designs are perfect for keeping your feet cool and comfortable all day.
Well Cushioned – The cushioning systems used in Adidas shoes provide excellent shock absorbency and comfort, which are all ideal when standing all day. Along with arch support and stability features, you will also enjoy better support; this is especially noticed in the Adidas nurse shoes.
Durable – If anything, Adidas shoes are durable and have a robust rubber outsole consisting of Continental or Adiwear rubber, which can withstand hard floors and surfaces and standing all day.
---
Features of a Good Adidas Shoe for Standing All Day
Uppers – In a Good Adidas shoe for standing all day you want a comfortable and flexible fit that offers god breathability dn is more lightweight. The Primeknit and knit options are ideal for this as well as the mesh, or combination mesh and synthetic options. Some designs are also seamless so there are less friction and irritation.
Interior – Inside, a moisture-wicking mesh or textile lining can provide comfort and wick away moisture. Along with a comfortable Cloudfoam Memory foam or padded insole, you will have plush underfoot cushioning.
Midsole – Cloudfoam provides very softly and plush underfoot cushioning, while EVA is more lightweight and durable. The responsive Boost midsole designs are the best option as they are more energizing and supportive for standing all day.
Fit – For the fit, you can choose a regular or sock-like fit that depends on the model; for better structure, a more lockdown sock-like fit is ideal for room and comfort; a regular fit is better.
Outsole – Durable Continental rubber is used for the outsole or Adiwear high wearing and abrasion resistant technology, which are both ideals for standing all day. You can look at the regular patterns on the tread, Zonal herringbone patterns, or even the Strehcweb net-like patterns that offer excellent traction.
Options – There are many size options available and half sizes, and in a few models, you will find width options. Printed and different color selections are available in all of the models from Adidas.
---
Reviews: The Best Adidas Shoes for Standing All Day
Below I have listed some exceptional shoe modesl from Adidas that are perfect for Standing All Day;
---
1
The Senseboost Go Running model from Adidas supports and cushioning features, which makes standing all day a breeze.
The Knit upper, breathable well and have an adaptive tongue, fit for a more natural feel.
There is a responsive Boost midsole that energizes your feet and provides cushioning that fights foot fatigue.
A Stretchweb rubber outsole, offers a tread with more even nodes and grooves for better traction and durability.
The regular lockdown fit will also provide all-day wear adaptable and comfortable fit.
---
2
Shoes for Standing All Day
The Cloudfoam features the Cloudfoam cushioning technology perfectly if you are on your feet all day.
The Stretchmesh upper stretches with an adaptive design to your movements and your feet' shape while allowing proper air circulation and cooling comfort.
A Cloudfoam Memory foam sock liner and Cloudfoam Midsole provide an exceptionally plush and energizing cushioning for standing all day.
Furthermore, the Rubber outsole consisting of Continental rubber is very durable for standing all day.
You can likewise choose from many color models available in both these shoe ranges.
---
3
Running Shoes for Standing All Day
The Solarboost 21 will boost your energy levels and prevent foot fatigue allowing you to stay on your feet longer.
The uppers are lightweight and breathable mesh with reinforced tailored fiber placements and stitching for durability.
Tere us a Responsive energizing boost midsole for cushioning and shock absorbency.
The Continental rubber outsole is highly durable and offers excellent high traction capabilities.
There are also many color options available in the Solarboost 19 model.
---
4
Sneakers for Standing All Day
The U-Path is cushioned and has a fashionable style for standing all day, no matter its occasion.
The design offers a roomy and regular fit with mesh and synthetic uppers.
There is an EVA midsole for shock absorbency and an Ortholite insole to absorb moisture and provide comfortable cushioning.
The Continental rubber outsole is durable and ensures a good grip on most surfaces.
Choose your favorite color from a few available in this specific model.
---
5
Comfortable Walking Shoes
The Duramo SL is a superb shoe for standing all day, with many comforts and support features available to you.
The textile and synthetic uppers are light and breathable with mesh and a seamless overlay that reduce friction.
A Lightmotion midsole offers superb cushioning along with the moisture-managing Ortholite footbed.
The Adiwear outsole is my favorite because it is durable and robust for heavy-duty wear.
You can also choose your favorite color from the many options available at this stage.
---
6
Standing All Day Casual Sneaker
The Kaptur is a soft and well-cushioned shoe from Adidas with an elegant and sleek design for standing all day.
The uppers are a sift and smooth, breathable textile material with a sock-like comfortable fit.
There is a Cloudfoam cushioned midsole combined with the Cloudfoam Sockliner to manage moisture and absorb shock.
The Ultra Plush cushioning is exceptionally comfortable and soft under your feet for all-day wear.
A durable Continental rubber outsole will ensure that these shoes do not wear out fast.
You can also select from a few more neutral color options, which are available for your perusal.
---
Index Table: Top Rated Adidas Shoes for Standing All Day
---
---