Today sporty styled shoes have become so much more fashionable and acceptable to wear for almost all occasions and with all outfit types, even formal outfits.
Adidas is a favorite brand for fashionable and casual everyday wear shoes, and in this article, we will look at some of their much sought-after casual models.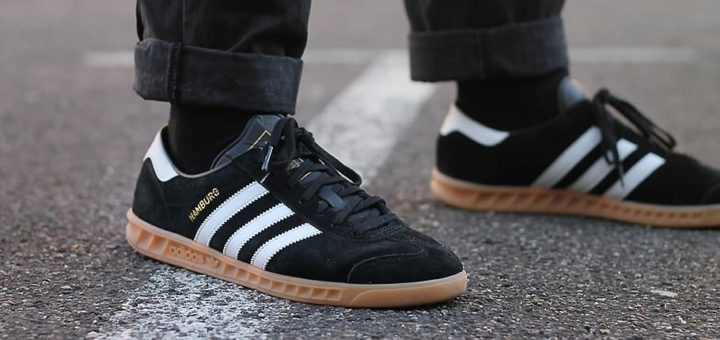 ---
What Makes Sneakers the Ideal Casual Shoe
So why are sneakers the ideal Casual wear shoe?
Well, for two reasons;
Comfort – Sneakers and athletic shoes are extremely comfortable to wear and come with many features that cushion, support, and keep your feet comfortable. They also generally have a much more comfortable fit. The fact that they do not have high heel or very flat soles are likewise great news for the health and comfort of your feet.
Verstaility – If anything Sneakers and Athletic shoes are versatile. They come in all colors and fashionables styles and designs that can perfectly complement almost any outfit.
---
How to Wear Your Adidas Sneakers and Shoes Casually
But let us go a bit further and look at some trendy fashion styles with which you can wear your Adidas sneakers or athletic shoe proudly;
Jeans or Joggers – The basic sneakers such as the Superstars or canvas styles from Adidas go very well with joggers, jeans, and even formal style pants in both men and women. Because these styles mostly come in black or white color options, they easily pair with any outfit and color.
Hoodie or Cardigan – For a More casual style, you can wear a hoodie or cardigan with your joggers or jeans along with any Adidas shoe model for a stylish casual look.
Dress or Skirts – For the ladies combining a feminine maxi, mini r midi dress, or skirt with your Adidas canvas or leather sneakers can create an exquisite and fashionable appeal.
Shorts or Crops – For summer days in a pair of shorts, almost any style Adidas shoe goes well with shorts and crops.
---
Features of a Good Adidas Shoe for Casual Wear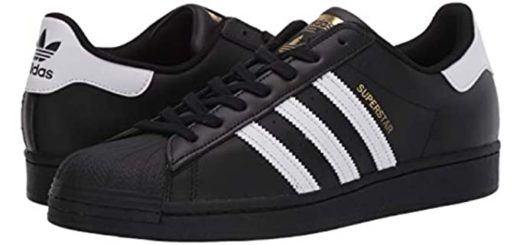 Uppers – In the Casual range, you have the more sophisticated Leather or canvas sneakers, and then the athletic range with knit or mesh uppers. Inside is a comfortable lining and insole that is lightly padded, and the tongue and collar are usually not padded for casual shoes.
Cushioning and Support – Most Casual sneakers only have a lightly padded insole and thicker sole for support and comfort. However, some of the Athletic designs will have a Boost or Cloudfoam plush and dual-density midsole for better support and comfort.
Outsole – For the most part, the sole will be either Gum rubber, rubber, or Continental rubber, depending on the model, with a tread for improved traction. Some models also feature a cup sole design.
Options – There are usually some color options available in most casual Adidas sneakers, although black and white with contrasting logos are more prevalent.
---
Reviews: The Best Adidas Shoes for Casual Wear
Looking for comfortable and fashionable Adidas shoes for everyday comfort wear, well look no further!
---
1
Most Comfortable Casual Shoes
The Adidas Alphaboost is one of the most comfortable casual running shoes with a sleek and fashionable appeal.
You can choose from a few solid color options a well as two-tone colors.
The uppers are a soft Air Mesh for breathability and to keep your cool, with forged mesh for support.
The soft and comfortable cushioned Boost Midsole has a dual-density layer for support and comfort.
The rubber outsole is durable and ideal for almost all surfaces with the continental high grip rubber.
---
2
Leather Shoes for Casual Wear
One of the most favored Casual shoe models from Adidas has always been the All-Stars Original.
The Upper rare a full-grain leather with perforations for breathability, giving it a more formal appeal and comfortable fit.
There are contrasting black or white color options available with the logo stripes. These color options go well with any color or style of outfit.
The rubber sole is thick and durable with a high traction tread.
Inside is a comfortable insole and smooth lining to keep your feet cushioned and moisture-free.
---
3
Everyday Casual and Walking Shoes
The Pulseboost HD is a running shoe that also holds a sleek and fashionable Appeal.
The adaptive Knit uppers flex and adapt to your feet and their movements, which gives you a comfortable fit and more freedom of movement ultimately.
Inside is a high-density Boost midsole for cushioning and responsive support.
The Continental rubber outsole is highly durable and slip-resistant on most surface types.
There are also a few fashionable color options available for your perusal to pair with your favorite outfit.
---
4
One of the plushest and Comfortable shoe ranges for casual wear from Adidas is the Cloudfoam.
You can also enjoy a more snug sock-like fit with breathable and light uppers that provide comfort above all.
The Cloudfoam midsole and Ortholite Sockliner provide plush and luxury comfort all day.
Some color options are available, and the shoe has a fashionable design that you can pair well with almost any type and color outfit.
The rubber outsole is likewise durable and ensures excellent traction on a variety of surfaces.
---
5
The Nizza is a newer and fast becoming popular casual wearing sneaker from Adidas.
This sneaker offers Canvas uppers that are ideal for hot summer weather.
There are black and white color options available that are more neutral and fit well with any outfit of your choice.
The Gum Rubber sole is very durable and has a Cupsole design.
Inside are a textile lining and lightly padded insole for comfort and to keep your feet dry.
---
6
Comfort Shoes for Casual Wear
A trendy and more athletic style from Adidas is the NMD model.
These are street-style athletic fashion sneakers that are comfortable and highly stylish.
There is a comfortable cushioned midsole for comfort and a smooth interior lining.
The thick rubber sole is durable and offers good traction on a variety of surface areas.
You can also choose your favorite from a few available color options.
---
Index Table: Top Rated Adidas Shoes for Casual Wear
---
---