Shin Splints is mostly predominant in runners but can be suffered by anyone. The pain felt between the knee and ankle when running could be quite unruly and unbearable.
Asics shoes for runners and walking have outstanding features and characteristics that will help prevent Shin Splints, relieve pain, and improve healing.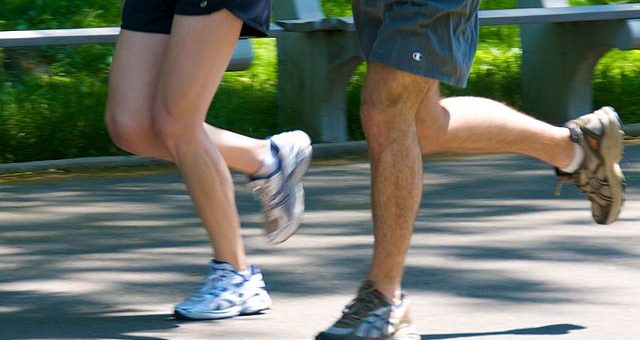 ---
Are Your Shoes the Reson For Your Shin Splints
Your shoes could most likely be the reason that you are suffering the pain from Shin Sp[lints in the first place;
Though there are several reasons for the cause of shin splints such as Overpronation, worn-out shoes, excessive strain on a single leg or hip from uneven surfaces, or running in the same direction of the track, unsupportive and worn outs shoes are by far the most significant culprit.
Wearing proper footwear will prevent this and even help if you are already suffering from Shin Splints.
Some Benefits of Asics Shoes for Shin Splints Include;

Better Running Form – The right shoe that perfectly matches your footstrike will give you better alignment and form, so you can work on a more solid technique, not having to worry about Shin Splints.
Better Flexibility – Less pain in your shins will allow you much more mobility and help to prevent injuries. As Asics shoes provide both support and flexibility, you can enjoy better mobility and less pain.
Hard Surface Running – Asics running shoes have cushioning in all the right places, which will prevent impact on your knees, joints, and shins, which in turn protects your shins against shin splints as well as reducing pain and impact on Shins with Shin Splints.
Durability – Because Asics shoes are so much more robust, they last much longer, and there is less worry about worn-out shoes causing and aggravating Shin Splints.
---
How Do Asics Shoes Prevent and Treat Shin Splints
The cushioning in the Asics shoe prevents shock and impact and protects the Shins and knees, and joints in the lower limbs.
The additional support features keep your body in perfect alignment.
You have better form and technique with motion control technologies, which enhance movement and offer excellent stability.
The lower heel drop relieves pressure on your shins drastically.
A more snug and secure fit means less movement inside your shoe that can cause injuries.
Flexibility features allow your shins to flex and stretch easily.
Arch support will also absorb shock and protect your shins.
The additional heel cushioning will support those who tend to strike with the heel.
---
Features of a Good Asics Shoes for Shin Splints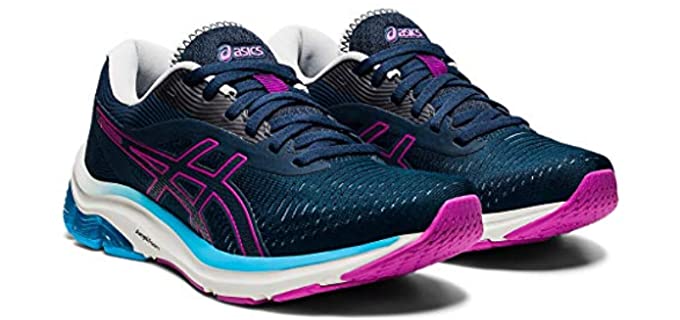 Cushioning – Gel Heel and Forefoot Cushioning for shock absorbency.
Traction – A high traction durable rubber outsole.
Drying – Moisture wicking interior linings.
Additional Cushioning – Added footbed cushioning.
Stability – Motion control features and a heel clutch system.
Gait efficiency – Impact guidance and Trusstic System.
Cooling – Breathable and secure upper construction.
---
Reviews: The Best Asics Shoes for Shin Splints
I have researched and listed some of the most sought after Asics shoe models that provide the best support and comfort for walking on hard concrete surfaces;
---
1
Running Shoes for Shin Splints
The Asics GT-2000 is one of the best running shoe models that cater to individuals who have Shin Splints and tend to Overpronate.
The uppers consist of Breathable mesh and synthetic materials.
There is a heel clutching system for the perfect fit.
The ComforDry sock liner absorbs moisture keeping your feet dry and fresh all day.
Rearfoot and Forefoot Gel cushioning and shock absorbency.
A Fluidride midsole and Guidance Trusstic system that aids in providing better gait efficiency.
It comes with a Durable rubber outsole for exceptional traction.
---
2
Flat Feet Shoes for Shin Splints
The Asics Gel Kayano is an ideal running and walking shoe for shin splints in persons with a lower arch or a flat foot and needs better stability and motion control features.
The uppers consist of lightweight and well-ventilated mesh material with synthetic overlays for a snug fit.
Comfortable and moisture-wicking interior linings to keep your feet dry and cool.
There is also a removable comfort insole for added support, allowing you to use your own orthotic devices.
The popular rearfoot and forefoot gel cushioning provides excellent shock absorption and cushioning.
The rubber outsole is textured for better traction and grip on a variety of surfaces.
---
3
The Asics Jolt is an extraordinarily lightweight and well-cushioned athletic shoe that offers superb protection and relief from Shin Splints.
The uppers are made from breathable mesh with synthetic overlays for a more secure and stable fit.
The footbed is fully cushioned, and the midsole offers excellent shock absorbency.
This is a lightweight and flexible shoe available in a few color variations.
The AHAR high abrasion-resistant outsole offers excellent grip and durability.
---
4
Asics Shoes for Shin Splints
One of the most popular and best models of shoes from Asics is Their Cumulus range with Gel cushioning, ideal for Shin Splints.
It offers excellent motion control and prevents excessive pronation with great stability features.
Mesh and synthetic uppers are lightweight and breathable, with a moisture-wicking interior lining that is smooth and virtually seamless.
Comfortable Forefoot and rearfoot Gel cushioning and a cushioned midsole for shock absorbency.
Durable and high traction rubber outsole.
A Hig Abrasion-resistant AHAR Rubber Outsole.
The insole offers full-length cushioning.
---
5
Running Shoe for Shin Splint Prevention
The Asics Gel Nimbus 23 is one of their best and most comfortable running and walking shoes, with the latest of the Nimbus range being the 21.
The midsole features a very lightweight and fashionable Flytefoam design.
Mesh and synthetic uppers for a lightweight and breathable fit.
A durable AHAR High Abrasion resistant outsole is much more durable and long-lasting than the regular rubber outsole.
It is comfortably padded with moisture-managing interior linings that prevent friction.
There are reflective materials on the uppers for night runs, which improve your visibility.
---
6
The Asics Gel Excite offers ample cushioning and supports to alleviate pain and discomfort associated with shin splints.
Breathable fabric uppers with a smooth moisture-wicking interior lining.,
A comfortable AMPLIFOAM midsole for shock absorbency.
Rearfoot Gel technology cushioning.
A removable comfort and moisture managing Ortholite Sockliner.
Durable and slip resistant rubber outsole,
---
7
Shin Splint Trail Running Shoes
The Asics Gel-Venture is the latest in this range of outdoor trail walking and running shoes for shin splints.
A Gel cushioning system for comfort and shock absorbency.
Removable cushioned and moisture managing sock liner.
Trail-specific AHAR high abrasion-resistant rubber outsole.
Breathable and flexible uppers.
---
8
The Asics Gel Contend 5 is a comfortable and flexible running shoe that is ideal for shin splints.
Amplifoam midsole for better flexibility, shock absorbency and platform adaptability.
Rearfoot Gel cushioning and an Ortholite Moisture control cushioned sock liner.
Breathable and lightweight mesh and synthetic uppers.
Available in a few color variations.
---
9
Gel Cushioned Shin Splint Shoe
The Asics Gel Torrance is an excellent choice in running and walking shoes for shin splints.
There are lightweight and breathable fabric and synthetic uppers.
Inside is a comfortable and lightweight, responsive cushioned insole, as well as a shock-absorbing midsole.
You can choose between different widths as well as extended size options in this model.
The rubber outsole is durable and ensures excellent traction.
---
10
Asics Shin Splint Running Shoes
The Asics Gel Quantum 90 is a comfortable and supportive running shoe for shin splints.
The uppers are seamless and breathable with mesh construction.
There is Rearfoot as well as Forefoot Gel cushioning for shock absorbency.
Inside is a moisture-managing and cushioned Ortholite sock liner.
The rubber sole is durable and ensures excellent traction.
---
11
Shin Splint Trail Running Shoe
Or outdoor and trail running or walking, I recommend the Asics Gel Kahana 8.
The Gel Kahana has a synthetic upper and is available in many color options.
A SPEVA Midsole and Rearfoot Gel are cushioning for shock absorbency.
For stability and better gait efficiency, we have a Trusstic System and DuoMax support system.
There is also a trail-specific durable rubber outsole.
---
Index Table: Top Rated Asics Shoes for Shin Splints
---
---