Working in a restaurant is a fast-paced and risk-filled task that keeps you acting on your feet all day, with no time to worry about shoes getting you down.
Your shoes likewise provide you with much-needed comfort and protection for this type of work that should not be compromised in any way.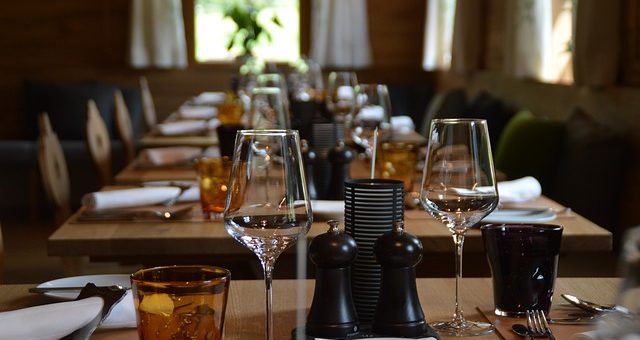 ---
Restaurant Work and its Hazards
Electricity – In any restaurant or kitchen, there are plenty of electrical devices and equipment used daily, all an electrical shock hazard that needs safety precautions and proper footwear to prevent this incident.
Heat – In the Kitchen and even as a waiter or staff in a restaurant some or other way or time, you will be handling very hot objects, foods, or liquids that can cause a moderate to severe burn.
Slips and Falls – Restaurant and kitchen floors are the most slippery floor surfaces that you will find as they become wet, oily, and greasy very quickly and easily. Therefore, slip resistance in your shoes is the most vital characteristic. A fall from a slip or trip can cause serious injuries.
Sharp Objects – Broken glass or sharp objects on the floor can cause puncture wounds if the shoes of your soles are not up to the task. Other sharp objects include those you handle, such as knives, blades, and even broken glass, which can cause cuts.
Fatigue – Let us face it, working in a restaurant takes its toll on your body; long hours actively on your feet can cause fatigue and exhaustion, and the last thing you need here is uncomfortable and unsupportive footwear to add to the chaos.
---
Choosing the Right Shoe for Restaurant Work
Sole – The sole needs to be durable and thick, offering good shock absorbency in the midsole along with high grip and traction in the outsole. Excellent slip resistance on wet and oily floors is a must when you work in a restaurant.
Uppers – Uppers can be from leather or breathable mesh and synthetic materials and should offer a relaxed and comfortable fit, with a roomy toe and soft and smooth linings that wick away moisture.
Design – A slip-on design is easiest through a lace-up shoe that offers a more secure fit; make sure your laces are properly tied at all times as not to cause a tripping hazard.
Support and Comfort – You will need good support and comfort features to ensure your feet stay comfortable and fight fatigue. Cushioning is vital as well as good arch support and flexibility for movement.
Electrical Hazard Safe – Electrical hazard safe materials in the shoe are desirable to prevent electrical shocks and should be ADSM rated for safety.
Waterproof – You can also opt for a waterproof design that will prevent spilled liquids from entering your shoes, although most waterproof designs may not be very breathable. In this case, look for a Gore-tex lining that is breathable and waterproof.
---
Features of a Good Skechers Restaurant Shoe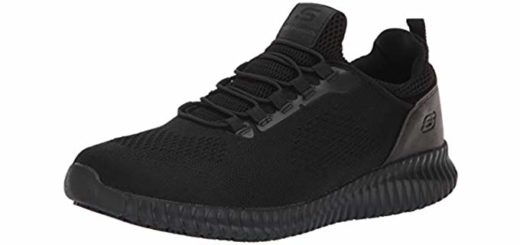 Support – Shock absorbing thick midsole to protect your feet and fight fatigue.
Outsole – Durable and slip and oil resistant lug rubber outsole protects you against slips and falls, which are the greatest restaurant work risks.
Safety Features – Electrical Hazard safe Materials for protection when handling electrical tools and equipment in a restaurant or kitchen environment.
Fit – A relaxed fit design and breathable uppers will not restrict movement and keep your feet well ventilated and cool for long hours on your feet.
Cushioning – Memory foam or cushioned footbed for comfort and support to fight fatigue, return energy to your feet and provide overall comfort and support.
---
Reviews: The Best Skechers Restaurant Shoes
We hope you love the Skechers Restaurant Shoes we recommend!
So that you know, We may collect a share of sales or other compensation from the links on this page.
---
1
Skechers Slip Resistant Restaurant Shoe
These two Clog designs from Skechers are the perfect restaurant work shoes with comfort features and a highly slip-resistant outsole.
100% durable leather or uppers.
The Balder has an open heel design, and the Clog for women a closed heel.
A shock-absorbing midsole in medium width.
Cushioned removable insole.
Internal heel stabilizer for smoother walking comfort.
A durable and highly slip-resistant rubber outsole.
Easy slip-on and off design.
---
2
Skechers Restaurant and Food Industry Work Shoe
The Nampa Slip-on design from Skechers is a shoe designed specifically for work in the food industry, such as restaurant work.
Durable and lightweight synthetic uppers.
Completely Electrical hazard safe materials.
A flexible sole design with a cushioned and shock absorbing midsole and a slip and oil-resistant tread.
Comfortable and supportive memory foam cushioned insole.
---
3
The SureTrack and Camak are two slip-on loafer style shoes with a slip-resistant outsole and very comfortable fit, ideal for restaurant work and food industry service work.
Durable and comfortable genuine leather uppers.
A relaxed fit design with more room in the toe area.
Electrical hazard safe and meets ASTM standards.
The outsole is made from slip-resistant rubber with a high grip tread.
---
4
Skechers Restaurant Sneaker
Highly comfortable and durable lace-up design sneaker with a plush memory foam footbed for all-day comfort.
Genuine soft and supple leather uppers with a secure lace-up closure system.
A durable and slip-resistant rubber outsole.
It is a sporty cushioned and shock-absorbing midsole.
Comfort plush Memory Foam footbed.
Features a relaxed fit with a smooth moisture-wicking fabric lining.
---
5
Skechers Slip On Restaurant Shoe
Two easy slip-on and lightweight and breathable shoes for restaurant work, with a slip-resistant outsole for those greasy and slippery floors.
Both feature flexible and breathable, lightweight textile uppers with leather reinforcements.
The Flex Advantage has an elastic side gore at the opening and a padded collar with reinforced stitched seams.
The Flex Advantage also features a medium-width fit with a relaxed fit design.
Both shoes have a comfortable memory foam insole and a slip-resistant rubber outsole.
The Gozard is ASTM-rated and electrical hazard safe.
---
6
These are two highly breathable and slip-resistant lace-up shoes that have been designed specifically by Skechers for work in the food industry and restaurants.
Lightweight and breathable mesh uppers with a lace-up system for a secure fit.
A highly slip and oil-resistant rubber outsole with a shock-absorbing midsole.
Comfortable, relaxed fit design and roomy toe box.
Features a cushioned memory foam insole for comfort and smooth moisture-wicking interior linings.
---
7
Chef and Restaurant Shoes
These are two very flexible and comfortable shoes for restaurant work that offer you easy and flexible movement and wear. These shoes are one of the best
Skechers Chef Shoes
.
Smooth synthetic uppers with moisture-wicking interior linings.
A flexible and shock-absorbing midsole.
Comfortable slip-resistant and shock, absorbing thick rubber outsole.
There is a cooling Gel-infused memory foam insole.
---
8
The Toston for men and women is the perfect shoe for restaurant work. It is a highly slip-resistant and waterproof sneaker, ideal for working in the kitchen, with a comfortable, relaxed fit design and shock absorbing midsole.
Features the popular HydroKnit mesh uppers, which are extremely breathable, lightweight, as well as waterproof.
Inside is an air-cooled memory foam footbed for cooling comfort.
The fit is more relaxed with a roomy toe box.
---
9
I have chosen the Lite for the Ladies and The Gozzard for the gents, one of the most versatile and popular shoe ranges. The Perfect lightweight restaurant shoe.
Genuine leather and textile uppers that offer a more relaxed fit.
A thick and durable slip-resistant rubber outsole.
Very lightweight and comfortable with a cushioned footbed.
The gents' shoe model is electrical hazard safe.
---
Index Table: Top Rated Skechers Restaurant Shoes
---
---