Working in the food industry, particularly as a Chef, has its benefits and many dangers and challenges. The one thing that should never let you down in this industry is, of course, your shoes.
Skechers have some of the best shoe models with ideal features for the food industry and Chef work.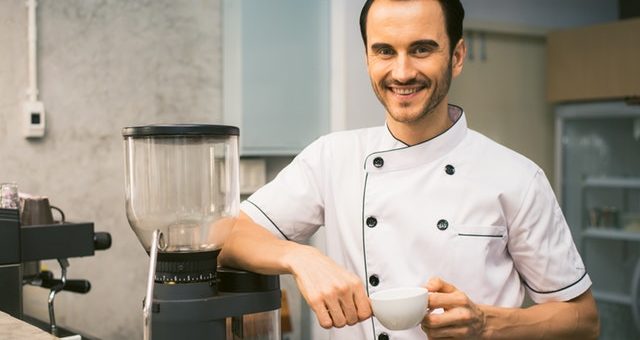 ---
Hazards and Challenges that Chefs Face
There are so many Hazards that chefs face daily in the Kitchen, here are only a Few!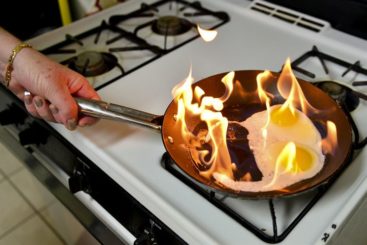 Electrical Hazards – Chefs work with electrical equipment in a wet and humid environment, so the electric shock is a risk. In this case, shoes that are electrical hazard safe can help to prevent electrocution risks.
High Heat and Hot Liquids – High heat, hot stoves, ovens, and foods, as well as hot tools and liquids, can all cause moderate to severe burns, which is one of the main hazards that kitchen staff face.
Slips and Trips – Floors in the food industry, whether in the restaurant or kitchen, get greasy, oily, and slippery, and besides this, there are tripping hazards to keep track of. Slip resistance is the one most important feature that any good Chef's shoe MUST have.
Cuts and Scrapes – Working with sharp and hazardous tools and materials in the kitchen means your fair share of cuts, scrapes, and nicks.
Exhaustion – Let's face it, a Chef's work is long hours, running around, in hot and humid environments, which can be very exhausting and mentally challenging.
Falling Objects – Heavy falling objects from shelves and even equipment can damage your toes and feet, in this case, an alloy or protective toe can help quite a bit.
Wet Surfaces and Spills – Spills and wet surfaces are given in the kitchen, so having waterproof shoes can help quite a bit.
---
The Work Shoe Range from Skechers For Chefs
Although Skechers does not have a work shoe range specifically identified as Chef Work shoes, they have two ranges for women: their Nursing and Industrial work range, three for men, their Safety and Slip-resistant work shoe range. These ranges feature work shoes designed to accommodate all work environments and cater to many different hazard types, including hazards faced in the kitchen working as a chef.
I have chosen some of their best ranges and models to offer you maximum protection and comfort working as a Chef in the kitchen and hospitality environment.
Relaxed Fit Work Range -From the Relaxed fit range for men and women, there is the Nampa Groton, Felton, Cottonwood, Elston, Flex Advantage for men, and Sure Track range and Eldred for women, amongst many others that are ideal for Chef work. This range has the man feature of offering a more relaxed and comfortable fit. There are different features from each model, including slip resistance for protection in the food industry environment.
Oswald – Still from the Skechers Work Range, we have the Clogs in the Oswald range, with an easy slip-on, and off Clogg style. What I love about this range is simple yet effective, featuring Soft Nano Lite plastic foam upper construction that is liquid-resistant and easy to clean, along with a highly slip-resistant rubber outsole and a comfortable contoured insole.
Squad for Women – The Squad Work Range for Women is designed for the Food Service Industry and has flexibility and comfort for all-day wear, along with electrical hazard safe materials and a slip-resistant outsole. This is a very lightweight and breathable range, which is ideal for hot and humid kitchens.
Toston – The Toston SR range is the most comfortable and lightweight sneaker that you will find ideal for Cheffing and food industry workers. This range features Hydro Knit waterproof uppers that are still very breathable and lightweight. Inside are a shock-absorbing midsole and an air-cooled memory foam insole. This range is from the relaxed fit range and also offers exceptional slip and oil resistance.
Synergy Range – In the Synergy range, you will find models such as the Ekron, 3.o, Colab, Citi Knight; Wapeeco; Wingor; and Mountain Dreamer. There are slip-on, lace-up, and boot options with fabric, leather, or suede leather upper options, all featuring the slip-resistant flexible rubber outsole and memory foam insole. The Ekron has an alloy protective toe, which is ideal for the service industry.
---
Skechers® Chef Shoe Features
Outsole – Optimal slip and oil resistant lug rubber outsole.
Protection – Waterproof or resistant protection. A protective composite or aluminum toe.
Comfort – Comfort features such as a shock-absorbing midsole, memory foam insole, or cushioned insole. Cooling features such as the air-cooled insole and mesh insets. Lightweight construction.
Construction – Durable design.
---
Reviews: The Best Skechers Chef Shoe Models
Below are some of the Top choices in Skechers work Shoes for the Food Industry and Chef work;
We hope you love the products we recommend!
So that you know, We may collect a share of sales or other compensation from the links on this page.
---
1
The Nampa Groton for men is a foodservice industry work shoe for men, and similarly, the SureTrack for women is ideal as a Chef's work shoe. This is an easy slip-on and off-sho with stylish leather uppers and an electrical hazard-safe design with a highly slip-resistant outsole.
Leather uppers with mesh fabric side panels for breathability.
Durable and tough design with a thick and highly slip-resistant outsole.
ASTM rated electrical hazard safe materials.
Comfortable memory foam insole and shock absorbing midsole.
---
2
The Cottonwood and Oswald Clare are simple yet effective and comfortable work shoes from Skechers with a slip-resistant sole, easy to clean uppers, and a very comfortable footbed for all-day wear.
A casual slip-on shoe in a clog style.
Made from Nano Lite Plastic Foam and leather uppers that are lightweight, comfortable, and water-resistant.
Flexible design and slip-resistant rubber outsole.
Comfortable cushioned insole.
---
3
The Flex advantage for Men and Squad, SR for women, are from the Relaxed fit work range and offer a comfortable and flexible fit with memory foam footbeds and electrical hazard protection, and slip and oil resistance.
A flexible, Shock absorbing and flexible midsole.
Electrical hazard, safe construction, and very lightweight.
The outsole is made from durable and slips-resistant rubber.
Features smooth synthetic uppers with cooling tongue, side, and heel panels.
Cooling Gel-infused memory foam insole for all-day comfort.
---
4
The Toston and Bendon for men and women is a highly slip-resistant and waterproof sneaker ideal for working in the kitchen, with a comfortable, relaxed fit design and shock absorbing midsole.
HydroKnit mesh uppers that are waterproof as well as lightweight, and breathable.
A relaxed fit design with a roomy toe.
Air-cooled memory foam footbed and a shock-absorbing midsole.
Lace front, so you get a precise fit.
---
5
The Synergy Ekron is a comfortable, relaxed fit Work Shoe with a protective alloy toe for those heavy falling object hazards. This shoe is a bit more robust for those really fast-paced and dangerous kitchen environments.
Features aprotective
Electrical hazard safe and ASTM standard.
Lightweight with a soft fabric lining and padded tongue and collar.
Inside are a memory foam insole and shock-absorbing FlexSole midsole.
The rubber outsole offers high traction and good slip resistance.
---
6
A comfortable safety OHSA compliant Chef shoe for the food industry work from Skechers.
Synthetic uppers that are durable with reinforced stitching.
A comfortable foam padded insole and a shock-absorbing midsole.
Soft fabric interior linings.
Features an OHSA compliant rubber nitrile outsole for excellent slip resistance.
---
7
Two perfect Chef's shoes from Skechers that offer you comfort and protection. Against slipping hazards.
Comfortable, relaxed-fit leather uppers and smooth interior linings.
A memory foam-cushioned footbed.
Durable rubber outsole that is oil and slip-resistant.
Gorgeous oxford styled work shoes for men and women.
---
8
Two durable and highly protective Chef shoes from Skechers with a comfortable memory foam insole.
Synthetic uppers are flexible and durable.
Offer a more relaxed, easy-going fit.
Smooth interior linings.
Comfortably cushioned memory foam footbed.
The rubber outsole offers excellent slip resistance on kitchen floors.
---
Index Table: Top Rated Skechers Chef Shoe Models
---
---