The Rocker Sole Flip Flop is the perfect post Exercise and recovery shoe, which relieves stress from your feet, ankles, knees, and lower back.
Furthermore, we will discuss some of the best available Rocker Bottom Flip Flop sandals, which you can also wear for daily comfort and support.

---
Why Wear a Rocker Sole Flip Flop
A Rocker Sole or Rocker Bottom Flip Flop is basically a Flip Flop with thicker than a standard sole with a more rounded heel area.
There are also quite a few variations in the Rocker Sole Flip Flop; you can get a Toe Only Rocker Sole, Rocker Bar, Mild Rocker, Heel to Toe Rocker, which is the most popular, a negative Heel Rocker and a Double Rocker design.
The Rocker Sole can be only any shoe design, even on a Flip Flop.
A Rocker Sole Flip Flop is ideal in these cases;
Hallux Rigidus – Persons who suffer from Hallux Rigidus, or a stiff big toe, can use a Rocker Sole Flip Flop to replace the flexion lost in the metatarsal joints.
Loss Of Range Of Motion – Any foot or lower limb condition where there is a loss of range of motion can be aided by using a Rocker Sole shoe or Flip Flop.
Ankle Pain – Whether it is a condition or injury, a Rocker Sole Flip Flop can relieve Ankle pain and speed up the recovery process.
Recovery – A Rocker Sole shoe or Flip Flop is the ideal footwear for recovery from an injury. The Rocker Sole reduces strain on your feet, ankles, knees, and lower back, allowing these areas to heal faster and more effectively.
Post Excercise – After Strenuous exercise, the Rocker Sole Flip Flop will reduce strain on the joints and muscles, allowing them to rest and heal.
---
Benefits of a Rocker Sole Flip Flop
Next to most Foot Orthotic devices, the Rocker Sole shoe or Flip Flop is the next best thing for Chronic or Temporary foot and lower limb issues and conditions.
The Rocker Sole is designed to improve the function of the feet and lower limbs by changing gait mechanics and reducing stress on joints and feet.
Like most foot Orthotics, the Rocker Sole on Flip Flops helps to inhibit excessive and painful joint motion and prevent most unwanted compensation of immobile bouts giving more harmony to movement.
---
Features of a Good Rocker Bottom Flip Flop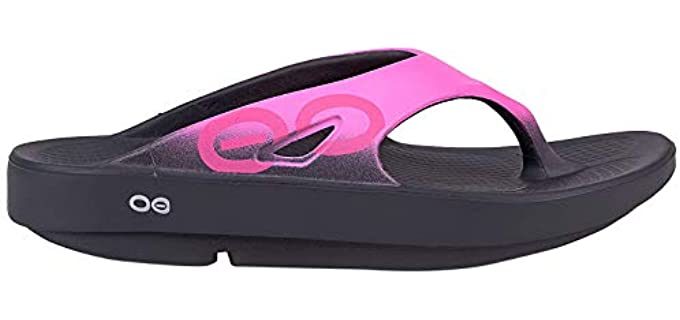 Uppers – The straps of the Rocker Bottom Flip Flop have a toe thong design such as all Flip Flops. Textiles, Canvas, Polyester, Rubber, or Plastic, can be used in the design of the uppers. Some models also have a padded or mesh-lined uppers strap.
Sole – The sole unit can consist of EVA, Foam, or Rubber with a contoured and lined footbed for comfort. The Sole will have a Rocker design shape and be elevated or stacked.
Outsole – Separate Rubber or similar to the entire sole materials can be used for the outsole. Look for a patterned or lug design tread for better traction and grip.
Colors and Designs – Many colors and prints and even embellished ad decorated designs are available in the Rocker Sole Flip Flop.
---
Reviews: The Best Rocker Bottom Flip Flops
Here are our top picks in Flip Flops that have a Rocker design Sole;
---
1
The Oofos OOriginal Sport is one of the top favorite Flip Flops with a Rocker Sole.
Oofos flip flops are designed to help with post-injury recovery and to address certain foot conditions and issues.
The OOfoam technology used absorbs impact and gives your feet a break from impact.
The patented footbed cradles your arches and provides optimal support and stress relief.
The uppers are synthetic and comfortable in a flip flop thong design.
You can also machine wash your Oofos flip flops.
Furthermore, there is plenty of color options in the uppers with the black contrasting sole.
---
2
From Quick, we have the arch arch-supportiveker sole Flip Flop, which is ideal post-exercise and for recovery shoes.
The Quick Flip Flop offers excellent arch support and helps with Plantar Fasciitis and foot pain conditions.
The Flip Flop is lightweight with pillowy soft cushioning and arch support in the footbed.
The materials used are abrasion-resistant and very durable.
The Quick Flip Flop has a Rocker design sole and a durable outsole.
There are also many color options available in this Flip Flop model.
---
3
The Telic Flip Flop is comfortable, cushioned with a Rocker Bottom design sole.
The Flip Flop consists of 100% Novalon material, soft and foamy for optimal cushioning and support.
There are many color options available in the Telic Flip Flop from which you can select.
Telic has very high shock absorbency capabilities and offers excellent relief along with the Rocker design sole.
The outsole also provides good grip and traction with durable construction.
---
4
From Aerothotic, we have their Original design Flip Flop with a contoured and supportive footbed and Rocker Bottom sole.
The AeroThotic has a contoured orthopedic insole that supports the arch and relieves foot, back, and knee pain, as well as Plantar Fasciitis.
These classic shoes can be worn daily and offer a good grip on most surfaces.
The uppers are padded and lined for a more comfortable fit.
You can likewise choose from an extensive range of colors available.
---
5
The Sole Flip Flop has a unisex design and a shock-absorbing Rocker Sole.
The footbed consists of Anti-Shock Cushioned Foam with a Platform Rocker Design sole.
There is a harder rubber outsole for durability and grip on most surfaces.
The Midsole consists of two layers of foam that are durable and shock absorbing.
The uppers are also very comfortable and resilient.
---
6
The OOFOS OOriginal design Flip Flop Sandal comes in solid color options and has a Rocker design sole for sports recovery and comfort.
The entire sandal consists of synthetic OOFOAM that is soft and comfortable.
The OOFOAM technology absorbs 37% more shock than other design sandals and traditional foam.
The patented footbed cradles your feet and reduces strain on sore feet, ankles, knees, and the lower back.
They are likewise designed to allow better natural motion and balance with the Rocker Sole.
There are also many colors from which you can select in the OOFOS OORIGINAL.
---
Index Table: Top Rated Rocker Bottom Flip Flops
---
---