Morton's Neuroma is a benign and quite painful condition that affects the ball of your foot.
This foot area can become very painful to stand and walk on, especially if you do not wear proper cushioned footwear.
The Hoka One Shoes for Morton's Neuroma are ideal for providing proper cushioning and support when you suffer from this foot condition.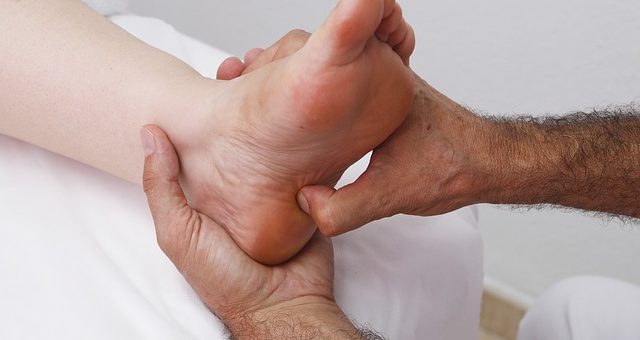 ---
Morton's Neuroma Facts and Treatments
Understanding Morton's Neuroma
One of the main symptoms of Morton's is intermittent pain, it may be burning pain in the ball of your foot or feel like you are standing on marble or pebble.
Your toes may likewise start to tingle and feel numb as the pain radiates, and you may struggle to walk and run. Sometimes individuals may have Morton's Neuroma and can go without any symptoms at all.
One of the main causes of Morton's Neuroma is shoes that are too tight and high heels. Another cause may be abnormalities in your feet or gait, which leads to instability that places pressure on this nerve of the foot.
As you have most likely come to understand, Morton's Neuroma is caused because the nerves in the ball of your foot become compressed and irritated and actually then become thickened and inflamed.
You can easily deal with the pain by applying ice to the sore area. Massages and stretching exercises will help with the healing process and symptoms. For more severe cases, you may need injections from a physician.
Lastly, proper footwear is an absolute must if you have Morton's Neuroma and prevent it.
---
Choosing Shoes for Morton's Neuroma
There are a few factors to consider when choosing the best shoes for Morton's Neuroma;
Wide Fit – Choose a shoe with a wide and roomy toe box so that your feet can spread out evenly and that there is no added pressure. Your toes will not overlap by being spread out, which means that your metatarsal bones also do not override, which can cause more pain. Hoka One offers wide and extra wide width options in most of the shoe ranges for Morton's Neuroma.
Low or Flat Heels – High-heeled shoe place and an enormous amount of pressure on the forefoot and is one of the direct causes and aggravators of Morton's Neuroma. So always opt for a lower or flatter heel. Luckily Hoka One shoes have a rocker sole and uniform sole design that offers the ideal pressure relief and comfort for Morton's Neuroma.
Uppers – The shoes' uppers can also play a role in your discomfort when you have Morton's Neuroma. What you need is soft and flexible, with a smooth lining that will not cause any friction. The Hoka One shoes range mostly has mesh or leather uppers and is all lined.
Cushioning – A Neuroma is Quite Painful, so you need proper cushioning and shock absorbency to protect your feet from hard impacts when walking and running. Hoka One shoes usually have an EVA midsole with different technology options and a comfortable cushioned insole that will absorb shock and provide a soft cushion underneath your feet.
---
Features of a Good Hoka Shoe for Morton's Neuroma
Uppers – Hoka One shoes may have Engineered mesh uppers, engineered sandwich mesh uppers Leather or Zonal Knit Uppers. #D print, or TPU insets are used for structure and some designs have a H-Frame for increased support. In some models there is a padded or memory foam collar and a gusseted or more lightweight tongue.
Midsole – For the Midsole, you can have a full-length EVA, a PROFLY technology layered midsole, or a CMEVA Midsole. The J-Frame Midsole in some models provides firmer support and pronation control. At the same time, the rubber and EVA blend sole models are softer on the feet.
Outsole – The Outsoles are available in an Early or Late stage Meta-Rocker design which may be original or updated versions. The Outsole will be either rubber or Vibram Rubber for the trail models. The trail models generally have 4mm or 5mm lug tread.
Technologies – Some models have strategic forefoot grooving for flexibility, and most of the designs allow for full ground contact and even weight distribution. Many models have additional strategically replaced rubber zones or a TPU toe cap for improved durability.
Options – Options available to you may be ins zie and width, as well as more colors from which you can choose.
---
Reviews: The Best Hoka Shoes for Morton's Neuroma Morton's Neuroma
In our list, we have the most comfortable and supportive shoe models for Morton's Neuroma from Hoka One;
---
1
Shoes for Morton's Neuroma
The Bondi 7 is the most popular of the Hoka One shoes for Morton's Neuroma.
The Bondi 7 has an open engineered mesh upper that is very breathable and a memory foam collar for ankle support,
There are TPU overlays for additional midfoot support and also an internal heel counter,
Inside is a full-length compression-molded EVA footbed for shock absorbency.
The sole is a refined early Stage meta rocker design.
There are more colors available in the Bondi 7.
---
2
The Hoka One Clifton 7 has open engineered breathable mesh uppers and seamless synthetic overlays for less friction and irritation.
Inside is a breathable synthetic lining that wicks away moisture and prevents friction.
There is a foam padded insole and a full-length EVA midsole for cushioning.
The outsole is a regular design with high grip rubber.
---
3
The Hoka One Arahi 5 Is a comfortable and proper fitting shoe for Morton's Neuroma.
There is a breathable mesh upper with an abrasion-resistant moisture-wicking lining.
Inside is a removable foam padded insole for cushioning and a Full-length EVA midsole for shock absorbency.
The outsole is a durable and high traction rubber with inserts for grip
---
4
Trail Shoe for Morton's Neuroma
The Speedgoat 4 from Hoka One is a Trail shoe for Morton's Neuroma.
It has mesh uppers with 3D printed overlays for midfoot support.
The tongue is gusseted with cutouts for breathability.
The midsole is a more lightweight foam, and there is a wider forefoot area.
The outsole is a Mega Grip design Vibram rubber for outdoor trails.
---
5
Morton's Neuroma Trail Shoe
The Hoka One Challenger is also an outdoor trail shoe for Morton's Neuroma.
It has breathable uppers with Repreve recycled yarn construction and collar meshes.
There is a toe rand for added protection and a gusseted tongue.
The midsole is a CMEVA foam, and there is zonal rubber placement on the sole for reduced weight.
The rubber sole has 4mm lugs for traction on uneven terrains.
---
6
The Gaviota 3 is a lightweight shoe for Morton's Neuroma.
It has engineered mesh uppers and a midfoot H-Frame lockdown fit.
There is a flat-waisted geometry for the inherent stability and an EVA midsole.
The late-stage meta-rocker sole provides much better stability.
---
Index Table: Top Rated Hoka Shoes for Morton's Neuroma
---
---