Knee pain and problems can be quite uncomfortable and may disrupt your daily activities, even simple activities such as walking or running.
In many cases, improper footwear can be the cause of strain on your joints, which in turn leads to knee pain. However, the proper footwear can not only relieve knee pain and reduce problems but also protect your knees against further pain, damage, and injuries.
---
Benefits of Wearing the Correct Shoes for Knee Pain
Reduces Pain and Symptoms – You can significantly reduce the symptoms of knee issues by wearing the proper shoes. You will experience less to know knee pain, have better joint and knee mobility, and much less stiffness in the knees.
Protection – The right footwear can also help protect your knees against impact and reduce your chances of experiencing injuries or overuse injuries and pain.
Better Mobility and Movement – You will likewise be able to enjoy activities without pain or stiffness and be able to perform better with proper footwear that supports and protects your knees.
---
Choosing The Correct Shoes For Knee Pain
Here are some of the factors to look for in shoes for your knee pain: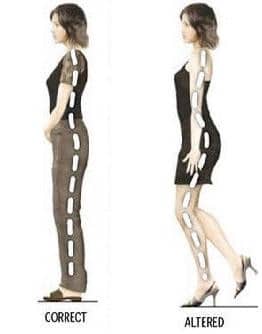 Say NO to High-Heels – High heels, particularly narrow and pointed heels, are bad for your knees, back, feet, and health overall; stay clear of high heels at all costs as they increase the stress on your feet and knees and do not spread weight or impact evenly. Instead, opt for a flatter or chunky heel. Flat shoes are also not a good option as they do not absorb shock, so choose something in between.
Well Cushioned Footwear – Cushioning and a padded footbed absorbs shock, reducing your knees' impact and spreading the weight evenly. Always look for footwear with a cushioned insole or footbed when you have knee problems.
Firm Midsoles – A firm midsole will also reduce the shock from your feet' impact while providing you with stable support.
---
Features of a Good Shoe for Knee Pain
Cushioning and shock absorbency – A good cushioning system such as Gel, Foam, or memory foam is your best bet to absorb shock and provide comfort, similarly and EVA or foam midsole will help to attenuate shock, which may impact your knees.
Stability – A less flexible sole and stability features help to control excessive pronation, which may also lead to knee pain.
Outsole – A slip-resistant rubber outsole can help to keep you firmly grounded, preventing slips and falls, which may further damage your knees.
Uppers – Lightweight, breathable mesh and synthetic uppers keep your feet cool and well ventilated, and sandal straps need to fit comfortably.
---
Reviews: Top Shoes for Knee Problems
We have researched and selected a variety of some of the best available shoes to reduce knee pain and prevent further damage;
---
1
---
2
---
3
---
4
---
5
---
6
---
7
---
8
---
9
---
10
---
11
---
12
---
13
---
14
---
15
---
16
---
Index Table: Top-Rated Shoes for Knee problems
---
---