Many of us will not associate the shoes we wear with our Back Pain; however, in reality, these two could be more connected than what you initially may think.
However, Adidas offers superb shoe models with the right comfort and support features to alleviate and protect you from back pain.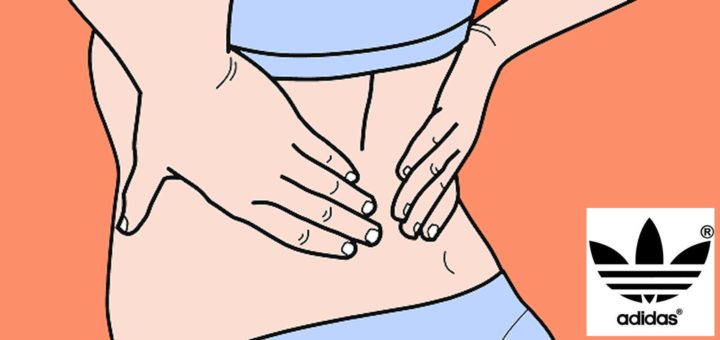 ---
How the Shoes You Wear Affect Your Back
Wearing shoes that do not provide proper support can cause the lumbar muscles to become overworked and lead to poor posture and back pain. Poor posture in itself worsens back pain and also causes other issues,
When you walk or run, you place twice your body weight on your feet and legs; therefore, you need proper footwear to distribute weight and impact properly to avoid shock on your joints.
Shoes to Avoid when you have Backpain – Avoid shoes that lack arch support as you need proper support to prevent and reduce back pain. Likewise, High Heeled and completely flat shoes are the number one culprits for back pain.
The Right Shoes for Back Pain – Good running shoes offer support and cushioning ideal for back pain. Rocker Sole, Orthopedic, and Ergonomically shaped shoes are also ideal for back pain as they offer excellent support and shock absorbency, along with proper weight distribution.
---
Adidas Shoes for Backpain
Adidas offers casual shoes, walking and running shoes that are all perfect for back pain;
Fit – Most Adidas shoe models offer a supportive and comfortable fit that allows you to better posture and better support.
Cushioning – You will find energizing Boost cushioning, soft Cloudfoam, or lightweight EVA cushioning in Adidas shoe models, which absorb shock and help to distribute weight evenly.
Torsion System and Arch Support – The Adidas shoe models for Back pain also have either good arch support or a Torsion system that helps to relieve excess strain on the feet that can lead to back pain.
---
Features of a Good Adidas Shoe for Back Pain
Uppers – Most Adidas shoe models either have genuine, synthetic leather or textile uppers and there are some knit options or Primeknit technologies that are more breathable and flexible in fit.
Interior – The interior is usually lined with mesh or soft fabric to keep your feet dry and comfortable, and there is a soft padded insole or a Cloudfoam Memory Foam Insole.
Midsole – Cloudfoam or Boost responsive foam or EVA foam is used for shock absorbency and cushioning in the midsole to return energy to the feet and respond to impact.
Outsole – For the outsole, Continental rubber is used with a tread for traction or the Popular Stretchweb tread, which uses an even number of nodes and grooves that form a net structure for traction and grip. There is also the Adiwear Outsole, which is a much more durable design for hard-wearing.
Fit – You can get a Regular looser fit that is roomier or the sock-like fit which is snug and wraps around your feet. There are also width options in some Adidas shoe models.
Options – You do get some options in size and width and many different colors and in some models patterns and prints from which you can choose.
---
Reviews: The Best Adidas Shoes for Back Pain
here are some exquisite Adidas shoe models that all help with Back Pain;
---
1
Running Shoes for Back Pain
The Cloudfoam Pure and Cf Lite Racer offer extraordinary cushioning and support, greatly reducing back pain.
The Stretch meshes the upper with the sock-like construction fit, hugs, and supports the foot for better stability and breathability.
There is a Combined Cloudfoam midsole and outsole for step-in superior cushioning and shock absorbency.
Inside is a comfortable and cushioning Orthoite sock-like, which also aids in managing moisture and temperature inside the shoe.
Furthermore, the outsole consists of durable rubber for support and traction.
---
2
Running Shoes for Back Pain
The Solarboost 21 has responsive cushioning, which diminishes impact that can be painful on your back and knees.
For the uppers, there are mesh and synthetic materials with tailored fiber placement for reinforcement and flexibility.
There is a responsive Boost cushioning midsole and smooth lining for comfort and support.
The Stretchweb design rubber outsole has prominent nodes and rubber grooves in a net-like design for optimal flexibility and traction.
You will also relish the fact that this model has a NASA-inspired design for performance and durability.
---
3
Hiking Shoe for Back Pain
If you have back pain and need a good trail walking or hiking shoe, then the Adidas Terrex AX3 is exactly what you need.
The uppers are a durable and water-resistant mesh and synthetic design that offers a more regular and roomy fit.
A molded and protective TPU cap and a Continental rubber outsole with a lug tread for superior grip and traction on wet and dry surfaces.
EVA foam is used n the midsole for support and comfort, and a molded sock liner provides further cushioning and adaptable comfort.
You can likewise choose from a few neutral color options in the Terrex AX3.
---
4
To run with the NMD, R1 is the ideal shoe for a person with back pain.
The NMD is a fashionable sneaker design running shoe that can also be worn casually.
There are Knit uppers that are flexible and highly breathable.
The Molded EVA midsole plugs provide excellent shock absorbency and energy-returning cushioning.
The Primeknit design of the uppers wraps around the foot for an engineered fit and targeted support and stability.
A durable Continental rubber outsole also ensures excellent traction.
Furthermore, you can choose from a few fashionable color options in this exact range.
---
5
The Adidas Strutter is a wide-fit classic lifestyle feature that also helps to prevent back pain.
I would recommend the Strutter for overweight persons or have a flat wide foot type that suffers from back pain.
The uppers are a coated synthetic leather with a wide and roomy fit design for a wider foot type.
It has comfortable cushioning and a foamy midsole for optimal shock absorbency.
A durable rubber outsole provides exceptional traction.
Inside is a textile lining that helps to wick away moisture and keep your feet dry and comfortable.
---
6
The Fluidflow Bounce offers exceptional cushioning and supports to alleviate back pain and prevent further back pain.
There is an adaptive Knit Fit upper with a more comfortable regular roomy fit design.
Supportive cushioning is found in the midsole and footbed, which prevents impact on the back and joints.
The durable rubber outsole consists of prime continental rubber with a tread for optimal traction.
Likewise, you can select from a few color options available in the Fluidflow Bounce.
---
Index Table: Top Rated Adidas Shoes for Back Pain
---
---