Whether it is a challenging sport, outdoor freedom, exercise, or recreation, there are so many different reasons why people enjoy hiking. Hiking has many benefits and is an enjoyable way of getting closer to nature.
But as with all other forms of recreation and sports, the right equipment is required, particularly for the rough outdoors.
Skechers manufacture some superb boots for casual and even more serious hiking excursions in all weather conditions.

---
Why Choose Hiking?
There are so many benefit and advantages to Hiking;

A Challenging Workout – Hiking can be a very challenging and highly effective workout routine that recruits all the muscles in our lower limbs and core. Hiking also improves your balance and stability when walking on uneven terrain much better than a flat treadmill or flat road. When you compare walking and Hiking, Hiking by far burns many more calories and is a much healthier cardiovascular exercise, not to mention so much more enjoyable.
Improves the Brain Function – Being in nature instantly calms you and improves your mood as well as mental health, reducing stress and anxiety. It was tested and proven that individuals walking in nature compared to urban settings had less activity in the brain region, which is associated with mental illness.
Prevents Illness – When you are outdoors for a walk or hike, you are not just burning calories and getting good exercise; you also reduce your risk of severe health issues. Exercise lessens your heart disease risk, hypertension, Type 2 diabetes, osteoporosis, arthritis, and obesity. Hiking in the outdoors also means fresh air, which is good for you and a calming natural setting.
Potential Disadvantages – Hiking, like any other form of exercise, is quite strenuous and, therefore, should be approached with caution. You will need to stretch and condition your body as well as take it slowly in the beginning, sticking to shorter hikes and safer terrain. Besides this, weather changes from very hot to cold, dangerous terrain, wet and slippery surfaces, and many other elements that can cause injury need to be considered; you will need the proper gear to safeguard yourself against such injuries. An appropriate boot of hiking is the best place to start with your gear preparations.
---
Do You Really Need a Proper Hiking Shoe

Yes, you most definitely will, depending on eth terrain you will be walking in. In general, I would rather recommend a Hiking BOOT than a shoe, as it provides better ankle protection and stability.
A good Hiking boot offers maximum protection against weather and terrain elements, such as waterproofing, puncture resistance, and slip resistance. Other than that, stability, support and comfort are also required in a good hiking boot or shoe.
---
Features of a Good Skechers Women's Hiking Boot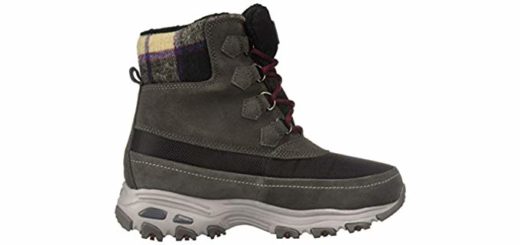 Uppers – Waterproof or water-resistant uppers, keeping your feet dry and preventing frostbite and infections.
Insulation – Thermal protection and insulation for colder weather conditions, such as the GoTherm 360 insulation from Skechers and Faux fur or fabric interior linings.
Cushioning – Cushioning and shock absorbencies, such as a Goga Mat or Goga Max insole or 5Gen cushioning system.
Outsole – Thick and protective high grip rubber outsole protects against punctures and better grip and stability on wet and uneven surfaces.
Construction – Durable and long-lasting construction and materials that can withstand heavy wear and weather elements.
---
Reviews: The Best Skechers Women's Hiking Boots
below are our top models in Skcehers Hiking Boots for Women;
---
1
---
2
The o walk Outdoors Hiking Boot is a comfortable and casual styled water-resistant Hiking Boot.
Synthetic uppers that have Water resistant properties.
GOGA Plus technology to support your feet on unstable grounds.
Go Therm 360 extra protection for colder weather conditions.
A slip-resistant lug rubber outsole.
---
3
The D'Lites Hiking Boot is a comfortable and lightweight hiking boot for all terrains.

Suede leather uppers with a Warm tech Memory foam footbed for comfort and warmth.
Waterproof protection design.
Insulated with a fleece panel heel and collar.
Metal lace-up eyelets for speed lacing.
A durable and slip-resistant outsole.
---
4
The BOBS Fur Trim Women's Hiking boot is more of a fashionable outdoor boot than serious Hiking.
Suede leather uppers in Charcoal color with a leopard print fur trim heel.
A durable and high gripping synthetic outsole that is also flexible.
Inside is a comfortable memory foam footbed for all-day comfort and support.
A fashionable and stylish outdoor shoe that is durable and tough.
---
5
The Go Walk Chilly is an outdoor and hiking boot designed for icy weather conditions and wet terrain.
Suede and fabric uppers are very durable and water-resistant with woven Cordura nylon fabric shaft panels.
A Colder weather mid-calf length lace-up design with soft and plush faux fur trim and a warm fabric interior lining.
Features the Skechers GOiTherm 360 insulation and a Goga Max cushioned comfort insole.
A High Grip Multi-Surface traction rubber outsole that is ideal for uneven, slippery, and wet surfaces.
excellent ankle support and protection, likewise protect your legs against bumps and bruises.
---
6
Another outstanding Hiking Boot for colder weather is the Go-Walk Outdoor Baltic Hiking Boot from Skechers.
Durable and soft suede uppers or a smooth leather option that is water-resistant and can withstand tough wear as well as outdoor elements.
A warm fabric interior lining for colder weather conditions.
Likewise features Goga Max Cushioning and 3350 GoTherm insulation for warmth and comfort.
A Multi Surfacegrip rubber outsole that is thick and durable for protection and stability on uneven and slippery surfaces.
---
9
The Go Run Max Trail is an outdoor trail running and hiking shoe from Skechers.

Available in three neutral color options.
Seamless flat knit uppers that are comfortable and breathable.
Responsive ULTRA FLIGHT cushioning system.
A lightweight and shock absorbing midsole.
Lightweight and comfortable design with a Trail specific rubber outsole.
---
10
The Go Trail Escape is another superb Hiking and outdoor design shoe from Skechers.
A High top design running and hiking shoe for trails and outdoors.
The popular 5Gen cushioning system for comfort in the midsole and GOTHerm insulation keeps you warm.
The uppers are breathable and flexible, offering a more comfortable fit.
The durable rubber outsole has a trail-specific tread for outdoor excursions and hiking.
---
11
A modern and more fashionable take on the Skechers Hiking shoe range is the very classy Trail Troop.
Features a heeled design with a lug sole pattern for outdoor excursions.
Fur lined for warmth and comfort, the sides of the shoe can also overlap.
Metal eyelet lace-up system and Scotchguard treated leather uppers.
Inside is an air-cooled memory foam insole.
---
Index Table: Top Rated Skechers Women's Hiking Boots
---
---