Sandals are the perfect footwear for those hot summers when you want to show off your lovely pedicure and keep your feet fresh.
With so many types of sandals on the market, it can be quite a daunting task to choose the best ones. However, keep in mind that most sandals do not offer much support or comfort features, which may be much needed by your feet.
Skechers are well known for their popular Memory Foam footbeds, which is the perfect comfort and support system. Skechers also manufacture sandals that support these famous Memory Foam features.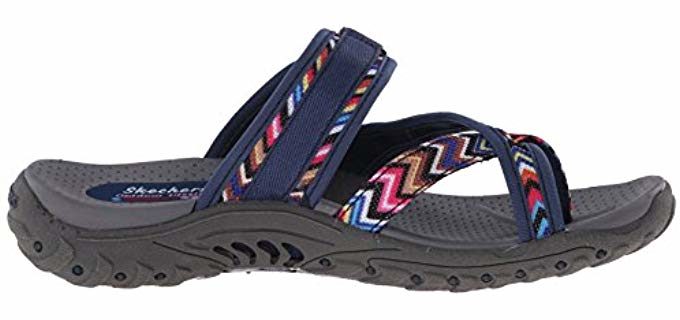 ---
Benefits of Memory Foam for Your Feet
The number of technologies used in shoes has increased over the years, and today you will even find sandals and flip flops with innovative hi-tech support and comfort technologies. Memory Foam in the inner sole of a shoe has become quite a popular trend, and Skechers has advanced the technique so far, making it a trademark of their shoes, even their sandals.
Memory Foam insoles, shoes, and sandals hold some excellent benefits for your feet and health, here are only a few;
Support – Memory Foam has the unique ability to contour to the shape of your feet, thus providing you with the best overall support, as well as arch support for your foot type.

Pressure Releief – Because Memory Foam has the capability of dispersing weight evenly, they reduce impact and pressure on the balls of your feet as well as your heels when you walk or run.

Fight fatigue – Memory Foam has superb energy return aptitudes, and provide cushioning with bounce-back that can help to fight foot fatigue, and keep you feeling energized.

Cushioning – If there is one thing about Memory Foam you can be certain of, it is the level of cushioning. Memory Foam provides the plushest and comfortable form of cushioning that you will ever find.

Balance and Stability – Memory Foam likewise has the distinctive ability to evenly dispense your balance, which in turn aids in providing stability when you walk or run.

---
Skechers Memory Foam Technology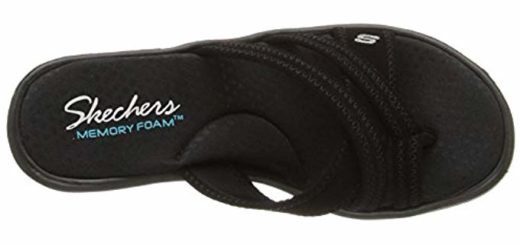 Memory Foam is such a versatile material and has been used in everything from pillows and mattresses, to shoes and insoles. Skechers have nailed the most comfortable and supportive, not to Womention innovative Memory Foam technology, in combination with other technologies to provide you with the most supportive and comfortable insole in their shoes and sandals.
Skechers uses three different Memory Foam technologies;
The Memory Foam technology used in Skechers sneakers is concentrated in the insoles for a more personalized fit as the Foam adheres to the contours of the feet.

Air Cooled Memory Foam – Air Cooled Memory Foam consists of a layer of breathable perforated Foam and a Memory Foam top layer which aids in dispersing air, as well as providing you with more cushioning. The Air Technology ensures proper ventilation to keep your feet cool and comfortable.

Memory Foam – The general Memory Foam technology that Skechers uses is designed and concentrated inside the insole of their shoes to provide you with an adaptable and personalized fit, where the Foam will adhere and contour to the curves and shape of your feet.

Gel Infused Memory Foam – Gel-infused Memory Foam offers cooling effects and likewise better and firmer support than Memory Foam alone.

Air Cooled Gel Infused Memory Foam – The Favorite and best Memory Foam innovation from Skechers so far is their Air Cooled and Gel Infused Memory Foam technology, which combines the Air cushioning and ventilation, with firmer and Cooling Gel support, as well as the comfort of Memory Foam.

---
Features of Skechers Memory Foam Sandals
Memory Foam Insole or Footbed – Air Cooled, gel Infused or Memory Foam, or Combination.

Uppers – Soft Fabric, Leather or synthetic amaterails, lined and/or padded with Foam or Memory Foam.

Water Resistant – Some snadl model from Skechers such as their outdoor range offers water resistant and has quick dryning materails.

Style – You can choose between casual, flip flop or a more formal styled sandal all with the comfort of Memory Foam, as well as many color and pattern options.


Outsole – A durable rubber outsole ensures good traction and grip.

Sole – The sole can be flat, platform, or wedge depending on your preference, usually with a shock absorbing midsole.

---
Reviews: The Best Skechers Memory Foam Sandals
Below are your best options in Skechers Sandals of every style and type;
---
1
Casual Slip On Memory Foam Sandals
The Reggae Swag and Louden are casual, easy-wearing sandal from Skechers with a full-length memory foam footbed.
Soft fabric and textile uppers straps with a durable synthetic outsole.

There are an adjustable hook and loop closure for a more secure fit.

Slight heel for stability and a flexible high traction rubber outsole.

The Memory foam footbed is fully cushioned and contoured for stability and comfort.

---
2
The Skechers Upgrades and Bosnia Toe Post sandal is a fashionable and feminine styled sandal available in a few color options, with a slight platform sole and heel for sophistication.
A full-length Memory foam cushioned footbed.

the footbed is likewise contoured, for more stability and motion control.

It offers a relaxed fit with a more roomy design.

A casual and comfortable thong uppers sandal for all-day wear.

A few neutral color variations are available for your perusal.

---
3
Formal Slip On Memory Foam Sandals
A fashionable and more dress style, an elegant sandal with a wedge sole for sophistication, and Nubuck leather uppers straps.
Synthetic Nubuck leather uppers in fashionable strap design.

Available in a few neutral color options to choose from.

A sophisticated and high stability wedge sole, and durable rubber outsole.

The footbed has plush cushioned memory foam for your comfort and support.

The Elite Flex is a slide on sandal with a slightly elevated heel and a cushioned footbed.

---
4
Casual Wear Memory Foam Sandals
A fun outdoor sandal for everyday leisurewear with some colorful patterns and designs available.
Smooth faux leather uppers available in a few neutral color variants.

A Reggae Slim designed footbed for a more narrow foot.

Inside is a plush memory foam footbed for comfort and support.

The Lug Rubber outsole, is excellent for outdoor use and proves excellent slip resistance.

The On the Go has a Toe post design and a cushioned footbed.

---
5
Memory Foam Toe Ring Sandals
The Cali Toe ring design sandal is elegantly casual and has a comfortable cushioned sole, as well as availability in a few feminine color options to choose from.
The Skechers Selmo is a closed Fisherman's style dress sandal for the gents.
Smooth and comfortable, fashionable textile uppers straps with a footbed the same color as the straps.

Cushioned soft memory foam footbed.

Smooth and moisture-wicking interior linings.

An easy slip on and off the design with a comfortably fitting toe ring design.

Available in a few color variations to choose from.

Slight heel and platform with a durable rubber outsole.

---
6
Two comfortable and easy wearing Flip Flop Sandals from Skechers with a Memory Foam Footbed.
Soft and comfortable uppers straps in a Flip Flop style.

Comfortable Memory foam Footbed.

Slightly elevated platform sole from durable foam.

Durable and high traction rubber outsole.

---
7
The Skechers Gambix 2.o is a comfortable slide sandal with a memory foam footbed, for the women, there is also the Double strap sandal with a memory foam footbed in a more feminine design.
Slip-on sandal, available in a few color selections.

Comfortable and soft memory foam footbed that contours to the shape of your feet.

Adjustable and comfortable synthetic uppers.

Easy slide on and off design.

It offers a relaxed and comfortable fit.

---
8
These are two comfortable and casual flip flops models from Skechers, which both feature and memory foam footbed.
Synthetic uppers webbing available in some color selections.

A soft and comfortable memory foam footbed.

Natural and breathable Flip Flop design.

Comfortable and casual style.

Durable and slip resistan outsole.

---
9
Yet another selection of comfortable memory foam flip flops from Skechers the Cali Vinyasa Bindufor the ladies and the Evented Arwen for the gents.
The men's model has textile uppers and the women's leather uppers.

Both feature a durable rubber outsole and EVA midsole.

Comfortable memory foam footbed and lightweight design.

Avauialable in a few color options.

---
10
Skechers Memory Foam Sandals
Two comfortable and casual memory foam cushioned flip flop sandals from Skechers.
It offers a relaxed fit with comfortable textile uppers.

Skech Knit design uppers that are lightweight and quick drying.

Cushioned memory foam footbed.

Durable rubber outsole.

A few color selections are available.

---
11
Memory Foam Comfort Sandals
Casual and comfortable Fisherman style sandal and a slingback sandal model from Skechers for ladies and gents.
The men's version is a closed style fisherman's sandal while for the ladies we have a strapped slingback style casual sandal.

There is a contoured and cushioned memory foam footbed and a durable shock-absorbing rubber outsole.

The straps on both sandals are adjustable for a customizable fit.

Some color options are availble.

---
12
Two more superb Flip Flop sandal designs fro Skechers with a plush and comfortable memory foam footbed.
The Belano for the gents has a low heel and relaxed fit design while the Upgrades for the ladies has a wedge design sole and also a relaxed fit.

Comfortable and quick drying textile uppers.

Memory foam cushioned footbed and rubber outsole.

Some color availability in boths models.

---
Index Table: Top Rated Skechers Memory Foam Sandals
---
---