-Dress shoes are the perfect item to complete a stylish and formal outfit for an evening out or even just for work in a professional environment. Most dress shoes tend to be on the uncomfortable side, usually having a high heel and little support or cushioning.
That is why I have chosen a few dress shoe models from Skechers, as they do not withhold comfort even in their very graceful and sophisticated dress shoe styles.

---
Dress Shoes The ups and Downs
As I have mentioned before, a dress shoe can be quite uncomfortable in general, although many available styles and models have comfort features. Still, these may not always be too appealing or modern in fashion.
Dress shoes have a fundamental purpose of rounding off and complementing a more formal or professional style outfit. Dress shoes are worn to occasions such as parties, weddings, fancy dinners, and workwear in a professional environment.
With dress shoes being quite uncomfortable in general, the pain is just a part of the game is looking good, and with most occasions that are not long-lasting, bearable. Yet with an evening out dancing, a long wedding and work in an office, and uncomfortable dress shoes can be very discouraging and painful, not to mention pretty bad for your feet.
Luckily Skechers have a range of dress shoes and sandal models that are extremely elegant and appealing, for every taste and fashion style, with their popular comfort features such as their memory foam cushioning. %Gen and Goga Mat technology and cushioning and smooth linings and construction will not cause friction or irritation.
---
What to Look for in a Comfortable Dress shoe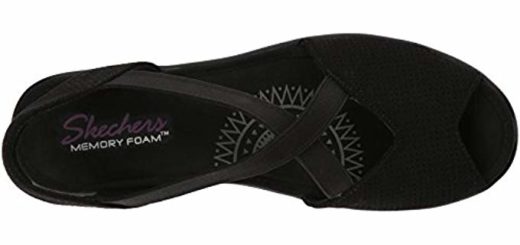 Heel – A low, block or a wedge heel is always a much better choice than a ponty or high stiletto heel and much healthier for your feet, along with less of a risk of injury.
Construction – The shoe's construction should be comfortable and durable, with a roomy toe area, adjustable and comfortable fit, and good quality construction.
Uppers – Uppers that are flexible and comfortable against the skin are likewise important, particularly if you will not be wearing socks with the shoes.
Comfort – Comfort features such as a moisture-wicking lining, less irritation with the seamless interior, cushioning, and a comfortable footbed are ideal for keeping your feet comfortable.
Support – Good arch support, a heel cup, midsole cushioning for shock absorbency, and sturdy and stable design with a durable and slip-resistant outsole will provide you with excellent support in a dress shoe.
Durability – When you find a good shoe, you want it to last. Luckily Skechers shoes are of superior quality, and you are assured of a long-lasting comfortable Dress shoe that will look great for many years to come.
---
Features of a Good Skechers Dress Shoe for Women
support and Cushioning – Goga Mat technology cushioning. Memory foam footbed or insole. A cushioned and shock absorbing midsole.
Lining – Smooth moisture-wicking interior linings.
Outsole – Slip-resistant durable rubber outsole.
design – Adjustable straps or easy slip on and off design.
---
Reviews: The Best Skechers Dress Shoes for Women
below are some of your top choices when it comes to Dress shoes made by Skechers;
---
1
---
2
The Skechers Ditto is a stylish and formal ankle boot ideal for professional environments and occasions where you need a closed-style shoe.
Suede leather uppers are available in black or tan color options with a side zipper closure.
A comfortable memory foam footbed and smooth interior linings.
A high elevated Wedge Style heel and forefoot.
The sole is durable and flexible.
---
3
The Perfect dress Style shoe for work, with a flat and supportive sole and a cushioned soft memory foam footbed.
Easy slip-on and off style.
Patterned black leather uppers that are soft and supp[le.
A comfortable and supportive, plush memory foam footbed.
Flat sole design with a rubber outsole that offers excellent slip resistance.
The perfect office work shoe.
---
4
The Perfect summer dress shoe from Skechers, the Cleo Sass, is a Ballet Flat with a slightly pointed toe and cooling technology to keep your feet dry and cool.
Soft and flexible Skech-Knit uppers that are very breathable and gentle against the skin.
An Air Cooled memory foam technology footbed, to keep feet dry and comfortable.
Flat sole with a slight heel, made from durable and slip-resistant rubber.
Available in a black, navy, and taupe color option.
---
5
If you are active on your feet and need a Dress style shoe for this purpose, I highly recommend the Skechers Go Walk Lite Slip-on Flat for its style and durability, as well as comfortable cushioning to absorb shock.
Leather textile uppers in a black color option.
Features lightweight and responsive 5gen Cushioning.
There is a Goga Max High rebound insole for comfort and energy return.
Easy slip-on and off the style that you can take along when needed.
Also boasts the new
---
6
The Parallel Piazza from Skechers is a dress-style peep toe, gored slingback sandal with an elegant rocker style outsole.
Smooth suede textile uppers with perforations at the front for breathability.
A Peep toe style with slingback strap for a more secure fit and gore lined for comfort and keeping your dry.
Thick and supportive Rocker-style rubber sole that ensures better stability and motion control.
Inside is a fully cushioned memory foam footbed.
The high traction rubber outsole is likewise quite flexible and very durable.
---
7
The Seager is a Mary Jane Style Dress Shoe from Skechers with breathable knit upper construction.
Available in neutral and pastel color options.
Soft textile, breathable woven flat knit fabric uppers in a Mary Jane Style.
A white and non-marking thick and durable rubber outsole and a shock-absorbing and flexible midsole.
Inside is an Air Cooled full Memory Foam cushioned and removable insole.
---
8
The Skechers Rumblers range is comfortable dress-style shoes for ladies.
Fabric and textile uppers with a soft fabric lining.
A durable and thick rubber outsole with a Wedge heel for dress style.
Air-cooled memory foam cushioned comfort and supportive insole.
Available in a stylish and elegant black color option.
---
9
The Parallel Tra[ezoid from Skechers is another superb dress-style sandal.
Available in blue, tan, or black color selection with durable leather uppers and a peep-toe design.
A sophisticated and stabilizing wedge rocker design sole.
Adjustable slingback for a better fit.
Comfortable memory foam insole for cushioning.
---
10
A stunning flat Thong Dress sandal from Skechers with bling details.
A flat design sandal with thong upper decorated with stones and diamante.
The sole is cushioned with YOGA FOAM, and there is a soft fabric toe post.
You can choose between three neutral color options in this design.
The sandal has a secure back strap for a better fit.
---
11
A slip-on Wedge Sole Dress Sandal with Diamante details on the uppers.
Soft textile uppers with Diamante decorations are available in different color options.
There is a platform wedge sole that is also quite flexible.
The Bio Dri technology uppesr will stay dy and comfortable.
A comfortable memory foam insole provde all day comfort.
---
12
A comfortable strappy Dress Sandals with two-tone straps, available in a black or Natural Beige color.
Synthetic upper straps in a two-toned color are available in either black or off-white color options.
The footbed has Luxe Foam cushioning and is contoured for proper support.
The strap linings are smooth and gentle against the skin.
There are a slight heel and platform design in the sole.
---
13
The Skechers Reggae Slim is a Stretchable upper Dress sandal for ladies.
The sole is a thick and durable rubber.
The sandal has a more sophisticated design as a dress sandal with a comfortable fit.
There is a cushioned comfort footbed.
The uppers stretch and are flexible, with flexible textile materials.
---
14
The Skechers GO Walk Lite is a ballet Pump with a flat sole for formal occasions.
The style is elegant and acceptable for all occasions and all dress types.
There is a comfortable Goga Max High rebound insole for support.
The Perform Tex easy-care synthetic leather uppers are very easy to clean and maintain.
The sole is durable and synthetic.
---
15
The Skechers Dome is a comfortable Dress boot for everyday wear.
The Boot has a durable synthetic sole with a low block heel and a flat sole.
The ankle design is comfortable and stylish, and there is a sweater design collar.
The Top can likewise be adjusted, and there is a lace-up closure.
You can get the Boot in a Black or tan color option.
---
Index Table: Top Rated Skechers Dress Shoes for Women
---
---