Cross-training is a versatile and fun exercise routine where a few different exercise types such as weight lifting, aerobics, and strength exercises are combined.
For this reason, an appropriate Cross-Training shoe is necessary to accommodate the performance requirements needed and support features needed for these particular routines.
Skechers have a range of athletic footwear specifically suited for Cross-training exercise routines, with unique comfort and support features.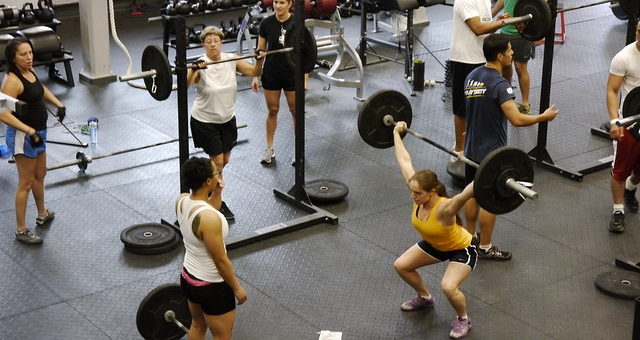 ---
Cross Training and It's Benefits
If you would like to spice up your workout routine, then Cross training is your best choice. Cross-training involves mixed forms of aerobics, strength, flexibility training, and weight training to achieve a full-body workout. You can easily mix and match your workouts and exercise at different interval levels and intensity levels.
Cross-training holds many superb benefits that you can look forward to;
Prevents Injuries – Overuse is one of the main causes of injuries, as doing repetitive exercises places increased stress on your joints and muscles. With Cross-training, you are working the same muscles in a different way and different muscles, which decreases or chances of injuries.
Rest Tired Muscles – Cross-Training gives you the chance to rest certain groups of muscles that have become tired and to do something new such as swimming or going for a bike ride.
Continual Progress – Your progress with any training routine will start to plateau somewhere between 4 and 12 weeks. Changing your workout routine up a bit can ensure that you enjoy consistent progress.
Prevents Boredom – Let us face it, doing the same old routines regularly gets boring, and you get pretty tired of it. Cross-training involves so many different routines and elements that you will always stay fresh and interested in.
Improves Strength and Flexibility – because of the variety of exercises, every area is improved, your strength, flexibility, running, and athletic performance, as well as your overall stamina and energy levels.
Muscle Symmetry – Cross-training helps you maintain complete muscle symmetry and balance, as each muscle group gets sufficient exercise and training, so there are not just a few muscle groups that are excessively trained.
---
Choosing the Best Cross Training Shoe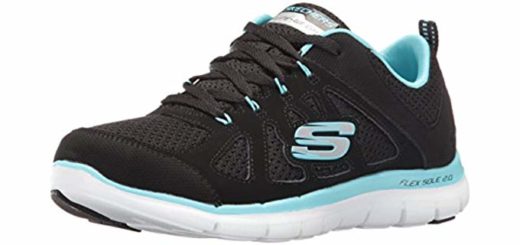 Cross-training shoes are trendy among many athletes, as they are designed with complete versatility in mind. There is a constant release of fresher and more groundbreaking designs of Cross Training Shoes; Skechers is one industry that has proven to be quite pioneering and up-to-date in their releases of Newer and more advanced Cross-Training shoe technologies.
When Choosing a Good Cross-Training Shoe, should really consider the following features;

Insole and Interior Support – The insole is key to comfort and support. Look for cushioning, such as the 5GEN cushioning system or memory foam inside your Skechers Cross Trainers for comfort and support. Good arch support for your arch type is likewise a must.
Heel Support – The heel on any Cross trainer is one of the biggest defining construction traits. A firm and cushioned heel is great for absorbing shock and bearing weight for weight training.
Midsole – The Midsole provides arch support and shock absorbency, particularly in the Skechers Cross Trainers, which have a very supportive midsole.
Outer Construction – The outer or upper construction of your cross trainer should offer a flexible and snug fit, with mesh and synthetic upper materials for breathability and a secure lace-up system. Smooth and moisture-wicking interior linings keep your feet dry and prevent friction during training.
Arch Support – Find a shoe with the right type of arch support for your specific arch type. If you have a low or flat arch, look for stability and neutral shoe types; with a high arch, opt for a more cushioned sole.
Traction – You do not want to slip and fall during a high-intensity workout or a group class; this can be embarrassing and dangerous. A good Cross-Training shoe will always offer excellent traction, even more so than a running shoe.
Fit – Get the right fit, not too tight as to squeeze and not so loose as to cause friction. A roomy toe box and secure heel fit is your best option.
Brand – A good quality brand is always the ideal. Skechers offers excellent quality shoes in general, and their Cross Trainers have some of the best quality materials and features that you will require.
---
Features of a Good Skechers Cross Training Shoe
Uppers – Lightweight and breathable mesh and synthetic uppers. Knit mesh upper design. Flexible and soft uppers, with a smooth interior lining that wicks away moisture and does not cause friction. Roomy toe box and a supportive heel. Breathable mesh and synthetic overlays for stability in the uppers.
Support and Cushioning – Shock absorbing midsole. A 5Gen cushioned or memory foam cushioned insole.Lateral protection and reinforcement. Cushioning; Goga Mat, 5Gen, or Memory foam that is responsive and returns energy to the feet. A shock-absorbing midsole.
Outsole – High Traction Flexible Outsole. Durable high traction rubber outsoles. The sole should not have too much of a heel drop and be more uniform.
Closure – Choice of a general lace-up system or a bungee lace-up design.
Design – Flexible design and flexible sole for easier movement.
---
Reviews: The Best Cross Training Shoe Models From Skechers
here are some of the best available Skechers Cross Training shoe models in their Athletic range;
---
1
High Energy Cross Training Shoes
Great for those cardio and aerobic cross-training routines, the Skechers Energy offers superb bounce back and energy return.
Smooth leather uppers with breathable mesh inserts.
A shock-absorbing midsole and cushioned insole.
The outsole offers excellent traction and is very flexible.
Padded tongue and collar for further comfort.
---
2
The Flex Appeal and Nuovo Are great cross-training shoe designs that offer superior shock absorption and cushioning with a flexible outsole.
Smooth leather or nubuck uppers with mesh panes at the front and sides for ventilation and reflective side edging for night runs.
Features the High Impact EVA shock absorbing midsole.
A padded tongue and collar and soft fabric interior linings.
The high traction outsole is flexible and very durable.
A stability midfoot design to control overpronation.
---
3
For light routines and exercises and casual wear and those off relaxing days, I would highly recommend the fashionable and lightweight Sport Bucolo and Gratis in Motion.
Smooth leather and mesh uppers that are lightweight and breathable.
A fashionable and sleek, everyday wear design.
Durable synthetic sole that offers good traction.
Inside is a comfortable insole and cushioned midsole.
The tongue and collar are padded for a snug and comfortable fit.
---
4
Flexible Cross Training Shoes
The Go Train for men and women is the ideal training shoe for all types of training and exercise, with a flexible and breathable design and a high-energy return Goga Mat sole.
Flexible and breathable textile and synthetic uppers with lightweight and durable mesh.
A lightweight and responsive Goga Mat high rebound insole.
Shock absorbing and stability midsole.
There is 5Gen lightweight cushioning in the midsole.
A multi-surface high traction rubber outsole.
Some color variations are available for the ladies, and two options for the men.
---
5
The Skech Air from their sports range is their most lightweight running and training shoe with knit mesh uppers and lightweight cushioning for superior comfort and performance.
Features Skech Knit Mesh woven fabric uppers, in a one-piece seamless and smooth upper design.
A heel fabric overlay for durability.
Comfortable padded tongue and collar.
Air Cooled Memory Foam Cushioned insole.
Inside is a stabilizing midsole design.
The high traction rubber outsole is flexible and durable.
---
6
Skechers Cross-Training Sneaker
Two lightweight ad very flexible sneakers from Skechers are ideal to use for all Cross-Training Routines.
Soft and flexible synthetic uppers with a stretchy fit.
The Burst has a general lace-up system and the Empire a bungee lace-up system for a secure fit.
Smooth and breathable interior linings and durable high traction and flexible rubber outsole.
Comfortable and cushioned insole.
Available in many color variations to choose from.
---
7
Skechers Cross-Training Shoe
A comfortable, relaxed fit sneaker from Skechers that is lightweight and cushioned for Cross-Training of all sorts.
Lightweight and flexible textile uppers.
It offers a more relaxed fit design.
Memory foam cushioned insole.
The rubber outsole is durable and non-marking.
Available in many vibrant color options to choose from.
---
8
Skechers Aerobic Cross-Training Shoe
The Go Run 600 is a shoe that I would recommend for Cross-Training involving more cardio and aerobic type routines than weight lifting.
Soft and comfortable, lightweight textile uppers.
Very responsive 5Gen cushioning.
A Goga Run insole that provides shock-absorbing cushioning and energy-returning bounce back.
Durable rubber outsole with additional traction points.
A slight heel drop for better performance and durability.
---
9
Skechers Flexible Cross-Training Shoe
From the flex range, we have the Appeal 3.0 for the ladies and the Advantage for the men, both with similar features, ideal for Cross-Training.
Soft and flexible textile uppers with a secure lace-up closure system.
A soft fabric lining that wicks away moisture and keeps your feet dry.
Comfortable cushioned Air Cooled Memory foam insole for shock absorbency and comfort.
Flexible and durable, high traction rubber outsole.
---
10
Skechers Heavy Duty Cross-Training Shoe
These are two heavy-duty, durable, and high-performance cross-trainers for those tough routines.
Durable and comfortable leather and textile uppers and a rubber outsole for great traction and support.
A secure lace-up system with color lacing options in the Stamina model.
The collar is cushioned and highly supportive, protecting the heel and ankles.
A cushioned and shock-absorbing EVA foam midsole for full comfort.
Soft and smooth moisture-wicking interior linings and a cushioned insole.
A few color options are available for you to decide between.
---
11
Skechers Cross-Training Shoe
These are two highly flexible Cross-Training shoe models from Skechers that are very lightweight and offer an outstanding fit.
Soft woven fabric and textile uppers for lightweight breathability to keep your feet dry and cool.
A comfortable and cushioned memory foam insole to prevent fatigue and support your feet.
Durable rubber outsole with a heel drop for better performance.
The sole is flexible and offers exceptional shock absorbency and traction.
---
Index Table: Top Rated Skechers Cross Training Shoes
---
---