Zumba is a fun and exhilarating exercise option that employs dance and aerobic movements for a great cardio exercise routine.
But did you know that you will need some special feature shoes to enable you to perform these Zumba routines easily and with less risk of injury?
In this article, we will look at a specific athletic shoe brand in the best new Balance Zumba shoes to cater to all your needs.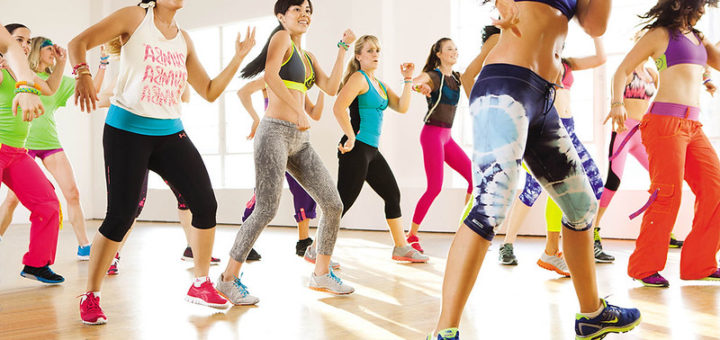 ---
Choosing Good Zumba Shoes
So, you signed up for that Zumba course and are all excited to get started, but what to wear.
Well, mostly, I trust that the clothing options were quite easy, as comfortable gym clothing is all you need, but shoes may be a bit more tricky.
Running shoes are too grippy and have features that do not allow proper flex and sliding, whereas walking and other sports shoes may also not do the trick.
However, if you opt for certain training shoes with specific features, you can get away with a great Zumba training shoe.
Mostly I would recommend certain dance shoe types, as aftercall, Zumba is a dance training routine. Still, regular training shoes with a flexible sole and lightweight construction can also be perfect.
Keep in mind that you want a snug fit that doesn't squeeze, but that will also not slip and slide around, and a lightweight shoe.
---
Why Choose New Balance Zumba Shoes
New balance shoes offer some exceptional features and styles that feel great and look good for doing Zumba;
Flexible Sole – New Balance training shoe models all feature a durable rubber outsole with a tread that is ideal for doing the different slide movements in Zumba and that are not too heavy on the grip. The soles are usually quite flexible and allow for easy lateral movements.
Cushioning – New Balance shoes feature lightweight and impact-absorbing cushioning such as the DynaSoft cushioning, FreshFoam, and high rebound FuelCell cushioning, all to provide comfort and protection against hard impact.
Uppers – New balance shoes have uppers designed to be lightweight and breathable such as mesh, knit, and even some leather models, which is ideal for Zumba training.
Fit – New Balance shoe models offer a comfortable and snug fit that is streamlined and will not slip around. Furthermore, you can easily choose a regular or wider width option depending on your foot type and shape.
Style – The training shoe models from new balance comes in many styles and designs so you can pick your style and color in a model with the most desirable features for your needs.
---
Features of a Good New Balance Zumba Shoe
Buying the right Zumba shoes can be quite difficult as there are quite a few factors to consider.
However, to make it easier on you, here are few main characteristics that you can look out for;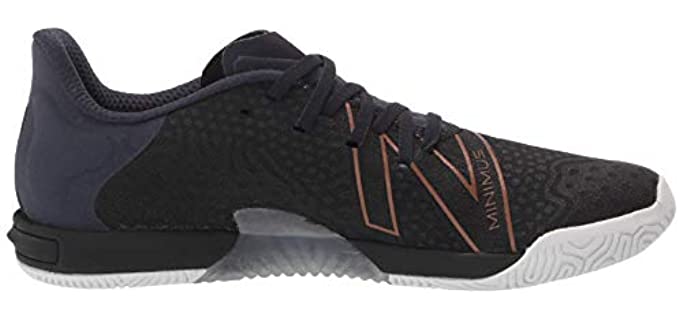 Breathability – It is important to look for shoes with ventilation holes or breathable uppers as Zumba is a high-speed activity that can cause sweating and overheating if you do not have well-ventilated shoes. So always opt for well-ventilated and breathable shoe models.
Flexibility and Durability – Because Zumba practice will take its toll on the soles of your shoes, you want shoes with a durable rubber outsole. However, you also need flexibility in the soles to allow for some of the complex movements in Zumba training. Furthermore, durability in flexibility accounts for the uppers and fit, where you will need a more flexible and adaptive fit and durable uppers.
Grip – Some grip is essential for the soles of Zumba shoes; however, not so much as to make it hard for your to slide your feet across the floor.
Training Shoes – Running shoes generally offer plenty of grip and traction, which is not what you want too much of in a Zumba training shoe. Therefore always rather opt for training shoe types than running shoes for Zumba.
---
Reviews: The Best New Balance Zumba Shoes
Below are some excellent New Balance Training shoe models that are ideal for Zumba Training;
---
1
The New Balance Minimus TrV1 is a cross-training shoe that I find ideal for Zumba.
The shoe has a rubber sole and a stable base that is still quite flexible in the right areas.
The midsole has rubber coverage for durability and additional cushioning for support.
The TPU infused design and reaction-does not engineering of the shoe provides excellent durability,
It has a minimalist design for easy movement and flexibility.
There are also more color options available.
---
2
The New Balance 577V5 is a cross-training shoe for Zumba practice.
It has mesh and synthetic uppers that are durable and highly breathable.
There is a removable NB comfort-cushioned insole and a CUSH shock-absorbing plush midsole.
Furthermore, the rubber outsole offers just the right amount of grip.
There are also more color options available to you.
---
3
The New Balance 411v1 is a training shoe that looks good and feels good for Zumba training.
The uppers are a soft and flexible fabric that is very lightweight.
The shoes have soft underfoot cushioning and support.
The uppers are mesh and synthetic that are lightweight and breathable.
The rubber outsole is flexible and durable.
---
4
The FuelCore Nergize v1 sneaker from New Balance is a casual shoe ideal for Zumba.
The uppers are a durable synthetic material with mesh for breathability and some eye-catching designs.
There is an NB removable cushioned insert and REVlite midsole for lightweight cushioning.
The sleek design is flexible and adaptable in fit.
The outsole is a durable rubber.
---
5
The New Balance Fresh Foam 880V11 is a running shoe with a less grippy soft foamy outsole for Zumba floors.
The uppers are synthetic and mesh, thus highly breathable and quite durable.
The Fresh Foam midsole offers plush and energizing cushioning for maximum shock absorbency.
The uppers are engineered jacquard mesh and quite flexible.
There is a molded external heel counter for heel stability and a comfortable model footbed.
---
6
Here we have the 623V3 leather cross trainer from the new balance.
One of the most durable Zumba shoes you will find from this brand.
It has genuine leather uppers with ventilation perforations.
The footbed has firmer injection foam EVA and yet is very flexible.
ABZORB is cushioning for reliable shock absorbency and a durable rubber outsole.
The shoes are available in black and white leather style sonly, nevertheless.
---
Index Table: Top Rated New Balance Zumba Shoes
---
---