It is essential to have the best support in your shoes to get you through a tough workout.
New Balance offers some of the top shoe model ideals for CrossFit Training sessions of all forms.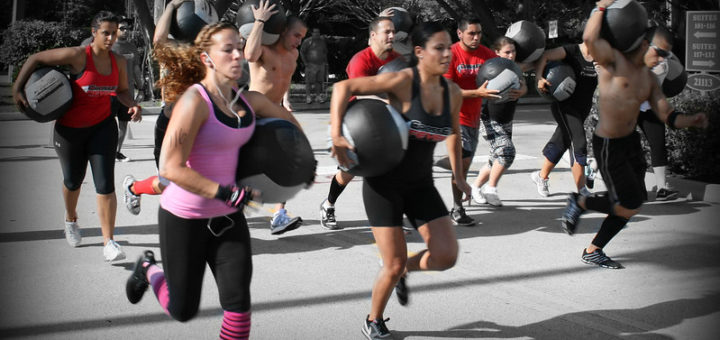 ---
Choosing the Best CrossFit Training Shoes
There are a few factors to consider when choosing the best shoes for CrossFit Training;
Brands – With so many brands and options, it can become overwhelming to consider which is best for you. That is why we have chosen the New Balance. New Balance offers some of the best features in a CrossFit training shoe and offers a selection of fits and widths to suit any foot type. Likewise, New Balance is a well-known quality brand that you can surely trust.
Fit – As I mentioned, New Balance offers different sizes and width options from a Narrow to an Extra Wide width fit. The fit of a CrossFit training shoe is essential, and you want them to fit snug and comfortably without squeezing, with ample toe room and no slipping.
Traction – A CrossFit training shoe generally has more traction than walking or running shoe because of the variety of floor surfaces and exercise routines it includes.
Uppers – The uppers need to be light and breathable yet still provide excellent structural support; therefore, leather and mesh are excellent choices.
Arch Support – Good arch support for your specific arch type is ideal for preventing fatigue and overuse injuries.
Cushioning – Cushioning in the insole and midsole helps keep you comfortable and attenuates shock. Cushioning should be light and not too thick and heavy to weigh you down.
---
New Balance Shoes for CrossFit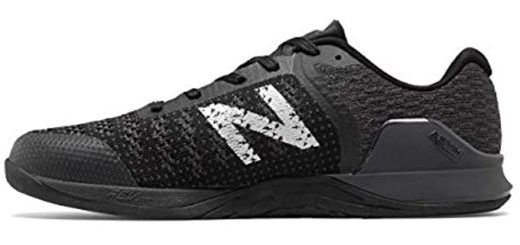 New Balance Cross Training shoe ranges are ideal for CrossFit training sessions; they are durable and provide excellent traction.
The Zante range and Fresh Foam technology range offer superb cushioning with a snug and breathable uppers fit if you have a very diverse CrossFit training workout.
New Balance has sleek and minimalistic, more supportive models in their CrossFit training range to suit every need and requirement.
---
Features of a Good New Balance Shoe for Crossfit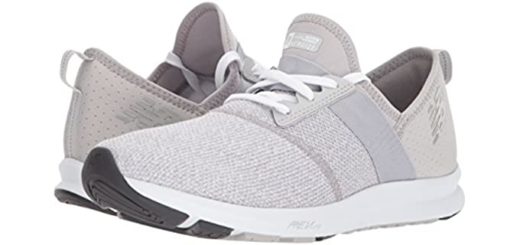 Uppers – The Uppers on the CrossFit range of New Balance can consist of; Textile, Engineered Knit textiles, No-sew Overlays, Mesh, and Leather Asym collar heel fit, or a Bootie Fit design.
Insole -In the insole, there is CUSH cushioning technology, or an NB memory Sole, EVA Heel Pocket Cushioning, and the option of a removable insole so that you can use your own orthotics.
Midsole -The Midsole is usually constructed out of EVA materials with Molded or AIMEAV technology for comfort and shock absorbency. In addition, some models have ABZORB Crashpads in the heel, or a Fresh Foam, midsole. You can also get Injection Molded EVA, ABZORB midsole cushioned and compression design, and a DuPont, Engage isoprene rubber layer. Lastly is the Revlite lightweight foam midsole.
Support Features – Support features may include a TPU heel counter for stability or an Internal Shank.
Outsole – A Rubber, with a Walking Strike Path technology tread, is in most CrossFit models.
Colors and Options – There are wider width and larger size options as well as many color varieties available in almost all New Balance CrossFit shoe models.
---
Reviews: The Best New Balance Shoes for Crossfit
---
1
The Nitrel is one of my top favorite CrossFit training shoe models because of its sleek design and energizing cushioning technology.
The uppers are sleek and flexible in design allowing fr proper ventilation and cooling.
A REVlite foam midsole and NB Memory Foam ensures ample cushioning and shock absorbency in the sole.
Because the insole is also removable, it allows you the use of your orthotics.
The rubber outsole offers high traction and long-lasting durability on various surfaces and is ideal for trail surfaces.
You can also select between a few color options in this shoe range.
---
2
The X624V2 model from New Balance is the perfect CrossFit shoe flexible and versatile for various CrossFit training programs.
There are leather and mesh uppers that ate durable and breathable.
An injection-molded EVA midsole ensures superb shock absorbency.
EVA Pockets in the heel add shock-absorbing cushioning in the heel area.
The ABZORB design of the midsole is lightweight and supportive.
There is also a DuPont Engage cushioned rubber outsole for shock absorbency and traction.
---
3
Running and CrossFit Shoe
The Zante V4 is one of the best CrossFit shoe options for persons with a higher arch type that tends to Underpronate or Supinate.
The uppers ensure a snug and comfortable fit with a bootie construction and are made of synthetic materials that are light and breathable.
In the midsole, you will find FRESh Foam that is lightweight and shock absorbing.
The New Sew Application of the shoe makes it less prone to friction, which can cause blisters, and the removable insert allows you to use your Orthotics.
Then to finish off, there is a durable rubber outsole for better grip and traction.
---
4
Overpronation Crossfit Training Shoe
Something for the Overpronator and a lower or flat arch type is the 623V3 CrossFit training model from New Balance.
The uppers consist of durable perforated leather for added stability and breathability.
For stable cushioning, there is an AIMEAV Midsole and cushioned insole for comfort and shock absorbency along ABZORB Crashpads in the heel to attenuate impact.
The shoe likewise has a high abrasion-resistant, durable rubber outsole.
You can choose from a few Neutral color options and different width sizes in this model.
---
5
Stability CrossFit Trainer
Another excellent stability model for CrossFit training is 608V5.
The upper consists of lightweight and breathable mesh with synthetic overlays for structural stability.
A Molded EVA midsole and CUSH comfort midsole offer soft and comfortable cushioning and support.
Inside are moisture-wicking linings to keep your feet dry.
The sole has walking Strike Path technology to improve stability along with the internal shank.
In this model, you can likewise choose between a few neutral color options and wider width selections.
---
6
Lightweight Shoe for CrossFit
The Prevail V1 is a very lightweight and energizing shoe for CrossFit training purposes.
The uppers are lightweight and breathable, offering a more flexible fit.
There is a RevLite technology midsole and NB soft insole for optimal foamy and energizing cushioning.
The outsole is made from durable rubber, and there is a TPU heel counter for increased stability.
The Outsole consists of a very durable Vibram rubber.
Because of the No-sew design, there is less friction meaning no blisters or chafing.
---
7
The 577V4 model from New Balance is one of their favorite Crossfit training shoes.
The uppers are lightweight, breathable with synthetic and mesh construction.
There are a removable comfort insole and a supportive foam midsole.
The sole is flexible and perfect for Crossfit training.
The rubber outsole offers good durability in traction.
---
8
Crossfit and Running Shoe
The 520V6 from New Balance is a running shoe with features making it ideal for Crossfit training.
There are synthetic and mesh upper with a comfortable collar design for a more secure fit.
The Injection Molded EVA midsole is lightweight and offers excellent shock absorbency.
The rubber sole is flexible and very durable.
There is also a cushioned and removable insert for comfort and cushioning.
The Fit of the upper is adat inspired, which means it adapts to your feet and movements.
---
9
Crossfit Training Shoe for Diabetic Feet
The 857V2 from New Balance is a Cross Training shoe that is ideal for Crossfit training routines.
The leather uppers are a bit more durable and offer a comfortable fit.
Ther is an internal shank for stability and a durable, high traction rubber outsole.
The insole is cushioned and removable, and there is a shock-absorbing dual-density midsole.
I would recommend this model for persons with Diabetes that want to take part in Crossfit training.
---
Index Table: Top Rated New Balance Shoes for CrossFit Training
---
---