Have you been wondering about the comfort and benefits of a Cork Footbed sandal? If so, I have some excellent news for you?
The Cork Footbed sandal is an exceptionally comfortable and also environmentally friendly option.
If you are interested, have found some exceptional brands and models of some of the Best Cork Footbed Sandals available today.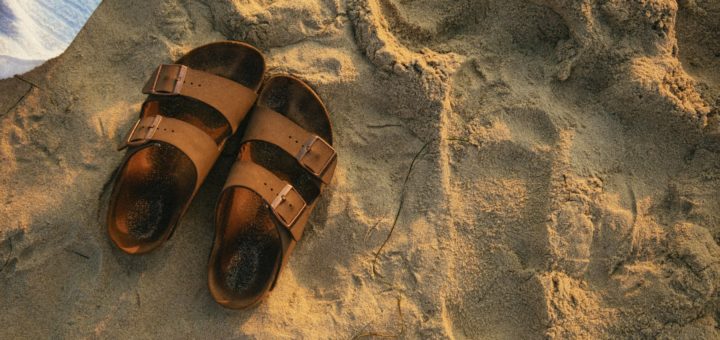 ---
Why is Cork a Better Option?
The Cork Footbed or sole of the cork footbed sandal is made from the bark of the Cork oak tree. The cork can be harvested without damaging or limiting the growth and development of the tree. Therefore cork is a much more environmentally friendly and sustainable option.
Besides this, cork has many comfort and support features that make it an excellent choice in a sandal footbed. Cork is also quite durable, and some of the top sandal brans, such as Birkenstock, have used it for many years in their footwear.
---
The Benefits of a Cork Footbed Sandal
Cork is a very versatile and natural material. And especially beneficial when used in sandals.
Here are a few of the great benefits of a cork footbed in your sandals;
Form Fitting – Cork is a soft and moldable material that eventually molds to the unique shape of your feet for customized support.
Odor Resistance – Because Cork wicks away moisture and keeps your feet dry, there is less risk of bacteria and odors from moisture build-up.
Impact Resistance – Cork is an elastic and cushioning material that absorbs impact and prevents strain on your feet and joints.
Naturally Renewable – Cork harvested from cork tree bark does not actually damage the trees, and the materials are likewise recyclable. Therefore a cork footbed is an environmentally friendly and sustainable option in your footwear.
---
Features of a good Cork Footbed Sandal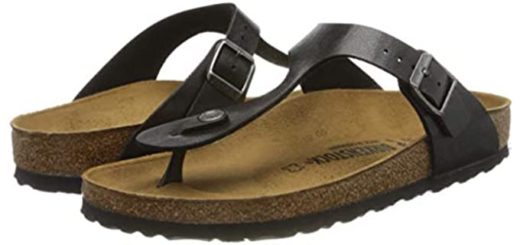 Uppers – For the upper in a cork sandal range, mostly smooth, nubuck, or suede leather is used. In some models, synthetic leather and textile materials are also used in the uppers.
Footbed – The footbed can be designed with a cork only, or a blend of cork and latex, or Cork and EVA. Some models also have a lined footbed to wick away moisture.
Midsole – Cork or EVA can be used to add cushioning and shock absorbency to the midsole.
Outsole – The outsole will either be synthetic or rubber, with patterns for tractiona ndb grip.
Options – there are different casual and even more dress style sandal options and colors available from which you can select.
Support Features – A contoured design footbed, arch support, or a deeper heel cup is present in some models for added support.
Heel – There are different heel types and heights available, such as ; platform, flatform;wedge or flat heels.
---
Reviews: The Best Cork Footbed Sandals
These are some of the top brands and models in Cork Footbed sandals;
---
1
Sandals with a Cork Footbed
One of the most popular ranges from Birkenstock and the most sought-after cork footbed sandal is Arizona.
The Leather upper straps consist of soft leather with buckle closures and an adjustable fit.
You can select this model in a variety of colors, as well as a smooth, suede, or metallic leather option.
The sole consists of cork and has a contoured design for optimal support.
There is a durable rubber outsole for traction and grip.
---
2
Two Strap Sandals with a Cork Footbed
Here we have two very comfortable slides on sandals from Northside, a well-known brand.
The uppers are soft synthetic leather with buckle details similar to the Birkenstock model.
There are a few color options from which you can select.
The footbed is contoured and cushioned with cork and EVA in the midsole.
There is also a slip-resistant durable outsole, and the Sandal is very light in weight.
---
3
Sandals with a Cork Footbed
The Eastland Tiogo and Caleb both have a supportive and cushioned cork footbed and comfortable design.
Leather is used for the uppers available in a smooth leather or suede leather option.
There is a comfortable memory foam insole for cushioning and a durable and lightweight EVA outsole.
The Footbed has a layer of cork for cushioning and comfort.
The sandal also features a slight heel for stability.
---
4
Sandals with a Cork Footbed
The Birkenstock Milano is another top favorite when it comes to cork footbed sandals for men and women.
The Milano Boats the two-strap leather uppers as well as an adjustable ankle strap for a better fit that will not slip off.
You can get the Milano in two neutral color selections.
The cork footbed is contoured for full support and comfort.
There is a durable rubber outsole that provides good traction.
---
5
Cork Footbed Slip On Sandal
The Naot Shai is a light and comfortable cork footbed sandal.
Suede leather is used in the uppers, which is light and soft against the skin.
There is a contoured and cushioned cork footbed that molds to the shape of your feet.
The TPR rubber outsole is lightweight, flexible and offers excellent traction.
The sandal is durable and extremely comfortable to wear.
---
6
Sandals with a Cork Footbed
Naot is a trendy shoe brand, and I have chosen their Krista and Electric as men's and women's cork footbed sandal models.
Smooth leather uppers offer a comfortable fit, and there is a large variety of color options.
The Cork footbed is lined with smooth leather to absorb moisture.
Ther is also an EVA midsole for shock absorbency and a durable rubber outsole.
The sole is flexible and supportive for walking and other activities.
---
Index Table: Top Rated Cork Footbed Sandals
---
---