Snorkeling is a fun and very rewarding activity that is simplistic and quite flexible.
Just as you need good flippers for underwater, you also need a good Water Shoe for in between and in and out of the water.
Some individuals even use a Water Shoe or aqua sock underneath their flippers. This article will look at some of the best available Water Shoes for all the snorkeling areas.
---
Why Use Water Shoes for Snorkeling
Besides just for Snorkeling purposes, the Water Shoe comes in handy with water sports, hiking in wet conditions, or wearing in and out of the water on the beach when going for a dive.
A good Water Shoe will protect your feet on hard and slippery rocks, as well as on hot sand on the beach when you get out.
The right Water Shoe also provides a durable and comfortable in-between shoe and can even be used for Snorkeling if you do not use flippers.
---
Tips for Choosing the Best Water Shoes for Snorkeling
Here are a few tips that you can follow to get the best shoes for Snorkeling with or just for in-between use;
Slip Resistance – Slip resistance is critical; a lug rubber sole that offers good grip, especially on wet and slippery surfaces, is the number one feature to look for in a water shop.
Lightweight – When you are in the water, you do not want your shoes to weigh you down, making sure that your Water Shoes are lightweight and easy to wear.
Durable – When you finally have a lightweight in comfortable pair of Water Shoes, you want them to last. So I recommend always looking for a good quality durable brand that uses quality materials and craftsmanship in a shoe that will last with the wear and tear associated with snorkeling.
Comfortable – For comfort, slight padding in the sole can provide some cushioning against hard rocks. A comfortable fit and smooth materials will reduce any chances of friction and irritation.
Fits Propely – A snug fit is desired as you do not want your Water Shoes slipping off while you are underwater.
---
Features of a Good Water Shoe for Snorkeling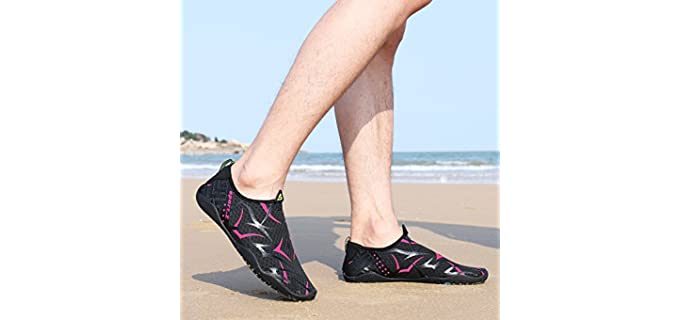 Uppers – Polyester, Spandex, and Textiles are desirable for the uppers as they are flexible and dry quickly, as well as do not absorb and retain water.
Closure – An adjustable Hook and Loop or Bungee closure system is the best option in Water Shoes.
Outsole – Look for a lug rubber outsole that provides effectiobe grip on wet slippery surfaces.
Seamless Interior – The shoe's interior needs to be free of seams and threads that can cause chafing and blisters.
Water Drainage – Large holes or draining materials are ideal for keeping the Water Shoe from collecting water.
---
Reviews: The Best Water Shoes for Snorkeling
Here we have some of the best available Snorkeling Water Shoes;
---
1
---
2
---
3
---
4
---
5
---
6
---
7
The Tidal Cruiser from Speedo, a top brand, is very lightweight, flexible, and ideal for snorkeling and other water sports.
The textile uppers are lightweight and quick drying.
You can choose between light grey or darker blue color options.
There is a neoprene collar for easy on and off, as well as a more secure fit.
The mesh in the uppers allows better ventilation and drainage.
The synthetic sole offers an excellent grip on wet surfaces.
---
8
I like the Merrell All Out Blaze Sieve for a water shoe to wear in and out of water when you are climbing over slippery rocks or walking in wet puddles.
You can choose from many color options in the All Out Blaze Sieve from Merrell.
The uppers consist of durable and quick-drying Leather, fabric, Lycra, and Neoprene.
The design is more open to allowing better water drainage, and there is a Waxy waterproof membrane on the fabric uppers.
The Lycra Neoprene stretch materials offer an easy on and off.
There is also a highly slip-resistant and durable Vibram TC5+ outsole, with a very lug tread design.
---
9
The Vibram V-Aqua is an Aqua Sock design Water Shoe that will offer you the best grip and flexibility for snorkeling.
The Synthetic and textile uppers are very light and quick drying.
There are silicone grips inside the shoe for a more secure fit.
The Vibram Rubber Outsole with MegaGrip design offers optimal grip and slip resistance on wet surfaces.
The shoe is extremely lightweight and flexible.
---
10
Something a bit more robust is the RocSoc for climbing on slippery Rocks and sand when snorkeling.
You can choose between a few light neutral colors in the RocSoc Water Shoe for snorkeling.
The uppers consist of a breathable mesh that is lightweight and dries quickly.
There is a convenient speed lace-up system for a quick and adjustable fit.
The outsole is durable and water dissipating as well as providing excellent grip.
There is also an EVA midsole for cushioning on hard and dangerous surfaces.
---
11
The Helly-Hansen Women's Water Shoe is durable and lightweight, working well for Snorkeling and other water sports.
You can choose from two neutral color options.
The upper is lightweight and breathable with quick-drying mesh.
There is a cushioning EVA midsole as well as a Gum Rubber high grip Outsole.
The sole is flexible and offers excellent support.
---
12
The Pengcheng water sports shoe is a lightweight and quick-drying Water Shoe that is perfect for snorkeling.
The Water Shoe is available in a vast range of colors and patterns for both men and women.
The sole is a durable rubber that offers excellent slip resistance.
The uppers consist of a durable and lightweight, Quick Drying Lycra material,
You can enjoy the water shoe's multiple functions in water sports, snorkeling, and many other activities.
---
Index Table: Top Rated Water Shoes for Snorkeling
---
Snorkeling is a fun and adventurous activity that many of us enjoy.
When Snorkeling, a pair of flippers may not always be as comfortable and versatile, especially on slippery rocks and through smaller pools.
Therefore, in this article, we will look at the next best option: the Water Shoe for Snorkeling.
---
Why are Water Shoes Ideal for Snorkeling
Water shoes are incredibly versatile, having many uses besides just Snorkeling.
Yet for Snorkeling, they are ideal for all facets of the experience;
Protection – Water Shoes protect your feet against abrasion, stubbing your toes and provide underfoot protection against sharp shells, rocks, and other hazardous elements.
Lightweight and Quick Drying – Water Shoes are very lightweight in the water and drain well. They also dry quickly when outside and keep your feet dry.
In and Out of Water – Water Shoes are ideal for wearing and out of the water and protecting your feet on hot sand or against the cold temperatures inside and outside the water.
Slip Resistance – Water Shoes have a highly slip-resistant outsole that protects you from slips and falls on wet and slippery rocks and surfaces.
---
Uses for Water Shoes When Snorkeling
Snorkeling – Water Shoes are ideal to use for the snorkeling itself. They provide a lightweight and comfortable fit and extra protection while you are in the water.
In and Out of Water – When you get out, Water Shoes protect your feet from cold and hot temperatures and surfaces on the beach or pavements and provide good traction and underfoot protection on hard surfaces. Water Shoes dry quickly, thus keep your feet dry and comfortable when you get out of the water.
Beach Wear – Water shoes are fashionable and ideal for wearing to the beach and even surfing or swimming.
Other Uses – Water Shoes can be used for various watersports and activities, to the beach and the pool. They are an excellent safety shoe for public and gym showers for added protection. Some people also wear water shoes for Cycling. Yoga and certain types of Aerobics because of their flexible and minimalist nature.
---
Characteristics of a Great Snorkeling Shoe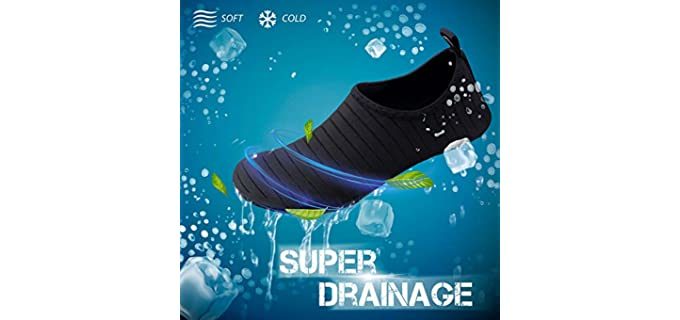 Uppers – The uppers need to be breathable, stretchable, and very lightweight, made from quick drying materials. Polyester, Neoprene and Lycra are all good upper materials.
Drainage Holes – Some models have mesh insets or larger drainage holes to get water out of the shoes.
Sole – The sole should be protective and flexible with light padding in the insole, and Rubber or TPR in the outsole protects you against hard rocks and sharp objects. The tread should also have lug patterns for better slip resistance on wet surfaces.
Designs – You can choose between a slip-on design that is more flexible with a pull-on tab, or for a more secure fit, there are lace-up or bungee lace-up designs.
---
---