Your Plantar Fascia is the ligaments that connect your heel bone to your toes; it supports the arches of your feet to enable you to walk and stand without any pain or discomfort.
The strain on your Plantar Fascia causes them to become weak and inflamed which results in your heel or the bottom of your foot becoming painful when you stand or walk.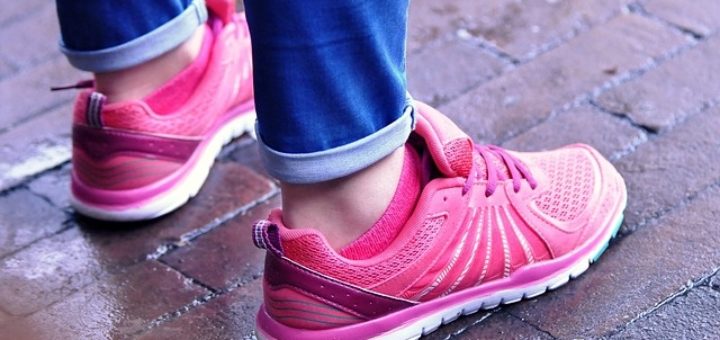 ---
Who is Affected by Plantar Fasciitis
Plantar Fasciitis is a condition that is more common in middle-aged people, but it can also occur in younger people. Plantar Fasciitis can occur in one or both feet and is more likely to be seen in individuals who are very active on their feet, such as athletes and soldiers.
---
Causes of Plantar Fascitis
The main cause of Plantar Fasciitis is a strain on the ligament that supports your arch causing this ligament to weaken and become inflamed leading to pain and swelling because of tiny tears in the ligament.
Excessive pronation, when your feet roll inward too much when you walk.
High arches or arches that are too low, flat feet.
Standing, walking or running for prolonged time periods particularly on hard surfaces.
Being Overweight.
Wearing worn-out shoes or shoes that do not fit properly.
Tight Achilles tendons or calf muscles.
---
How to Treat Plantar Fascitis
There is, unfortunately, no single treatment that works best for everyone so to treat Plantar Fasciitis will depend on the individual.
Cutting back on activities that put a strain on your feet and giving your feet a rest will aid in reducing the damage to the Plantar fascia ligament. Avoiding standing and walking on hard surfaces as far as possible will also reduce shock on the feet.
Foot exercises that strengthen the muscles and tendons, as well as some stretching such as calf and towel stretches, will reduce the symptoms of Plantar Fasciitis and prevent it.
Lastly, a good pair of shoes that provide good arch support along with cushioning, and a heel cup can also make a difference. Orthotics or shoe inserts are also a great solution to Plantar Fasciitis.
---
Reviews: Best Available Plantar Fasciitis Walking Shoes
A good pair of shoes for Plantar Fasciitis will support and reinforce the arch of your foot while keeping your feet in proper alignment reducing the load on your Achilles' tendon. Here are a few fantastic selections of shoes that provide support and reinforcement for Plantar Fasciitis.
---
1
For those quick walks in the evening or dusk, the reflective material will make you visible at all times, along with all the comfort and support features that the Asics Gel Kayano offers to make this an incredibly comfortable and versatile walking shoe.
Lightweight and breathable reflective uppers for high visibility.

Vertical flex grooves decouple the tooling along the line of progression to improve the gait cycle.

A ComforDry sock liner with higher rebound properties while managing moisture.

The dynamic DuoMax support system reduces weight and increases the platform support for better stability.

A durable outsole for great traction and grip on multiple floor surfaces.

---
2
One of the best shoes for Plantar Fasciitis and other foot conditions the Vionic Orthaheel will realign your stride to ensure maximum comfort and support.
Water-resistant leather uppers in a sporty and casual style.

A rubber outsole for exceptional traction.

The EVA midsole ensures excellent support and comfort.

A Podiatrist-designed biomechanical removable orthotic with anti-bacterial treatment for all-day comfort and support.

The mesh lining enhances breathability and keeps your feet dry.

An motion control footbed with contoured arch support and a deep heel cup to provide comfort and support for low and high arches and reduce over pronation.

Available in a variety of subtle colors.

---
3
A fantastic walking or all-day-wear shoe, that will provide relief from any foot condition. The Brooks Addiction Walker offers serious comfort, support and motion control in a comfortable and adjustable fit.
The ASTM F 489-96 standard rated HPR-Greena outsole is durable, slip resistant and ensures premium wet-dry traction for skid resistance.

The Progressive Diagonal Rollbar provides a dual density and tough post at the medial arch providing progressive pronation control.

A durable and comfortable energy efficient Cushsole offers a flexible cushioned insole for more support and shock absorbency,

The MC-Pod configuration aids in setting up the midsole and outsole to balance the foot in a more natural position for better motion control and flexibility in the heel strike and toe-off.

A full-length midsole ensures cushioned comfort and support.

The removable insole allows you to use your own orthotics.

Dynamic Gooey fluid placement in the heel and forefoot area enhance shock absorbency.

High-quality leather upper with Velcro closures for a better fit.

Available in black and white colors.

---
4
New balance is well known for making some of the most exceptional athletic shoes; The 990V4 shoe is an outdoor walking and running shoe that is comfortable and supportive enough for everyday wear.
Lightweight textile and synthetic leather uppers for breathability.

A soft fabric sole to keep feet dry and comfortable.

The Lite midsole ensures all-day support and shock absorbency.

The memory top insert provides excellent comfort and support.

A durable outsole for good grip and traction.

---
5
The Spira Classic will provide you with exceptional cushioning and shock absorption to reduce the harsh impact on the feet that will prevent and reduce the symptoms of Plantar Fasciitis.
Durable leather uppers.

A slip-resistant rubber sole for good grip and traction.

The technology offers heel and forefoot cushioning that absorbs shock and reduces the impact on the feet as well as providing good arch support.

A lace-up closure for a comfortable fit.

Available in black, white and Off White.

---
6
A cushioned and stability Walking shoe with a Heel counter and padding to prevent the painful symptoms of Plantar Fasciitis.
A Therapeutic Walking shoe with a cushioned removable foot bed, to accommodate your own orthotics.

Supple leather uppers that are durable and very easy to clean.

A Rigid Heel counter and PU outsole. for superb traction and shock absorbency.

Available in wider widths and larger sizes to accommodate every foot shape and size.

---
7
This therapeutic Walking shoe comes with an additional supportive Gel insole that is ideal to prevent heel pain and foot fatigue.
Features extra depth design and removable foot bed, to accommodate inserts and insoles of your choice.

Mesh and synthetic uppers with a bungee lacing system for a secure fit.

Free Gel insoles that absorb shock and provide cushioning.

Available in extended sizes and widths.

A few color options for you to choose from.

---
8
The Clarks Wave Andes is a comfortable and supportive outdoor walking shoe with a high traction thick rubber outsole, and shock absorbing Orthalite cushioned insole to protect your feet and heels against impact on outdoor surfaces.
A durable and thick rubber outsole designed with a tread for outdoor walking and trail walking.

Durable and waterproof leather and synthetic uppers.

Features the Clarks Wave construction style.

An Ortholite cushioned insole, for comfort and shock absorbency.

---
9
One of the best walking and running shoes that you will find that accommodates all foot types and conditions is the Asics Gel Cumulus 20.
Fabric and mesh uppers for a lightweight and breathable fit.

The is an Guidance System which enhances the natural gait of your feet.

The Flytefoam propel technology ensures exceptional bounce back and response as well as soft cushioning.

A Fluidride midsole provides cushioning and bounce back while reducing weight on your feet.

Rear foot and Forefoot GEL, absorbs impact and protects your heels and forefoot area.

---
10
The Gravity Defyer is a Rocker Bottom walking shoe designed specifically for pain relief from the symptoms of conditions including Plantar Fasciitis.
Breathable and lightweight fabric and synthetic upper construction.

VeroShock Technology, with a spring system that absorbs shock and converts it into positive energy.

A removable cushioned insole that allows you to use your own orthotics.

Front Rocker Sole with a supportive midfoot for Plantar Fasciitis relief.

The toe box is extra roomy to accommodate foot conditions such as Bunions and Hammertoe.

---
Index Table: Best Walking Shoes for Plantar Fasciitis
---
---