Treadmills for seniors is something that might have crossed your mind, with the term safety in the balance.
Treadmills are an excellent way for an elderly adult to get good cardio exercise in a very simple and easy way, and that is by walking or jogging if they are able.
It is safer than going outside, and there is much less risk-related.
This is why we want to help you get the best treadmill for seniors that will ideally suit your personal needs.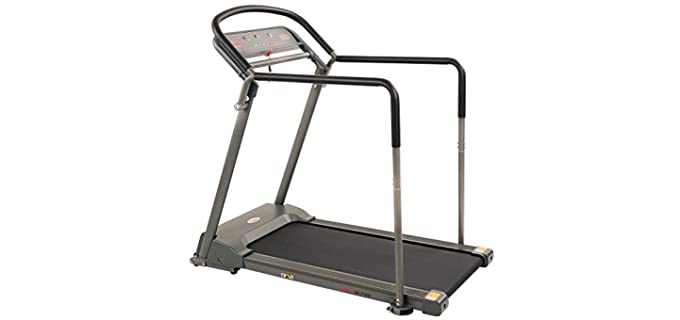 ---
Benefits of a Treadmill for Seniors
Walking, jogging, and running are forms of cardio exercises that are safe and very healthy for an older person.
When you have a treadmill, you can do these activities in the comfort of your own home.
It is actually more beneficial to get fresh air outside and go for a walk or rum. However, seniors may suffer from health issues such as dementia and Alzheimer's, where they may get lost and confused, or the are may be dangerous for them. There are quite a few reasons as to why a senior may not be able to take walks outside or around the block.
This is were the treadmill comes in handy for daily exercise that is safe and comfortable in your own home.
---
Safety in Treadmills
Now, as with many things involving seniors, you need to keep in mind they may not have the strength and abilities that they used to when they were young.
Fall risks become so much more prevalent as we have, and the injuries and damage they cause, so much more severe.
That is why safety is so important for seniors.
So here I want to give you a few tips regarding safety on treadmills for senior persons;
Safety Handles – Safety handles, to me, are one of the most important elements of a Treadmill. Comfortable and suitable handles allow a senior person to get a proper grip and balance on the treadmill.
Kill Switch – Most Treadmills, at least anyone you choose for a senior, must have a clear and easy-to-use killswitch that they can use to completely and immediately stop the treadmill in case of an emergency.
Speed – Another great safety precaution for seniors on treadmill is speed. Stability becomes much more difficult the faster the treadmill runs, and you cannot hold the handles while you are sprinting or speed running, which reduces stability even more so. This is why I recommend treadmills that do not have very high speeds for seniors. Seniors can easily ramp up the speed without even noticing or by mistake, so it's just safer to get a treadmill with lower speeds in general.
---
Features of a Good Treadmill for Seniors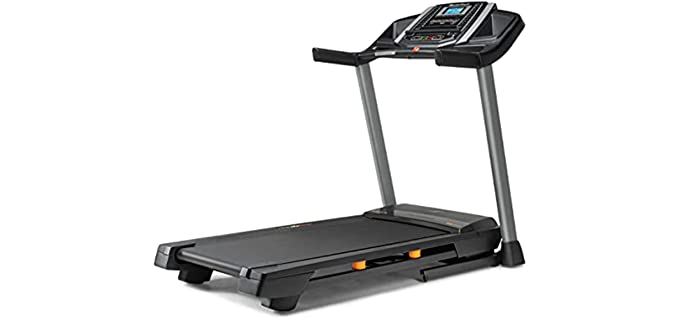 Display and Programs – Some Treadmill models have an LED display screen and Bluetooth technology. They have a display panel where you can set speed and incline, which also contains set programs. Make sure that the screen is easy to use and clear to see for a senior person.
Deck/Belt – The Deck or Blet of the Treadmill is what you run or walk on. This needs to be a wide and comfortable design that protects you against impact, and that is durable with a slip-resistant surface.
Hand Rails – The handrails should offer a comfortable and ergonomic grip and have an extended length that is easy to use by seniors.
Frame and Weight Capacity – The frame holds the entire design and therefore should be durable and strong with high-quality materials such as reinforced steel. The weight capacity of a treadmill usually ranges between 200lbs and 400lbs.
---
Reviews: The Best Treadmills for Seniors
These are some of our top favorite brands and models of safe Treadmills for seniors;
---
1
The Weslo Crosswalk treadmill is a full-body workout design treadmill for seniors.
It uses the iFit coach system for programming and has tailored and personalized workouts for you.
There is upper body resistance for your arms and lower body exercise.
The design is sturdy, safe, and easy to use by senior adults.
---
2
From Sunny health, we have a walking treadmill for seniors.
It features a Low and Wide deck design with sock absorbency for your comfort.
The treadmill has full handrails for stability and support and can hold a weight of 295lbs.
The motor is powerful and capable, and the console is user-friendly for seniors.
---
3
The Exerpeutic TF1000 is an ultra-high capacity walk treadmill for seniors around the weight of 400lbs.
It can hold heavyweight and is a heavy-duty design.
This is a safe walk-only treadmill for seniors.
The treadmill has a safe design and a clear LCD.
---
4
The NordicTrack treadmill T-series is another favorite for senior adults.
It features stat tracking and real-time performance tracking for keeping you motivated.
There are 20 built-in workout programs and different resistance levels.
The tread belt is durable and slip-resistant, which is what you need for a senior person.
---
5
The SereneLife Treadmill is a smart electronic treadmill for seniors.
It is fully foldable for easy and compact storage, which can be ideal for an elderly person that has limited space available in their home.
The Treadmill is motorized and ideal for running, walking, and jogging.
It is safe and durable with a comfortable design for seniors.
Because this is not just a walk model, it is ideal for seniors who are more sturdy on their feet and can take a faster pace on the treadmill.
However, it is generally still quite safe and comfortable for an elderly adult to use.
---
6
From Gymax, we have another foldable treadmill model for seniors.
It has a durable and comfortable PVC running belt with a slip-resistant surface.
The LCD screen is clear and easy to read by seniors with multiple functions available for programming.
The frame is very stable and durable, with a high weight-bearing capacity.
The design offers an excellent workout and has walking, jogging, and running functionality.
I would recommend this design for seniors that are more mobile and do not stand the risk of falling easily.
---
Index Table: Top Rated Treadmills for Seniors
---
---