Cardio training has many positive effects on your health in general, and even more so for an elderly person.
Seniors reap important benefits from exercise and regular physical activity to maintain muscle mass and bone density, improve heart health, and reduce cholesterol.
The stationary bike is one of the safest and easiest Cardio exercise machines ideal for the elderly.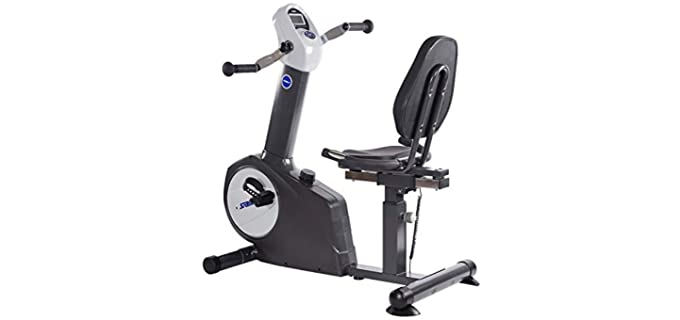 ---
Should Seniors Use a Stationary Exercise Bike
Stationary Bikes are safe and easy to use for seniors that still have some mobility.
They will help to maintain joint mobility and strengthen muscles and ligaments to keep a senior person more mobile in the first place.
The Stationary bike provides an easy workout for an elderly person that also provides more independence and reduces their risk of becoming sedentary.
A stationary bike offers a pain-free and easy method of exercise that the senior person can adjust to their specific health and personal needs.
---
Types of Stationary Exercise Bikes for Seniors
For an elderly person, you will need to choose a stationary bike that is comfortable and easy to use for them personally, and that also accommodates their limitations and physical requirements.
Here are a few types of stationary bikes that you can look at;
Classic Upright – This is the basic design stationary bike with an upright design with a smaller seat and handlebars almost parallel to the seat. The Classic Upright Stationary bike is versatile and small, and it can be used for cardio and strength training. They offer low-impact exercises and will not cause sin splints or sore muscles.
Recumbent – The Recumbent bike is usually the favorite for older adults, as well as the safest and most comfortable design. The Recumbent stationary bike has an ergonomic large seat and backrest that is usually cushioned for comfort. The user sits back and relaxes while they pedal. This design is also ideal for persons who have back problems. The seat should be adjustable, and the bike is a bit larger than the upright model.
Racing – Racing Series Stationary Bikes are for seniors who are still very mobile and would like to capture the same feeling as riding a regular bike, It has the same seat and handlebar position as a regular bike and is geared more towards speed and performance training.
Dual Action Stationary Bike – The Dual Action stationary bike is designed to give you two ways to get a great workout. The stationary bike may be combined with the features of an elliptical machine, stair climber, or many other types of exercise equipment for a workout combination.
Make sure that the design you choose is safe and easy to use for an elderly person.
Interactive Stationary Bike – The Interactive Stationary bike has an interactive screen that you can use to view certain things like outdoor scenes or videos to make the workout experience more fun or calming.
---
Features of a Good Stationary Bike for The Elderly
Programs – If you are someone who has trouble getting good exercise without some motivation or guidance, an exercise program can really help quite a bit. The program helps you to set and reach goals that are easy and helps you stay focused.
Resistance Levels – the higher the stationary bike's resistance, the better control you have over the difficulty of the exercise session in turn. The more expensive bikes may have over 20 resistance levels, while the more affordable bike usually has around a maximum of 8 or 9 resistance levels.
Arm Movement – You do get stationary exercise bikes with handlebars that also allow for arm movement so that you get a fuller workout experience. This helps to strengthen your arms and shoulders at the same time you are working on your legs.
Additional Features – Some stationary bikes may have additional features such as Bluetooth Connectivity, Built-in speakers, a Screen for watching Videos, and more ergonomic padded handlebars.
Seat Type – The seat type will differ according to the type of stationary bike, with the recumbent bike having the most comfortable seat. Look for a seat design that is wide and comfortable, with adjustability features.
---
Reviews: The Best Stationary Bikes for The Elderly
These are some of the top choices in Stationary Exercise Bikes that are ideal for Elderly individuals;
---
1
The Schwinn recumbent Stationary bike is one of our top favorites for the elderly.
The bike connects with Bluetooth to an App and other apps for fitness tracking.
It has 29 programs, heart rate control functions, and a quick start button.
There are 25 levels of resistance and a wide range of intensity options.
There is a dual-track LCD screen and console speakers included.
---
2
The Teeter FreeStep recumbent bike is safe and easy to use by seniors.
It offers a zero-impact exercise in a comfortable position for seating.
The design is quiet and smooth, offering a total body workout with dual power motion for your upper and lower body.
The smart design will track your progress and is very easy to read.
---
3
From Exerpeutic, we have the 400Xl foldable Recumbent Stationary bike.
The design is easy to use and has an easy-to-read LCD screen for seniors.
It can be folded and stored away, so it is ideal for small spaces.
The bike can support up to 300lbs in weight.
---
4
The Stamina Elite bike is a total body workout recumbent bike.
It has eight smooth and adjustable resistance levels that are magnetic and have easy to reach tension dials.
There is a multi-function electronic display screen.
You have both upper hand pedals and lower foot pedals for a full-body workout.
The seat is ergonomic and padded for your comfort.
---
5
The NordicTrack recumbent bike is a commercial stationary bike for seniors.
The iFit program powers the bike.
There is a 5 inches backlit display screen that has multiple functions.
There are 25 resistance levels, and it is programmable.
The seat has an oversized comfortable design.
---
6
The bike from Marcy is easy to use and convenient for elderly persons.
It has a step-through design and heavy-duty construction.
There are eight resistance levels ad the computer screen is straightforward to read.
The seat is comfortable and well padded.
---
Index Table: Top Rated Stationary Bikes for The Elderly
---
---