Any runner that enjoys making sprints will need a much lighter and less cumbersome running shoe than a regular running shoe.
The point of sprinting is to get from point A to point B as fast as possible, and the last thing you want is shoes that are a hindrance.
This is why we want to help you find the absolute best available shoes that are lightweight and ideal for printing.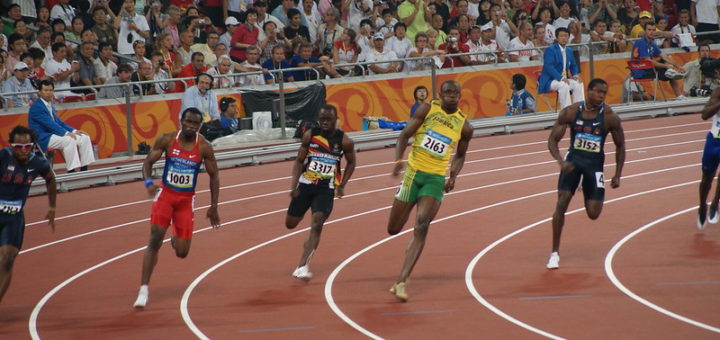 ---
Do You Need Proper Shoes for Sprinting
Due to how intense sprinting is and how fine the margins are for you to essentially win a race, getting the right running shoe for sprinting is necessary.
You can use a lightweight running shoe with the right feature, and you do not have to invest in an actual sprinting shoe, especially for practice. However, for track running, you will need proper sprinting shoes that have spikes.
Sprint running shoes ideally need to offer a tight fit but must be flexible enough so that you can run on your toes, and they also need to provide plenty of grip at the front and must have minimal cushioning in the heel.
For running on a track-only, you will need spikes, bit for offroad, grass, or running on roads, and you may need removable spikes or shoes without spikes.
One of the mistakes that I have noted many shoe stores make when they advise shoes for sprinters is telling them that they need no cushioning in their running shoes.
This is absolutely not true. While it is true that racing shoes need to be flat and responsive, there is still quite a lot of force in each step, which can cause damage to your shins and feet, so some cushioning is need.
A good sprinting shoe should also not be a stable design or have a rigid sole.
---
Types of Shoes for Sprinting
There are three basic shoe types for sprint running;
Sprinting Spikes – Every runner has their own unique style and needs, and when it comes to spikes, it is a one style fits all. As your sprint, you spend most of the time n the balls of your feet, and a sprint spike actually promotes this action. Most sprint spikes will have a stiff plastic or hard rubber plate in the outsole under the forefoot to force you on the balls of your feet, and The spikes shoe will have ceramic or metal spikes that are fixed or removable,
Racing Flats – Racing Fats are slightly heavier in weight than sprinting spikes, but they are still a very minimal shoe. They are a good choice for racers that find spiked running shoes to be too hard on their feet. A racing flat offers very light cushioning and very lightweight form-fitting structures and materials in the uppers.
Training Shoes – Training shoes are basically running shoes that have minimal cushioning and shock absorbency features, and they are slightly heavier. They do, however, offer some cushioning to absorb impact when training to protect your feet and joints.
---
Features of a Good Shoe for Sprinting
For the perfect sprint running shoes, here are a few tips on features that you could look for;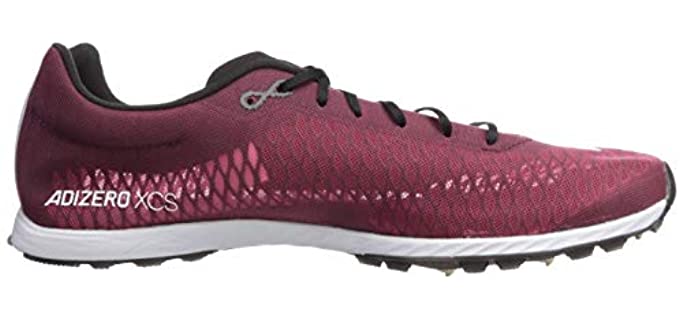 Uppers – The Uppers of a good shoe for sprint running will usually be a very lightweight fabric such as mesh or textile, and also very breathable. The fit will be flexible and snug and you also do get some FlyKnit models.
Midsole and Cushioning – Most sprint running shoes will have minimal cushioning and support features. A Flexible Bounce midsole, lightweight EVA, and other lightweight foams may be used for shock absorbency. The insole may be lightly padded and lined for your comfort.
Outsole – Most sprint running shoes will have a more flexible and lighter rubber outsole that can come with or without spikes. For practice, spikeless shoes are ideal. However, spikes are more suited for competitions and also depending on the track you are sprinting on.
Options – Running shoes for sprints do come in different size and width options, which most likely will depend on the brand and model of the shoe. You may also be able to choose from a few available color and design options.
---
Reviews: The Best Shoes for Sprinting
In the below list are the best available spiked and un-spiked sprinting shoes for competitions and training;
---
1
Spiked Shoes for Sprinting
The Uppers are breathable textile and synthetic materials.
The Sole is a durable and flexible rubber.
There is a Nylon Spike Plate for increased durability and traction.
The EVA Midsole is full-length and offers lightweight cushioning.
The shoe has a slip lasting for lightweight flexibility.
The uppers are stitched and wrapped before being glued to the midsole.
---
2
The Adidas Adizero Xc Sprint is designed specifically for sprint running.
It has a regular fit and reinforced mesh uppers.
The shoe is lightweight and responsive with a flexible bounce midsole for cushioning.
The fit is snug and supportive.
---
3
The Nike Free is ideal for sprint running.
It has a lightweight, low top design,
There is minimal cushioning for shock absorbency and lightweight, flexible uppers.
The sole is durable and offers exceptional traction.
There are also more colors available to you.
---
4
The Brooks Hyperion tempo is ideal for sprint practice sessions.
The Uppers are lightweight and breathable.
There is a DNA Flash responsive cushioning midsole for shock absorbency.
The shoe has a durable rubber sole for grip and traction.
You can also choose from quite a few available colors.
---
5
Another great practice shoe is the Adidas Adizero Boston 9 Model, which is the latest.
It features very lightweight Lightstrike cushioning for impact protection.
There is also a boost energizing midsole and durable rubber outsole.
The uppers are soft and breathable fabric.
---
6
The Merrell Bare Access Flex Trail running shoe is ideal for off-road and grass sprinting.
The uppers are Mesh and TPU for structure and breathability.
There is a gripping outsole and an EVA foam midsole for shock absorbency.
The shoe also features Flex-Connect technology for flexibility that is very lightweight.
---
Index Table: Top Rated Shoes for Sprinting
---
---