There is not really a specialized type of footwear designed for Rafting only, yet it is still necessary to wear proper footwear for this sport type.
The shoes you wear will largely depend on where you will be Rafting and what surfaces you will contact.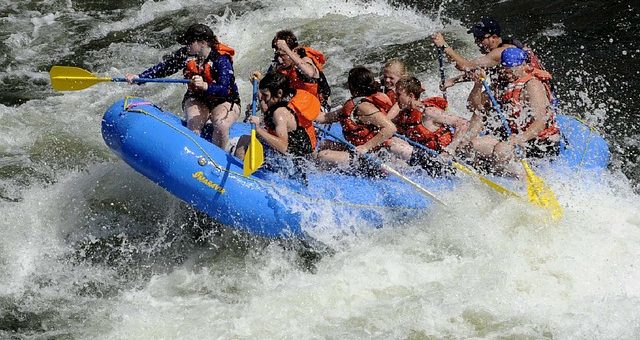 ---
The Best Rafting Shoe Types
Closed Athletic Shoes – You can use a closed style athletic or training shoe that has quick-drying materials and is comfortable are good for most Rafting Trips es[ecailly those where you will come less in contact with the water.
Hiking Shoes and Boots – Most Hiking shoes and boots are designed to be water-friendly or waterproof, they are robust and slip-resistant and great for rafting. However, keep in mind that Hiking shoes and boots may be a bit on the heavy side.
Neoprene Boots – Neoprene Boots are ideal, especially in very cold conditions, as they provide waterproofing and insulation.
Sandals – As long as it is a Closed toe design sandal such as hiking Fisherman's sandal, it should suffice; however, stay clear of Flip Flops and Beach-type sandals.
Water Shoes – A robust and slip-resistant water shoe is most likely your best bet and ideal for warmer weather and both in and out of the water.
---
Other Shoes You Can Use for Rafting
Here are a few shoe types that you may have that you can also use;
Canvas Sneakers – Most Canvas sneakers have a rubber sole with lug patterns that offer good slip resistance, they are lightweight, and the canvas materials dry quickly, making them a good choice if you need them a quick solution.
Water Shoes – If you by any chance ever stumbled upon a pair of water shoes at the beach or find them in a store close by, these are a great choice, they are also usually available all over and in a pinch.
Sports Sneakers – A pair of old sports sneakers are not ideal but will provide some protection and comfort, the lighter in weight and mesh models or fabric models are usually better.
Sandals – Although you want to avoid exposing your toes, a hiking style or sports sandal can also be used even with an exposed toe, you will need to be more careful. However, anything that can slip on and off, such as a slide or flip flop, is the worst choice you could make.
---
Features of a Good Shoe for Rafting
Uppers – Water Friendly and quick-drying uppers such as mesh, neoprene, nylon or crosslite foam..
Fit – A snug and comfortable fit with no laces hanging out and no slide-on or slip-on.
Cushioning – Lightweight with light cushioning for comfort in the insole or midsole.
design – Protective Closed toe sandals have adjustable straps.
Outsole – A lug and slip resistant rubber outsole.
---
Reviews: The Best Shoes for Rafting
These are some of the top favorite shoes to wear for Rafting;
---
1
The Swiftwater from Crocs is a new invention that offers durable and lightweight protection.
These shoes have a sporty design that is very lightweight and durable.
Because of the mesh upper and drainage holes, they are completely water-friendly and dry almost instantly.
They are made from soft and foamy crosslite material for comfort, and there is a durable and textured sole for slip resistance.
Also available in four neutral colors to choose from.
---
2
The Keen Newport H2O is a favorite water friend, day sandal ideal for Hiking and Rafting.
The upper consists of quick-drying polyester webbing, and there are a lace-up bungee system and pull-on loop for an easy and quick fit.
The arch is supportive, and the insole is cushioned.
All keen water sandals are also machine washable.
The outsole is durable and slips resistant, and there is Metatarsal support.
---
3
This is another Sports and Hiking Style durable sandal that is ideal for extreme rafting trips.
Soft and quick-drying fabric uppers with breathable mesh and an Omni Lace-up system for a secure fit.
A mesh Lining and M-Select FRESH technology to prevent bacteria and odors.
The UniFly midsole is very lightweight, cushioned, and shock-absorbing,
It also features a TC5 Vibram rubber outsole with a lug tread.
There are a few colors to choose from in this model.
---
4
The Brown Oak sandal is comfortable and protective of rafting.
Synthetic leather and neoprene uppers with a protective toe design.
There is a fully adjustable hook, and loops strap closure system.
Inside is a comfortable and supportive contoured footbed.
The durable rubber outsole is treaded for a durable and supportive grip.
---
5
The Vapor Glove is a Zero Drop Rafting shoe with soft fabric and textile uppers.
This shoe offers exceptional barefoot technology and feels and is very flexible.
The durable rubber outsole is flexible and offers excellent slip resistance and grip.
The rubber sole is a Vibram rubber sole.
There is also a minimalist zero drop design and a very lightly padded insole for comfort.
This shoe is available in different color preferences.
---
6
The Aleader is a lightweight and draining water shoe that is perfect for light rafting.
Breathable mesh uppers with hot melt overlay for the structure to keep your feet cool and dry.
Synthetic hot melt toe caps keep your toes and forefeet safe from bumps and abrasions.
The quick adjustable bungee laces allow for easy on and off convenience.
There is a comfortable and removable footbed for easy cleaning, an integrated drainage system to drain water away, and a durable and slip-resistant outsole.
---
7
Water Friendly Rafting Shoes
The water shoes are ideal for rafting.
They have a slip-resistant rubber sole and quick-drying uppers.
There are plenty of colors and prints to choose from.
The design is for men and women.
---
8
Comfortable water shoes for rafting.
They have quick-drying Mesh and synthetic upper.
The sole is a thick high grip rubber,
The neoprene collar allows easy on and off.
---
9
Hiking Water Shoes for Rafting
A water shoe design ideal for rafting.
The shoe jas Hydrophobic canvas uppers.
The footbed is removable with EVA and a top shank in TPU.
The sole is a G. 15 rubber for optimal slip resistance.
---
10
A comfortable and rugged rubber water shoe for rafting.
The sole is a durable high grip rubber that warps up to the foot.
The toes are separated.
For the upper's breathable and high drainage, quick-drying material is used.
---
Index Table: Top Rated Shoes for Rafting
---
---