Jazzercize is a fun and high pace cardio exercise that combines the movements of Jazz dancing with aerobic exercises.
Because of the different movements and Dancing basis fo Jazzercize it is necessary to get the right footgear to enhance performance and provide optimal protection and comfort.
This article will show you some of the best available shoe types and brands that work very well for Jazzercize routines.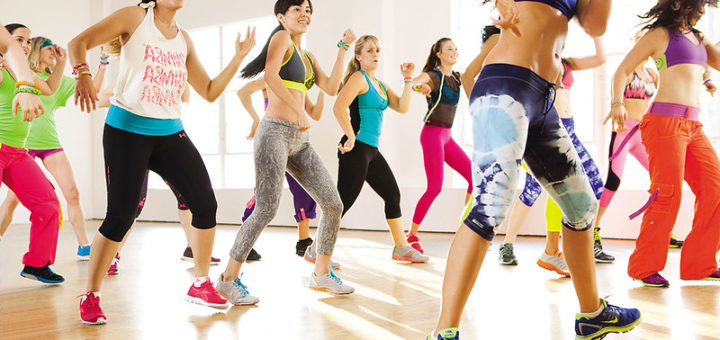 ---
What Shoe Types Work Well for Jazzercize
Before we get started, I need to mention that there is n specific or unique shoe type for Jazzercize, so we need to improvise and look at shoe types that perform the best for Jazzercize routines;
Cross Trainers – The Cross trainer is an ideal shoe for many purposes as they provide good comfort and support features without compromising need flexibility and movement. The Sole of most Cross trainers is also designed for good traction that is ideal for studio floors.
Dance Shoes – Because Jazzercize is a form of dance, a casual semi-athletic dance shoe has good p[rop[eties for a Jazzercioze shoe. The additional Pivot Point on the sole and block sole design on most Dance shoes are ideal for Jazz dancing and Jazzercize routines.
Zumba Shoes – A Good Zumba shoe is basically a mix of Cross Trainer and Dance shoes, which give you the best of both sides. This is most likely the best shoe type for Jazzercize, although they are pretty hard to come by.
---
Finding the Right Jazzercize Shoes
To get the right fit and the right Jazzercize shoe, once you have decided which type suits you, you can follow these simple steps;
Get To Know Your Feet – Find a shoe with comfort and support features specific to your foot and arch type. Most people have a neutral arch type and need only light stability and some cushioning. Though persons with a flat or low arch need more stability and less flexibility, those with a higher arch will require ample cushioning.
Sizing – With any high-impact training routines, your feet tend to cinch forward, so you will need a few extra inches in the toe area and not something that fits tight on your toes.
Flexibility – Most athletic shoe types are not appropriate for Jazzercize because they lack flexibility. With Jazzercize, you need flexibility in the midsection of the sole and excellent support in the heel and forefoot.
Lighter Weight – As dance fitness routines all involve springing and pivoting, you definitely do not need a heavy shoe holding you down. Therefore a lightweight, breathable option is the best choice.
---
Features of a Good Jazzercize Shoe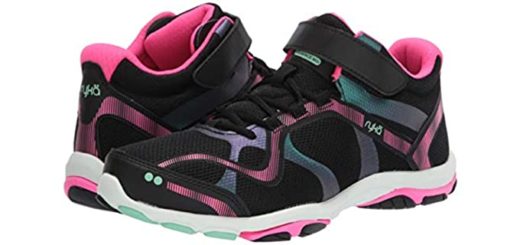 Uppers – Lightweight and breathable mesh, synthetic or fabric uppers with secure lace-up or Hook and Loop closure system.
Comfort and Support – Cushioning in the insole and midsole for shock absorbency and will as stability and shock absorbency in the heel and forefoot. Interior smooth linings will also help to manage moisture.
Sole – An arched sole with a Heel and forefoot that is more prominent or a Block Heel style, as well as a Pivot Point on the ball of the foot. Rubber is the best option for the sole as it offers good traction.
---
Reviews: The Best Shoes for Jazzercize
Here are our top favorites when it comes to the ideal shoes for Jazzercize routines and exercises;
---
1
One of the top favorite choices in versatile Jazzercize shoes is the Ryka Influence.
A high-top design sneaker with a secure upper Velcro hook and loop closure for ankle support.
The uppers are breathable and lightweight with synthetic materials ad mesh.
There is a cushioned insole for comfort and support.
The rubber sole is designed for optimal flexibility in traction.
---
2
The Capezio Fierce is a dance-specific shoe that is ideal for Jazz dancing as well as Jazzercize.
The uppers are synthetic leather and offer a snug lace up-fit.
You get two sets of laces with every shoe purpose, one local and one in a matching color.
The sole is a Non-marking durable PU outsole and has built-in flex points.
There is superior arch support feature as well as an Achilles notch.
The insole is lightly padded for comfort.
---
3
A Zumba Shoe, such as the STRONG by Zumba, is also an excellent choice ins shoes for Jazzercize.
You can choose from a few color selections in the STRONG by Zumba shoe.
The upper consists of lightweight and flexible materials, and there is a comfortable wide toe box.
Inside is a Compression-molded EVA midsole and cushioned insole for comfort and shock absorbency.
The rubber sole offers excellent traction and durability.
The shoe is likewise versatile enough to use as a Cross Training or dance shoe.
---
4
The Skech-Air Element is an excellent choice in a dance shoe from Skechers, which is perfect for Jazzercize and Jazz dancing exercises.
The upper ate lightweight in breathable, and the sole is quite flexible for dancing.
There is a comfortable Air Cooled Memory Foam insole.
You can also choose from three feminine color selections.
The Skech-Air Dance shoe also features a dance-specific high traction rubber outsole.
---
5
The Ryka Vivid RZX is a Cross Training shoe with features perfect for Jazzercize exercises.
You can choose from a few feminine color options in the RZX from Ryka.
The uppers are textile and synthetic for a balance of structure and breathability.
There is a RE-ZORB high impact cushioning system in the heel.
The forefoot has Ultra-Flex technology and light cushioning for better flexibility.
The rubber sole offers good grip and has a Pivot Point and strategic flex points for dancing.
---
6
The Inov-8 F-Lite is very lightweight in flexible Cross-Training shoes, which is ideal for Jazzercize training.
You can choose between a few neutral color options in the F-Lite model.
The uppers are lightweight, and there is a molded toe bumper for protection.
For added comfort, an elastic liner lines your feet, and there is light cushioning.
The 4mm drop ensures better gel and more functional movements.
The sole offers just the right amount of cushioning and grip.
---
Index Table: Top Rated Shoes for Jazzercize
---
---