When you suffer from a foot drop, one of the biggest issues is to find a comfortable and properly fitting shoe that will support your feet and that is not overly heavy.
A footdrop is not generally an issue but a sign of underlying muscular or neurological problems.
From a shoe, you need something that helps with the pain that is lightweight and still flexible.
So we are here to help you find the best shoes for a foot drop.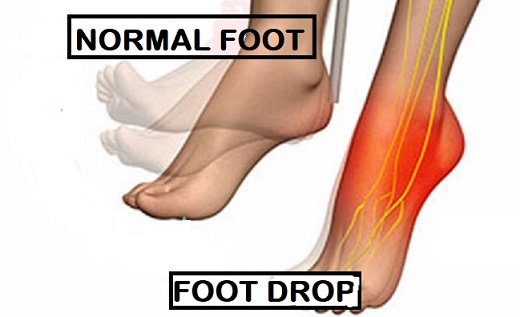 ---
Foot Drop Risks and Symptoms
A foot drop can make it very difficult for you to lift the front part of your foot, and it may even drag on the floor when you walk.
In turn, this causes you to raise your thigh when you walk as though you are climbing stairs to help your foot clear the floor.
This very unusual gait form can cause you to slap your foot down on the floor with every step you take. All of this can lead to pain and even numbness in the foot and toes.
Some cause and risk factor of a foot drop may include;
Nerve Injuries – The most common cause of most cases where a foot drop is the compression of a nerve in the legs that controls lifting of your feet, called the peroneal nerve. This nerve can be injured during a hip replacement surgery is a pinched nerve in your spine. People with diabetes are generally much more susceptible to nerve injuries and disorders, sometimes associated with a foot drop.
Muscle and Nerve Disorders – Many forms of muscular dystrophy, an inherited disease-causing progressive muscle weakness, contributing to a foot drop. Another disease, such as Charco-Marie tooth disease, may also be a culprit.
Brain and Spinal Cord Disorders – Disorders that affect your brain or spinal cord, such as amyotrophic lateral sclerosis, multiple sclerosis, or strokes, may result in a foot drop.
Wearing a Leg Cast – Plaster casts that enclose your ankle and the end around just below the knee exert pressure on the peroneal nerve, which may cause a foot drop.
Prolonged Kneeling – Occupations or activities that may require you to kneel for very long periods of time, such as picking strawberries or tiling floors, can also eventually result in a foot drop.
Crossing Your Legs – people who have a bad habit of often crossing their legs when sitting down compress the peroneal nerve in their uppermost leg, which may lead to a foot drop.
---
Choosing the Best Shoes for a Foot Drop
Now that we know the causes and symptoms of a foot drop, let us look into what shoes you need to choose for a foot drop;
Width Options – You will need a shoe that perfectly and snugly fits your foot without squeezing, and some people may need to wear an AFO, so the width of the shoe will need to accommodate for this. Choose a shoe brand and model that offers width options.
Extra Depth – A shoe with extra depth or removable cushioning layers is ideal if you need to wear an AFO, brace, or orthotic support. The extra depth also provides a more secure fit and room for wider feet.
Cushioning – You will still need plenty of comfort and good shock absorbency from your shoes, so choose a shoe that has a cushioning insole and midsole for shock absorbency.
Lightweight – One of the biggest issues with a foot drop is heavy shoes. Heavy shoes actually make it much harder to lift your feet from the floor and exacerbate a foot drop. You also have more chance of scuffing your toes and falling in heavy shoes. So make sure the shoes contain lightweight materials.
Support – You need a shoe that maintains proper support to keep your feet properly aligned and hold your arches and heels stable. Most lightweight shoes may not always offer this kind of support.
Non-Slip – Because you have a larger risk of slips and falls with a foot drop, you need the security of a high grip outsole that will keep you firm and stable even on slippery floor surfaces.
---
Features of a Good Shoe for a Foot Drop
Uppers – Look for lightweight and flexible leather or mesh uppers that breathe well and are comfortable. A lining to wick away moisture and prevent chafing is ideal.
Insole and Midsole – A lightweight cushioned insole and foam, or EVA midsole, provides cushioning and shock absorbency.
Support – Lightweight support features and stability features such as arc support and a contoured footbed provide support without the weight.
Outsole – Opt for a rubber outsole with a high traction and grip patterned tread.
Fit – Look for shoe models that offer different width options.
Other Options – besides size and width, most shoe brands and models for a foot drop also offer some color variations.
---
Reviews: The Best Shoes for a Foot Drop
---
1
The Vionic Walker has genuine leather uppers and a removable textile EVA footbed for cushioning.
The American Podiatric Medical Association recognizes it.
The EVA technology footbed provides better support and arch support to keep your feet properly aligned.
The shoe is generally lightweight and comes in more color selections.
---
2
The Nike Flex Experience is a more flexible design of running shoes that is extremely lightweight.
There are textile uppers with a no-sew fit for less irritation and flex grooves on the sole sides for better flexibility.
The footbed has a cushioned insole and Injected Midsole for shock absorbency.
The outsole offers excellent traction and durability.
---
3
These are two different shoe models from Orthofeet. For the men, we have a closed Loafer shoe, the Carniege, and for the ladies, we have a Mary jane Style shoe, the Celina.
Orthofeet is an orthopedic shoe brand that is also ideal for persons with a foot drop.
The shoes have an extra depth design with removable cushioning layers.
The footbed is likewise designed to offer full support with a more anatomical design.
Furthermore, they are available in wider widths and are a medium weight.
---
4
The Propet stability Walker is a walking shoe chosen by many people with foot conditions such as a Foot Drop.
They have durable leather uppers. However, the fit tends to run small, so that I would size up a bit.
The rigid heel counter provides good stability, and there is a cushioned insole n midsole for comfort and shock absorbency.
You can also choose from a few neutral color options.
---
5
The Brooks Addiction Walker is another excellent shoe model for persons who have a foot drop.
The design is a bit more acceptable for more occasions, and there are neutral colors available.
It has more lightweight and breathable uppers and a certified slip-resistant rubber sole.
The Diagonal Rollbar technology provides optimal support, along with soft BioMoGo DNBA adapting cushioning.
---
6
The Avia Avi-Verge is another recommended shoe for a foot drop.
This is a walking shoe with synthetic uppers that is also lighter in weight.
It has a plush memory foam sock liner to relieve pressure points and a more supportive compression-molded EVA midsole for shock absorbency.
The outsole is a non-marking TPR soleplate ideal if you drag your feet, as it will not leave any marks.
---
Index Table: Top Rated Shoes for a Foot Drop
---
---