Achilles Tendonitis can be quite challenging to deal with, and thankfully some many at-home treatments and remedies can mitigate the symptoms and expedite recovery.
One of the main recovery and preventative measures you can take is to wear proper and supportive footwear.

---
Achilles Tendonitis and How the Right Footwear can Help
The Achilles Tendon is the flexible band of tissue that connects your calf muscles to the heel bone when the band of tissue becomes inflamed; it is called Achilles Tendonitis.
Achilles Tendonitis can be caused by an overuse or one-time injury, excessive stress on the Achilles' tendon, or even a medical condition, and it can become worse if not treated properly.
Though Achilles Tendinitis is more predominant in athletes and sportspeople who take part in high impact activities, anyone can suffer an injury or may perform operations that can cause Achilles Tendonitis.
In this article, we are concentrating on footwear to help and prevent and well as aid in the recovery of Achilles Tendonitis.
The right footwear can help to properly support the arch and ankles to prevent injuries to the Achilles tendons, as well as provide cushioning to attenuate shock that can affect the Achilles Tendon.
---
What To Look for in a Shoe for Achilles Tendonitis
There are a few features that you can look for in a good shoe for Achilles Pain and protection;
Arch Support – Feet with a high or flat arch are the most likely to suffer Achilles tendonitis. The right arch support provides better support and alignment as well as proper weight dispersion to take the excess strain off the Achilles tendon.

Cushioning – Cushioning in the footbed, heel and midsole offer excellent shock absorbency to reduce the strain on your Achilles' tendons.

Flexibility – Though you do not want an overly flexible sole, and preferably a more rigid and stable sole when it comes to Achilles Tendonitis, some flexibility in the ball of the foot area is explicitly still required.

Ankle – A padded or form-fitting ankle collar is ideal for keeping the ankle in proper alignment and for preventing incorrect movements that can affect your Achilles Tendons.

---
Features of a Good Shoe for Achilles Tendonitis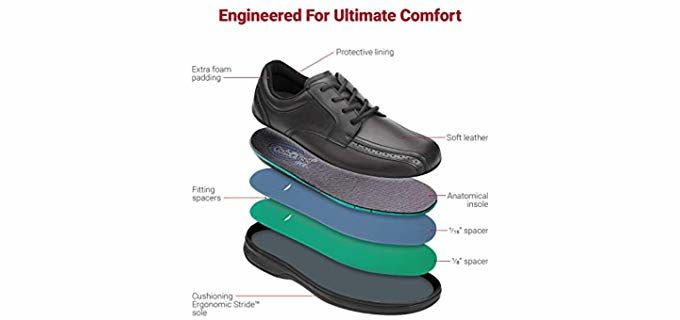 Breathable and comfortable fitting textile, leather, mesh or synthetic uppers.

A comfortable cushioned insole.

Gel or heel cushioning or clutching system.

EVA cushioned and shock absorbing Midsole.

Durable rubber outsole with a low and stable heel.

Padded tongue and collar.

---
Reviews: The Best Shoes for Achilles Tendonitis
here are some of the best options in a variety of shoes that are availble for Achilles Tendonitis relief;
---
1
Walking Shoes for Achilles Tendonitis
The Skechers go Walk is one of their most comfortable and fashionable walking shoe ranges, which is also ideal for Achilles Tendinitis.
The upper consists of 100% soft and breathable mesh.

Inside are 5Gen Cushioning and a soft moisture-wicking fabric lining.

A parametric 5Gen midsole offers excellent shock absorbency and cushioning.

It also has a durable rubber outsole.

Available in many color selections to choose from.

---
2
The Gel-Nimbus 21 from Asics is their top model in walking and running shoes that provide ample cushioning and support for the Achilles Tendons.
Soft and breathable mesh and synthetic upper construction and materials.

A FlyeFoam propel Cushioning system for a bounce back and shock absorbency.

Durable high abrasion resistant and reinforced Rubber AHAR outsole.

Reflective details allow for night walks and run.

The heel clutching system keeps the ankle in proper alignment.

Ther is also 3mm midsole technology for ample shock absorbency and cushioning.

---
3
Dress Shoe for Achilles Tendonitis
From Orthofeet, we have the Vera and Gramercy, which are two lovely dress shoes with excellent support and comfort features to accommodate and remedy Achilles Tendonitis.
Both shoes have a smooth leather upper with an extra depth design and roomy toe box, as well as availability in wider width options.

There are anatomical arch support and an orthopedic air-cushioned footbed for comfort and support.

Ideal for diabetes, arthritis heel, and back pain, as well as for conditions such as Plantar Fasciitis and Achilles Tendonitis.

The Orthofeet Vera is a stylish and elegant women's dress shoe in a Mary Jane design with the popular BioHeels from Orthofeet that offers extra stability and support in a low and comfortable heel.

The Gramercy for the Gents is an Oxford lace-up shoe style that is fashionable and sophisticated as a men's dress shoe.

---
4
Casual Shoe for Achilles Tendinitis
These are two excellent casual all occasions and everyday wear comfort shoes from Clarks, which are ideal for persons who suffer from Achilles tendonitis.
Soft and comfortable textile upper in the Shaylie as well as leather in the Lisbon.

Both shoes have Cloudstepper technology, which offers ample soft cushioning and shock absorbency.

The Clarks Arla Shaylie is a slingback style casual sandal available in a few neutral color selections for the ladies.

The Clarks Lisbon is a leather lace-up sneaker for the gents available in either a navy blue or a dark brown leather option.

A durable and high traction rubber outsole.

---
5
Achilles Tendonitis Slide Sandals
The Holbrook and rest Skyler are two comfortable and secure wearing slide sandal with Vio Motion support and cushioning for comfort when you have Achilles Tendonitis.
The Holbrook has a soft leather upper while the Skylar has synthetic leather straps.

Both have a soft and moisture-wicking fabric lining and Orthaheel cushioning technology with additional cushioning in the heel.

The Vio Motion support is concealed in the rest of Skyler's footbed and offers contoured support and comfort.

Both feature a durable rubber outsole and a low heel.

The Vionic Holbrook is a light brown leather men's slide sandal with contrasting brown cross leather straps on the uppers.

The Vionic Rest Skylar is a lady's slide sandal with double straps, an adjustable buckle feature, and availability in a black or Gold cork pattern for the uppers.

---
6
This is one of the best walking and running shoe models from New Balance if you have Achilles Tendonitis.
The leathers consist of soft and supple leather with perforations for breathability.

The tongue and collar are padded for a more comfortable and supportive fit.

There is a walk specific comfort footbed and ABZORB cushioning in the midsole for shock absorbency.

The walking strike path outsole offers excellent stability and traction.

A Pol; urethane midsole ensure more durable and lightweight cushioning.

Both shoes are available in either a black or white solid color.

---
7
Achilles Tendinitis Support Shoe
The New Balance 890V7 offers excellent support and cushioning for Achilles Tendinitis, with a snug collar for ankle protection.
Here we have a Neutral and responsive running and walking shoe with a very lightweight design.

The uppers comprise if engineered mesh for a flexible fit.

You will enjoy the cushioned textile footbed that absorbs moisture and provides comfort.

It also has a Shock-absorbing REVlite midsole.

The durable rubber outsole further has Ground Contact REVlite for even better grip and traction.

---
8
Achilles Tendinitis Running Shoe
The Asics Glide Ride offers optimal cushioning and support technologies, along with a Rocker Style foam sole, which is ideal for Hallux Rigidus.
The upper consists of lightweight and breathable mesh and synthetic materials.

The Rearfoot Gel cushioning is perfect for Achilles Tendinitis and absorbs shock in the heel.

The Collar is padded for a secure fit around the ankle.

There is a Guidesole and Flytefoam midsole for stability and shock absorbency.

Inside is a smooth and comfortable lining and footbed to keep you dry.

---
9
Achilles tendinitis Walking Shoes
The Go Walk Air and the Go Walk 5 Qualify have had the ideal support features to protect your Achilles tendon and provide ample cushioning in the heel.
The Upper consists of Engineered mesh with and EZ fit design that is more flexible.

An Air Cooled Goga Mat insole and Dual-density outsole offers exceptional cushioning a shock absorbency to protect the Achilles Tendons.

The design offers a snug and secure fit around the ankle.

There is also a high traction durable rubber outsole.

---
10
Achilles tendinitis Running Shoe
The New Balance 520V6 is a supportive running and walking shoe that offers a secure fit and stability features ideal for Achilles Tendinitis.
The uppers are lightweight and breathable with a flexible fit.

There are an NB soft cushioned removable insole and a supportive foam midsole.

The rubber sole has lug patterns for extra grip and durability.

You can choose your favorite color from many available.

---
11
Achilles Tendinitis Boots
Two comfortable and supportive boots from Skechers for Achilles tendinitis that are also great as work boots.
The Ankle boot design of these boots keeps your heel and ankle stable and protected.

The uppers consist of leather, and the On The GO Joy for the ladies is lined with faux fur for warmth.

Both these boots are perfect for winter.

There are a cushioned insole and supportive midsole, as well as a durable rubber outsole.

Choose from many colors in the lady's model and a black or brown for men.

---
12
Achilles Tendinitis Running Shoe
Mesh and synthetic materails are used for the uppesr for a mre flexible and breathable fit.

There is a FlyteFoam and Speva Foam layered midsole for shock absorbency.

The Gel cushioning in the heel and forefoot ensures excellent cushioning and shock absorbency in critical areas.

There is also a Trusstic system for better gait efficiency and stability.

The durable rubber outsole ensures good traction on most surfaces.

---
Index Table: Top Rated Achilles Tendonitis Shoes
---
---