Achilles Tendonitis can be quite challenging to deal with, and thankfully some at-home treatments and remedies can mitigate the symptoms and expedite recovery.
One of the main recovery and preventative measures you can take is to wear proper and supportive shoes for Achilles tendonitis.
---
Achilles Tendonitis and How the Right Footwear Can Help
The Achilles Tendon is the flexible band of tissue that connects your calf muscles to the heel bone when the band of tissue becomes inflamed; it is called Achilles Tendonitis.
Achilles Tendonitis can be caused by an overuse or one-time injury, excessive stress on the Achilles' tendon, or even a medical condition. It can worsen if not treated properly.
Though Achilles Tendinitis is more predominant in athletes and sportspeople who participate in high-impact activities, anyone can suffer an injury or perform operations that can cause Achilles Tendonitis.
In this article, we are concentrating on footwear to help prevent and well aid in the recovery of Achilles Tendonitis.
The right footwear can help properly support the arch and ankles to prevent injuries to the Achilles tendons and provide cushioning to attenuate shock that can affect the Achilles Tendon.
---
What To Look for in a Shoe for Achilles Tendonitis
There are a few features that you can look for in a good shoe for Achilles Pain and protection;
Arch Support – Feet with a high or flat arch are most likely to suffer Achilles tendonitis. The right arch support provides better support and alignment and proper weight dispersion to take the excess strain off the Achilles tendon.
Cushioning – Cushioning in the footbed, heel, and midsole offers excellent shock absorbency to reduce the strain on your Achilles' tendons.
Flexibility – Though you do not want an overly flexible sole, and preferably a more rigid and stable sole when it comes to Achilles Tendonitis, some flexibility in the ball of the foot area is explicitly still required.
Ankle – A padded or form-fitting ankle collar is ideal for keeping the ankle in proper alignment and for preventing incorrect movements that can affect your Achilles Tendons.
---
Features of a Good Shoe for Achilles Tendonitis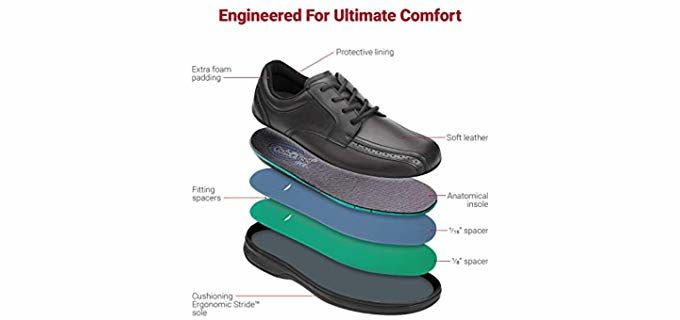 Uppers – Breathable and comfortable fitting textile, leather, mesh, or synthetic uppers. Padded tongue and collar.
Cushioning – A comfortable cushioned insole. Gel or heel cushioning or clutching system. EVA cushioned and shock absorbing Midsole.
Outsole – Durable rubber outsole with a low and stable heel.
---
Reviews: The Best Shoes for Achilles Tendonitis
Here are some of the best options in a variety of shoes that are availble for Achilles Tendonitis relief;
---
1
---
2
---
3
---
4
---
5
---
6
---
7
---
8
---
9
---
10
---
11
---
12
---
13
---
14
---
15
---
Index Table: Top Rated Achilles Tendonitis Shoes
---
---