There are so many fun and functional gardening shoes available today to choose from as you like.
Gardening shoes offer you protection against wetness and hazardous elements in the garden, so you can work in comfort while spending quality time in your garden.
This is why you will need the best professional Gardening shoes.
---
Do You Really Need Good Gardening Shoes
As with most things in life, you always need the right equipment for the job, and this is also the truth when it comes to gardening.
Just as you need proper gardening tools, you also need good quality gardening shoes to protect your feet.
Your sneakers or going barefoot may not cut; gardening can damage other shoes, and your feet may get wet and cold. By going barefoot, you are at the risk of getting an injury.
---
Benefits of Wearing a Gardening Shoe
A Good Gardening Shoe can keep your feet safe, dry, and comfortable as well as protected from risks and injuries associated with the activities and elements in the garden.
Dry Protection -Most gardening shoes are either completely waterproof with a closed design and waterproof lining that keep your feet completely dry on the outside. Some models have a dry, moisture-wicking lining that also keeps your feet dry on the inside.
Open Design – Some gardening shoe models have a more open design, similar to a sandal or "Crocs" style, which allows for ample ventilation and water drainage.
Slip Resistance – Gardening shoes have a durable rubber outsole or foam outsole with a lug pattern or slip-resistant design explicitly designed for outdoor and gardening use.
Comfort – A comfortable fit and some cushioning or support features likewise ensure that your feet are kept safe and comfortable even when you are on your feet for many hours in the garden.
Durable – Most garden shoes are made from durable materials, some more lightweight and others more heavy-duty depending on the type of gardening.
---
Features of a Good Gardening Shoe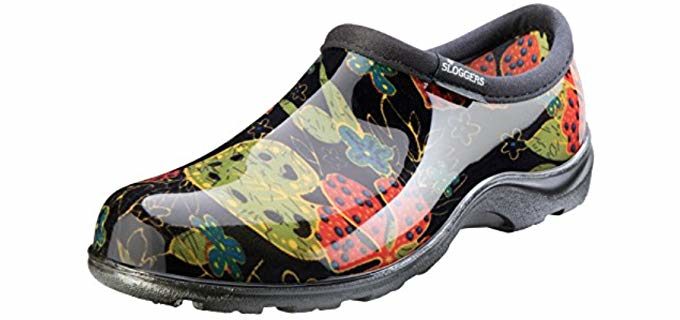 Waterproof – The most important feature of a gardening shoe is that it is waterproof; with any gardening or farming, you are certain to be working in wet conditions.
Cleaning – A gardening shoe must also be easy to clean because gardening and dirt go hand in hand.
Protection – A solid sole for shoveling and a reinforced toe for if you drop your tools or equipment by accident are also essential characteristics.
Breathability – A shoe that is breathable and will keep your feet warm in cold weather conditions and cool in hot climatic conditions is an added advantage to any good gardening shoe.
Comfort and Support – you will need a shoe that gives you the comfort and support that you need for working long hours on your feet on different surfaces, as well as protection from weeds and debris that may enter your shoes and socks.
There are many non-functional garden shoes and boots on the market in many colors and designs. You better functional gardening shoes that concentrate less on the design and more on the functionality.
---
Reviews: The Best Gardening Shoes
1
The Muckster 2 Ankle Gardening boot is specifically designed to withstand all the hazards and elements that gardening entails.
It is available in both men's and women's styles and is perfect for your more serious gardeners. Muck boot is a trendy brand known for its high-quality and comfortable gardening shoes that you can wear in any weather condition.
It is manufactured from natural rubber with a breathable Airmesh lining.
A Neoprene upper to keep sludge and debris out of your shoe.
Excellent comfort and support, thanks to the 4mm CR Flex-Foam.
Non-Slip soles will quickly shed off any debris perfect for all outdoor surfaces.
Easy to slip on and off.
They are perfect for any season, and your feet will remain comfortable at any temperature.
---
2
All in one professional Gardening and Landscaping boot. The Viking Kadett is a waterproof, slip-resistant, lightweight boot that will protect your feet as well as keep them comfortable in any outdoor conditions.
The Viking gardening boot is also designed particularly for wet and rainy weather conditions to keep your feet dry and
protected.
It is constructed from Textile and Synthetic materials.
The shaft measures 13 inches from the arch to offer leg protection.
Industrial-grade durability, slip, abrasion, and chemical resistance.
Reliable and durable rubber construction.
Both rain and the gardening boot will keep your feet dry and well protected.
A neoprene liner for enhanced comfort and warmth in colder weather conditions.
---
3
This is a great gardening shoe for avid gardeners. Sloggers offer high-quality gardening and waterproof shoes that are made from the finest materials and that will give you all-day comfort.
The Sloggers Premium Garden Clogs are available in both men's and women's styles and different colors to choose from as preferred.
It is made in the USA from 100% recyclable materials.
Features an excellent quality moisture-wicking and antimicrobial insole that will ensure all-day comfort.
A comfortable interior liner.
Completely waterproof.
Very easy to clean; you can hose them down.
An easy-to-slip-on-and-slip-off design.
---
4
The Joules Welly Print Boot is a bit light on the practical side, but it makes up for it in appearance. This is a boot for the ladies out there who enjoy a bit of casual gardening while still looking fashionable and feminine.
The Joules Welly Print's come in various colorful and exciting prints that will suit any preference.
It is manufactured from 55% Rayon and 45% Polyester.
A rubber sole for excellent grip on slippery and wet surfaces.
A one-inch heel for better support.
Larger boot opening for easy slip-on and slip-off capabilities.
Covered with a heat-protecting waxy film that prevents the boot from weathering away in scorching weather conditions.
---
5
Aleader has designed a sandal-type clog perfect for gardening in the summertime or warmer weather conditions.
This gardening Shoe is available in various vivid summer colors and can be worn by both men and women. It is a lightweight and breathable gardening shoe that will keep your feet cool and comfortable even when worn for an extended period.
A durable and comfortable MD sole.
Completely waterproof and dries very quickly.
Lightweight and breathable.
It is manufactured from durable materials that do not have an odor.
A cushioned, massaging footbed for excellent comfort.
Slip-resistant on slippery and wet surfaces.
The outer sole is non-marking.
---
6
If you are looking for a comfortable and easy-to-clean gardening shoe that is a bit more classy and feminine to wear in and out of the garden, then you cannot go wrong with the Crocs Thea.
It is manufactured from durable and soft cushioned Crosslite material.
A supportive and cushioned footbed.
A lightweight and feminine shoe that is breathable and easy to clean.
Easy slip-on and off design.
Odor-resistant technology to keep your feet fresh.
Available in many vibrant colors
This shoe makes one of the Best Shoes for Teachers, particularly kindergarten teachers.
---
7
Waterproof Rubber gardening shoes that are ideal for wet and slippery terrains.
Rubber and synthetic uppers with open design for water drainage.
Fit for rain and summer heat.
Outsole: Anti-skid design, which increases the grip and anti-slip properties.
Comfortable and cushioned insole to provide support.
---
8
The ideal Gardening boot from Muckboots with an extra-long shaft and all-weather features for comfort and protection.
Synthetic neoprene uppers that are flexible and waterproof, with heat retention properties.
A shock-absorbing and cushioned footbed that contours to your feet and contouring uppers to prevent chafing and blisters.
Very lightweight and breathable design with a dry lining that keeps your feet dry.
A self-cleaning ribbed outsole for excellent slip resistance.
---
9
The Nomad puddles is a rain and gardening boot perfect for wet conditions and available in plenty of fun and funky prints to choose from as needed.
A full shaft for protection against wetness.
Colorful and patterned design options to choose from as you wish.
Slip resistant rubber outsole.
Lined interior and complete rubber construction that is durable and protective.
Completely waterproof design.
---
10
A colorful and comfy gardening clog that is lightweight and breathable for all outdoor activities.
Lightweight and breathable design for comfort and convenient traveling.
High-quality chemical-free materials are used in this shoe.
Available in plenty of colors and prints to choose from as preferred.
Slip-proof outsole.
Ideal for all outdoor activities.
---
11
The JBU by Jambu is a comfortable and waterproof design for women's gardening shoes.
Available in few neutral color selections to choose from as you like.
Leather design uppers that are entirely waterproof.
A terra Traction rubber outsole for better grip.
Comfortably cushioned memory foam footbed and lace-up design.
---
12
From Crocs, we have the easy slip-on and off a water-ready shoe for gardening.
It is made from 100% soft and foam Crosslite material.
Water Drainage holes and slip on and off the design.
Breathable and open with an easy wipe cleaning surface.
A durable outsole with a tread for better grip.
---
13
The Sloggers Gardening shoe is very colorful and fun and comes in a range of colors and patterns for you to choose from as you wish.
Heavy-duty and durable design and materials.
A Sloggers all-day comfort-cushioned insole.
Easy to clean; hose off or wipe off.
Waterproof materials.
High traction and grip outsole.
---
14
A fun and colorful ankle boot for gardening from a top brand, Crocs.
The ankle boots are constructed from Crosslite material that is soft and very easy to clean.
The boot is entirely waterproof and protective.
There are many fun color options from bright pink to bright yellow and others that you can select.
The boot s specifically designed to fit a lady's foot.
---
15
Here we have a light and comfortable, completely waterproof low cut gardening shoe for the ladies.
Here we have a low-cut design water-resistant boot for ladies that is perfect as a rain boot or gardening.
The rubber outsole is durable and slips resistant in wet terrain.
The uppers offer excellent waterproofing and are very flexible and comfortable on your feet.
The integrated design neoprene and natural rubber materials work very well in grassy and wet terrains.
There are also a few color selections from which you can choose.
---
16
The Joules Pop On Garden shoe is waterproof and comes in many fun colors and patterns.
The Pop On range offers you many fun and colorful printed gardening and rain shoe options you can select.
The upper consists of waterproof and durable neoprene material.
There is a lug rubber outsole for excellent grip on wet grass and terrains.
The extra-thick sole also provides cushioned comfort.
---
Index Table: Top Rated Gardening Shoes
---
With the variety mentioned above of gardening shoes, there is sure to be a perfect pair for you to choose whether you are a serious professional or just someone who enjoys gardening, fresh air, and natural surroundings.
---
---