Walking is a fun and healthy exercise suitable for almost all persons and not as strenuous as running.
However, having the right walking shoes is critical for a more effective experience and the right support and comfort levels.
Adidas offers an exceptional range of Walking shoes and running shoes, which are ideal to use for walking.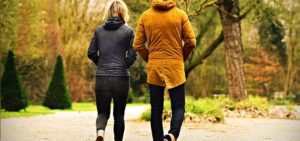 ---
Walking Shoes VS Running Shoes for Walking All Day
Wearing the right shoes is vital to keep your joints and muscles healthy and happy and protect your feet and keep them comfortable.
Your body reacts differently to different types of exercise, and the same goes for running and walking.
When you run, you bring your foot down first on your heel, and then the foot rolls forward to the ball of the foot. You may also land on the ball of your feet first. Yet every time your foot comes down, your body absorbs two to three times your body weight in shock.
On the other hand, when you walk, you walk much the same way as your run, but you make contact with your heel first only, and then your foot rolls towards the ball of the foot and toes. This exercise has much less impact than running, and your body only absorbs one and a half times its weight in impact.
Walking Shoes – Walking shoes will have a much stiffer sole and a more beveled and less thick heel. Walking shoes also provide less stability and motion control, as it is not as necessary. Lastly, a Walking shoe is generally much heavier than a running shoe.
Running Shoes – Running shoes are lightweight and flexible with a flexible sole and a thicker heel. Most Running shoes offer betters stability and motion control and have a higher heel-to-toe drop.
All in all, the rule of thumb is that you can Walk-in Running shoes, but you CANNOT Run in a Walking shoe!!
---
Adidas Walking Shoes
Adidas has some exceptional shoe models that can be used for Walking and Walking all day;

Data Driven Design – The Data-Driven Design design in many shoe models offers targeted flexibility and breathability as you move and adapt to your foot shape.
Lightweight and Durable – Adidas walking shoe is lightweight on your feet and extremely durable to walk in even if you walk all day.
Well Cushioned – Adidas Walking shoes are cushioned and have a foam midsole that absorbs shock and provides much comfort.
Traction – The Stretchweb design and regular patterned design on the Continental rubber outsoles of Adidas shoe provides superb traction and hard-wearing durability fr walking.
---
Features of a Good Adidas Shoe for Walking
Uppers – in a Good walking shoe there are two options in upper a leather and mesh combination which offer structural support and breathability, or mesh and Knit options such as the Primeknit options which are more flexible and adaptable, and still very breathable.
Interior – A textile or fabric interior lining helps to keep your feet cool and dry, while a cushioned or [added insole provides more comfort. A padded collar will also provide a more structured and stable fit.
Midsole – Responsive Boost midsole technology in most f the walking and running shoe models offer energy-returning bounce-back cushioning and shock absorbency. There is also the Cloudfoam and EVA technology cushioning ins some models for softer cushioning.
Outsole – A high traction tread outsole is ideal for walking and running. Adidas uses a durable Continental rubber in the outsole with lug patterned tread designs for traction and grip that will not hold you back.
Fit – A more structured socklike or locked-in fit provides excellent stability and a flexible, adaptive fit when walking. However, there are also more roomy and relaxed fit options.
Options – Adidas offers a large variety of color and print options in their walking and running shoe ranges, as well as wide width and half size options.
---
Reviews: The Best Adidas Shoes for Walking
These are some superb Adidas shoe models which you can use for Walking with;
---
1
The Cloudfoam Pure and Cf Lite from Adidas are the perfect Walking and running shoe models with a comfortable fit.
The Upper is Textile and Synthetic with a Stretch Mesh construction for breathability and flexibility, as well as a Sock-like construction that hugs the foot and adapts to it.
The Cloudfoam Memory Foam Sockliner and Cloudfoam combined midsole ensures exceptional cushioning that is plush and soft for Walking.
The durable rubber sole is designed for everyday running or walking and has a high traction tread for grip.
The uppers will also stretch and flex as you move and accommodate your specific foot type and structure.
---
2
Running and Walking Shoe for Overpronation
The Senseboost Go Running Walking and Running shoe model offers responsive cushioning and a comfortable fit.
The uppers are textile and synthetic with Knit construction and an adaptive tongue design for a more natural feel.
There is a responsive Boost cushioned midsole for shock absorbency and cushioning.
The Stretchweb design outsole is a durable rubber outsole with a net-like construction for better traction.
There are also many colors and prints available in this specific model.
---
3
Running and Walking Shoe for Walking All day
The Adidas ULtraboost 21 is a light and energizing running shoe, which I find also makes for the ideal daily walking shoe.
The Nsug socklike fit and elastane heel offers a stable and comfortable fit for better support and motion control.
I will likewise highly recommend this model for Overpronation as it offers excellent stability.
The uppers are Primeknit and textile, which breathes well and flexes.
A responsive Boost midsole allows for better shock absorbency and cushioning, while the durable rubber outsole ensures excellent traction.
Additionally, you can select your favorite color from a few options available.
---
4
Comfortable All Day Walking Shoes
The Duramo is another exceptional Adidas shoe model that is perfect for walking.
The uppers are textile and synthetic, with mesh, seamless overlays, breathability, and less friction.
Ther is an Lightmotion midsole for step-in comfort and an Ortholite Sockliner for cushioning and to manage moisture.
With the Adiwear outsole, you can relish in the exceedingly durable high-wearing rubber with perfect traction capabilities.
You can also select from a few color options s available to you.
---
5
Outdoor Walking and Hiking Shoe
For Trail walking and hiking the Adidas, Terrex AX3 is one of the best models.
The synthetic and mesh upper are breathable yet provide some water resistance and keep debris out.
The design offers a comfortable and roomy regular fit for all foot types.
You will relish the comfort and support of the EVA midsole and molded sock liner.
There is likewise a moisture-wicking textile lining to keep your feet dry.
A TPU toe cap protects your toes, and the durable Continental rubber outsole is designed for slip resistance on outdoor wet and dry trails.
Choose from a few neutral color options available to you.
---
6
Casual Shoe for Walking All Day
The Adidas Kaptur is an everyday wear fashionable sneaker that can also be used for Walking.
The uppers are a soft and adaptable textile material that is light and breathable.
You will love the sock-like fit that hugs your feet for support and comfort.
There is also a Clodfoam Midsole and a Cloudfoam Sockliner that provides plush cushioning and dry comfort.
The rubber outsole is durable enough for everyday walking, and there is an ideal heel-to-toe drop.
You can also choose color options from a few neutral colors available.
---
Index Table: Top Rated Adidas Shoes for Walking
---
---