When you are serious about your CrossFit training, it is always a good idea to invest in proper training shoes rather than just using your running shoes.
In this article, we look at all the shoe models that Adidas offers, which is great for CrossFit training in all levels of experience.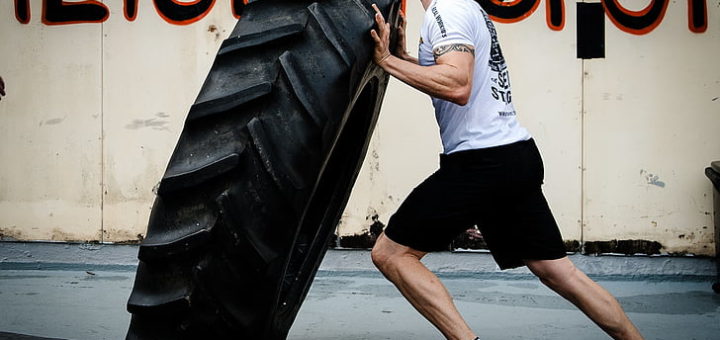 ---
What to Look for in a CrossFit Shoe
Firstly let us start by looking at what constitutes a proper CrossFit training shoe;
Low or no Heel To Toe Drop – One of the main features of a proper Crossfit training shoe is that it has a very low or no heel-to-toe drop. And more flat sole.
Lightweight – CrossFit shoes need to be very lightweight on your shoes and not weigh you down. This is one of the main reasons why running shoes are not acceptable.
Weightlifting Shoes – If you do plenty of weight lifting during your CrossFit routine, it is advised that you use a proper weight lifting shoe separate from your cardio shoes. You can use a lightweight and flexible running shoe for running and cardio exercise routines in this instance.
Breathability – CrossFit training I intense, and you will become quite hot and sweaty. Breathable shoes help t ventilate your feet and keep them cool and moisture-free.
---
The Importance of Wearing Proper CrossFit Training Shoes
There are just so many benefits to choosing the right shoe for the right activity, and the same goes for CrossFit training.
So you may be wondering if you really need a specific shoe other than your running shoes for CrossFit training, and the answer is YES, definitely.
When you engage in more complex movements that require the right amount of strength and balance, a CrossFit-specific shoe will help you, whereas most running shoes will not.
CrossFit shoes provide specific support for your entire body to prevent excessive strain on your joints and reduce your risk of injuries,
CrossFit shoes are also generally much more tough and durable to withstand the intense and robust exercise routines in this form of training.
---
Features of a Good Adidas Shoe for CrossFit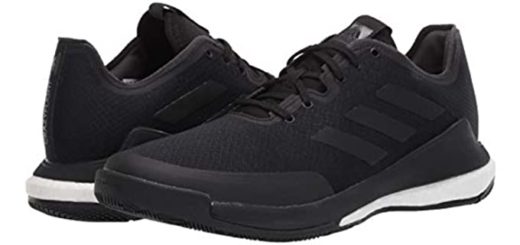 Uppers – In a CrossFit shoe the uppers provide a more sock-like and adaptive fit with Stretchmesh or knit materials. TPU and more supportive midsole design are also prevalent for better lateral support during certain exercise routines in CrossFit training.
Cushioning – Most CrossFit Training shoes have less cushioning with only light padding or heel padding and more flexibility. However, some models feature the Boost energizing and responsive cushioned midsoles. The Boost Cushioning system offers more flexible cushioning that responds well and absorbs shock on impact effectively. Although cushioning is not advised in cross-training shoes, lightweight cushioning can come in handy with cardio exercise routines that place more impact on your feet and joints.
Outsole – In general the sole is flexible, and some models have added flex grooves for support. Rubber is used in the sole with a high traction tread for better grip when training.
Options – Color and size options are available at your disposal in most models, depending on the style, so you have freedom of choice in these departments.
---
Reviews: The Best Adidas Shoes for CrossFit
These are some of the best Available shoe models from Adidas to use for Cross Fit training purposes;
---
1
Lightweight CrossFit Training Shoes
The Adidas Crazyflight is one of the top choices from Adidas when it comes to shoes for CrossFit routines.
The Upper is a durable and breathable stretch mesh with a TPu reinforced midfoot, ideal for Cross Training.
The EVA frame added better lateral stability and support with a shock-absorbing and cushioned midsole for comfort.
The rubber outsole is flexible and durable.
The shoe offers a regular fit and is ideal for all foot types and neutral in arch support.
---
2
The Adidas Sesnebounce is a great running shoe ideal for CrossFit training involving plenty of Cardio exercises and running.
The Knit upper is very lightweight and breathable with a Locked In fit feel and comfortable, smooth lining.
There are a few neutral color options available for your perusal and different size options.
The cushioning in the midsole is Bounce cushioning that is ore soft and energizing.
EVA foam is also used for shock absorbency n the midsole.
The rubber outsole flexes easily and provides excellent traction on most surfaces.
---
3
Cross Training Shoes for CrossFit
The Adidas Edge is a specifically designed Cross-Training shoe that is ideal for CrossFit training.
The Upper is textile and synthetic with a LockDown Midfoot for better support in Cross Training routines.
There is Bounce Energized cushioning for shock absorbency and support, along with a soft lining for comfort.
The TPU and rubber outsole ha Multi-Flex Grooves for support and flexibility when training.
You can also choose from a few very fashionable color options available.
---
4
The Fluid flow is a running shoe that is perfect for use as a CrossFit training shoe.
The Upper offers an adaptive knit fit that flexes and moves with your feet.
The midsole is cushioned for shock absorbency and comfort cushioning with a smooth interior lining.
The outsole is rubber with lug patterns for added traction and durability.
There is also an Ortholite sock liner and more flexible bounce cushioning.
---
5
The Fitboost from Adidas is another excellent choice in CrossFit training shoes for neural support and cushioned comfort.
Ter is a Boost energy-boosting cushioned midsole and a smooth interior lining.
The tongue is molded and the heel padded for a comfortable and supportive fit.
The uppers are Engineered mesh with TPU overlays for support and stability,
The sole is flexible with a durable and high traction rubber outsole.
---
6
Weight Lifting Shoes for CrossFit Training
The Adipower from Adidas is designed specifically for weightlifting during CrossFit routine training.
The Shoes offer a regular fit with lace-up and hook and loop strap for closure.
A strong TPU Wedge midsole and flexible forefoot, and a padded rearfoot are ideal for weight lifting support and stability.
The sole also has a zero drop design and thick rubber for traction and grip.
You can likewise choose from a few available color options.
---
Index Table: Top Rated Adidas Shoes for CrossFit
---
---