Having flat feet, or fallen arches have indoctrinated such a stigma resulting in the belief that someone who has flat feet has a disability, has insufficient foot skills and has a greater injury risk. This, of course is completely untrue, and with the technology, we have at our fingertips today even someone with a foot condition such as fallen arches can still excel at sports.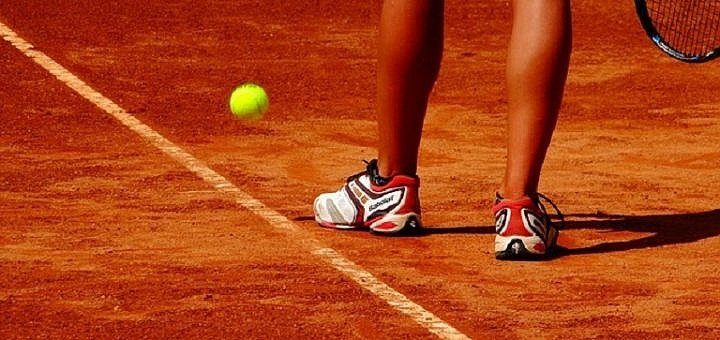 Summary Table – Best Tennis Shoes for Flat Feet
What is a "Flat Foot"
Having flat feet means that the arch of you foot is lower than what it should be. The arch of your foot is the middle part at the bottom of your foot formed by the tarsal and metatarsal bones and strengthened by the ligaments and tendons. The arch of your foot allows your foot to support the weight of your body. Injuries to the bones, ligaments or tendons of your arch, certain medical conditions, pregnancy and being overweight can cause your arches to fall resulting in a flat foot.
Playing Tennis with Flat Feet
Flat feet can be quite a problem for some people that like to take part in energetic sports, tennis is one of those sports. Luckily there are many different types of tennis shoes and orthotics available that will help you to function normally and play a great game of tennis without any pain, discomfort or injuries.
What is the Best Tennis Shoe for Flat Feet
Tennis players with flat feet will need a pair of tennis shoes that will support their lower arch, gives good stability and is comfortable to wear. Flat footed athletes have a tendency also to be overpronators (when your foot rolls too far inward when you walk or run), therefore they should be advised not to wear shoes with high arch support. Also keep in mind that you will have to look at the performance aspects of the shoe as a durable and quality, functional tennis shoe.
---
Reviews on the Top Tennis Shoes for Flat feet
We have compiled a list of some of the top tennis shoes with the best reviews that will offer you the best support and comfort if you have flat feet, while still performing at peak levels on the court as a tennis shoe.
1
Improved lateral stability while still retaining the quickness of the original Big Shot.

A flow-cool ventilation system to keep your feet dry and cool.

The durable Aosta 7.0 rubber sole offers excellent grip and traction on any court.

A rigid PCS mid-foot support chassis for superb support and stability.

The EVA midsole offers great shock absorption.

This shoe is true to its size and comfortable to wear.

Available in a variety of feminine colors and designs

---
2
Asics High abrasion rubber sole for durability on hard courts.

PGuard toe protectors.

Synthetic leather and mesh uppers.

Rearfoot and Forefoot Gel cushioning system to attenuate shock during impact and toe-off.

A PHF (personal heel fit) lining.

Solyte midsole material that is more lightweight than EVA and offers advanced cushioning and durability.

Good stability and Arch support.

---
3
A synthetic and mesh are upper.

PRC 1000 outsole for unmatched durability.

The wishbone shank provides excellent stability for the mid-foot.

The TPU bootstrap gives great stability.

A RASH toe cap for abrasion protection.

A Shock Eraser midsole to absorb impact.

---
4
Synthetic and fabric uppers that are lightweight and breathable.

A welded TPU three-stripe and T-toe overlay.

Shock absorbing adiprene technology to soften the impact on the knees and joints.

The Ultra-responsive adiprene plus foam cushioning gives great comfort and support.

A Torsion system foot support.

An Adiwear court traction sole.

Available in variety of colours an designs.

Make sure to get at least half a size up as this is a snug fit.

---
5
Leather and Synthetic Uppers.

ABZORB cushioning technology for comfort and shock absorbency.

C-Cap midsoles for support and stability.

A lightning dry liner to keep your feet dry at all times.

Superior support and stability for tennis players.

The rubbers sole is of the finest quality.

---
6
A foam-padded collar and tongue for more comfort.

The breathable mesh lining ensures that your feet stay dry and odor free.

A cushioned footbed for comfortable support.

The perforated toe box provides good ventilation and the lace up closure system offers a secure fit.

Rearfoot gel cushioning that attenuates shock during the impact phase for aa smoother transition to midstance.

A lightweight injected EVA midsole offers even more cushioned support and comfort.

The non-marking solid rubber outsole with lateral wraps enhances traction on hard courts.

The forefoot grooves improve flexibility for fast response.

The Asics Gel Gamepoint is rated as one of the Best Shoes for Playing Tennis.

---
That concludes our list of the best tennis shoes for flat feet or fallen arches. Hopefully this will aid you in finding the perfect pair of tennis shoes for your foot type, whether you are a professional tennis player or just an avid casual tennis player. All these tennis shoes will offer you the best stability and arch support features needed to alleviate the pain and discomfort caused by flat feet so that you can perform with confidence and maximum comfort.
---
Please rate this article:
---
---