Swelling of the feet, legs, and ankles is not an uncommon occurrence today and can happen due to the result of fluids that build up in the tissues of these areas.
Swollen feet or ankles is not a severe condition, but it is uncomfortable and can cause damage if not treated. Swelling can be systematic or localized affecting only certain areas of the body usually the feet and ankles and can be caused by various health conditions.
A Pregnant Kim Kardashian With Swollen Feet Wearing Inappropriate Shoes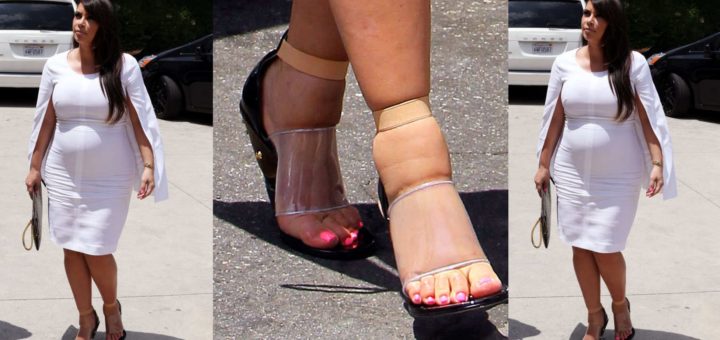 ---
Dangers of Swollen Feet
Systematic conditions are harmful and can cause damage to the liver and kidneys. Fortunately, there are millions of remedies for swollen feet as well as preventative measures. Lymphedema and blood clotting which are serious conditions can also cause swelling of the feet and ankles, and this should be treated before the heart, kidneys and liver are affected. Other less serious health conditions along with pregnancy and injuries can also cause your feet to swell periodically or permanently but cannot cause any other serious damage.
Importance of proper shoes for Swollen Feet
Wearing the proper footwear can greatly alleviate the symptoms of swollen feet by not putting added pressure to cause even more swelling and by preventing chafing that can damage the skin which is already under pressure from the swelling. Good arch support and a roomy, comfortable fit are essential for any swollen foot, also make sure to avoid high heel and any footwear that puts pressure on your feet or fits too tightly.
Features of Good Shoes Designed for relieving swollen feet
The best shoe for swollen feet is a shoe that is lightweight, padded with underfoot cushioning and support and that is a wider and softer fit. Padding in a shoe for swollen feet gives support and comfort that is much needed to reduce pain and pressure on the feet. A larger toe box allowing more free movement and accommodating a swollen foot is also a great advantage. Keep in mind breathability as a swollen foot needs to be kept cool to reduce the swelling.
Reviews: Top Shoes for Swollen Feet
You can compare the listed shoes and find the shoe that best suits you, all of the chosen shoes will alleviate the pain of swollen feet and greatly reduce the swelling;
1
The Apis MT Emey is a shoe that has been designed to bring relief from the symptoms of foot conditions such as Edema, Bunions, Hammertoes and many other foot deformities.
Soft Nappa leather uppers that are flexible and have a seamless lining.

Aids in decreasing friction and chafing on the feet.

The medial and lateral collar of the shoe is padded for a more comfortable fit.

Lessens Achilles pressure points bringing great relief from swollen feet.

Available in a wide range of sizes.

---
2
The Ryka Sky is a comfortable and supportive walking shoe that is lightweight, flexible and breathable to aid in bringing relief from the painful symptoms of swollen feet.
Lightweight and breathable synthetic leather and mesh uppers to keep your feet cool and dry.

A comfortable removable sock liner made from foam latex that will resist compression.

The rubber soles are durable and ensure a good grip.

An EVA midsole with TPU shanks for improved support and stability.

---
3
A fantastic walking shoe that you will not even notice when your feet are swollen, the New Balance WW928 is comfortable and light to wear and will not add any pressure to swollen feet.
A high-quality rubber outsole ensures good grip and traction.

Comfortable enough to wear all day without any chafing or discomfort.

Synthetic leather uppers that are soft and light.

An easy and comfortable fit to accommodate feet that may swell.

A removable insole that offers support and shock absorption.

---
4
A gorgeous shoe, the Dr. Comfrot Refresh is available in a variety of colors and sizes to accommodate every foot and personal preference. A lightweight and flexible shoe that is perfect for swollen feet and other foot conditions.
Layered with comfort gel to provide cushioned support.

A padded mesh and leather upper area that provides a flexible and roomy, comfortable fit.

The mesh on the uppers also enhances breathability to keep your feet cool and dry all day.

A durable outsole for good grip and traction.

---
5
One of the best therapeutic shoes, the Dr. Comfort Lucie is not only great for swollen feet but also for diabetics and other foot conditions requiring a wider fit.
Leather uppers with mesh padding for comfort and breathability.

A therapeutic shoe available in extra volume to accommodate swollen feet and Edema.

The velcro closures allow for an adjustable fit.

Available in different width ranges.

Very lightweight and gentle on the feet.

Can accommodate internal braces and orthotics.

---
6
The Propet Stability Walker is a great walking shoe that will relieve the discomfort of swollen feet with its wider and more flexible fit and breathability features keeping the feet cool and dry.
Full grain leather uppers with perforation for breathability to keep your feet dry and cool.

A fast and customized fit with the speed lacing system that allows you to adjust the fit.

A soft and comfortable padded tongue and collar.

The EVA midsole and PU insole ensure good support and shock absorbency.

A durable rubber outsole for great grip on even the slipperiest surfaces.

Becuase of its wider fit, adjustable lacing system this is also the Best Shoe for Hammertoes.

---
Index Table: Best Shoes for Swollen Feet
---
---