One of the most common foot problems today is heel pain. The sufferer will feel pain either under the heel which is the which refers to plantar fasciitis or just behind the heel which is known as Achilles Tendinitis, basically where the Achilles' tendon connects the bone. Heel pain can be quite severe and disabling but it is very rarely a health threat and usually disappears on its own, although there have been cases of chronic heel pain.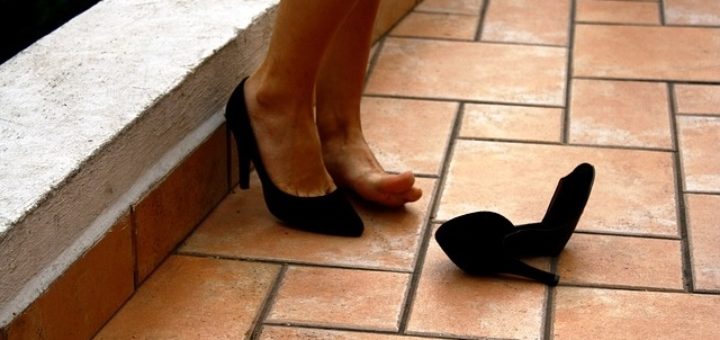 Comparison Table for the Best Shoes for Heel pain
The Main Causes of Heel Pain
Common causes of heel pain include:
Plantar Fasciitis occurs when the Plantar Fascia which is a ligament that runs from the heel to the tip of the foot becomes stretched too far and gets inflamed causing pain under the foot and in the heel area.
Heel Bursitis occurs when there is inflammation at the back of the heel called the Bursa, which is a sac full of fluid that causes pain deep inside the heel or at the back of the heel. Heel Bursitis can because by pressure from footwear or landing hard or awkwardly on your heels.
Heel Bumps are more common in teenagers where the heel bone that is not yet fully developed rubs excessively causing an excess bone to be formed. This is usually caused by younger females starting to wear high heels and is also a symptom of flat feet.
Tarsal Tunnel Syndrome occurs when a large nerve in the back of the foot becomes usually pinched a symptom of a condition called Neuropathy that can arise in the ankle or foot.
Chronic Inflammation of the heel pad from heavy footsteps can also cause heel pain.
Stress fractures caused by repetitive stress on the heel from strenuous exercises or sports as well as resulting from osteoporosis can cause chronic heel pain.
Certain more severe diseases and medical conditions can also lead to heel pain amongst other symptoms.
Treatment and Prevention of Heel Pain
With less severe case there are a few tips you can follow to alleviate heel pain;
Avoiding activities that place stress on the heels.
Avoid walking on hard surfaces.
Make sure that your footwear fits properly and provides adequate support and cushioning
Features of a Good Shoe for Heel Pain
The type of footwear that you choose to alleviate heel pain will also depend on your arch type. Here are a few tips for selecting footwear for heel pain;
Good arch support for your specific arch type.
Heel support or a deep heel cup.
A low heel, avoid narrow high heels and flat shoes.
A cushioned insole or footbed.
A durable outsole that provides good grip and prevents slipping.
Reviews on the Best Shoes for Heel pain
Here are a few top choices in different styles of shoes that will help to prevent and alleviate heel pain;
---
---
---
---
---
Heel pain no matter what the cause should be a worry of the past with our selection of supportive and comfortable shoes for every occasion and function. With the right support and cushioning you should no longer feel any pain associated with your heels. There is a variety of shoes available from casual to dress that will help to alleviate heel and Plantar Fasciitis symptoms. The right arch support will also make a difference in the health and well-being of your heels and feet.
---
---