When your toes are normal, they usually point forward. However, someone who suffers from hammertoes will have either one or more toes that are bent and curling downwards. Hammertoes is a foot deformity that can impact any toe on the foot but usually affects the third and second toes.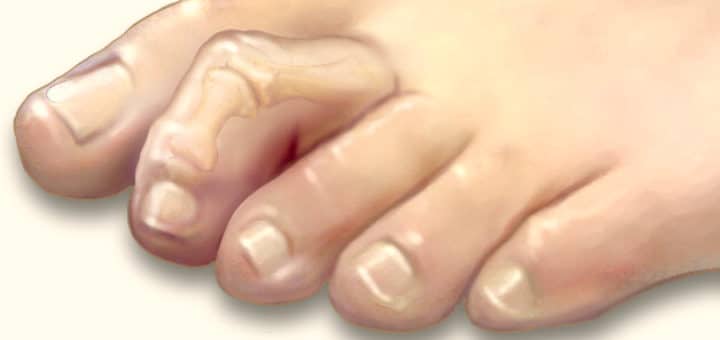 Index Table for the Best Shoes for Hammertoes
Causes Of Hammertoes
Hammertoes can be genetic or occur as a birth defect in some cases, although there are also many other causes. Wearing ill-fitting shoes, shoes that are too tight or shoes with pointy toes for long periods of time are one of the main causes of hammertoe. People who suffer from conditions such as spinal cord problems, peripheral nerve damage, arthritis or tight tendons and ligaments are also more vulnerable to hammertoes. Certain toe injuries can result in hammertoes in the long run. People who have arches that are above the average foot arches height are also more prone to foot conditions such as hammertoes. Most people who have bunions will also have hammertoes because of the tendency of the big toe to push inwards.
Importance of Wearing Proper Shoes for Hammertoes
Wearing appropriate and comfortable shoes that do not exert unnecessary pressure on your toes will most definitely reduce the severity and eliminate the symptoms of hammertoes, as well as preventing hammertoes in the future. When you have high arches that can lead to hammertoes, it is important to wear a shoe that offers adequate padding and cushioning, a pair of orthotic insoles can also help. Toe pads in shoes can assist to shift the position of your toes to a more comfortable and natural position helping to relieve pain and improving the appearance of the toe.
Features of The Best Shoes for Hammertoes
When choosing a shoe for hammertoes or when you have a high arch that can cause hammertoes make sure to look for a shoe that provides good arch support and cushioning for the arch. A toe pad can help alleviate the pain caused by hammertoes and make your toes appear more natural. Soft and flexible uppers will reduce the pressure on hammertoes and also aid in alleviating the pain. A wider toe box should also be considered for providing more space for your toes to relax in their natural positions. Avoid at all costs tight fitting, hard and pointed toe shoes.
Best Shoes for Hammertoes Reviews
Here are some of the best shoes available to eliminate the symptoms of hammertoes, prevent hammertoes and provide arch support;
1
The Asics Gel-Tech Neo 4 is a lightweight shoe that offers a more roomy and flexible fit to accommodate hammertoes and other foot conditions along with soft cushioned support.
The uppers are made from high quality lightweight synthetic materials.

A durable rubber sole ensures goo grip and traction.

The breathable mesh lining and padded tongue ensure a comfortable fit.

Quality gel cushioning absorbs shock and provides support.

The removable insole provides relief from the pain caused by hammertoes.

---
2
The Dr.Comfort Refresh is a therapeutic shoe designed specifically to provide relief from the symptoms of many foot conditions including hammertoes as well as diabetic and arthritis symptoms.
High-class craftsmanship with therapeutic technologies.

Accommodates orthotics and internal braces.

A wider and more roomy fit for hammertoes and bunion sufferers.

A supportive footbed with added arch support.

A durable outsole that provides good grip.

---
3
For those warm sunny days when you need a little bit more ventilation, the Merrell Azura Wrap will provide you with cool comfort all day.
Soft and flexible leather and mesh uppers for a more comfortable fit.

A thermoplastic medial side stabilizer for better support and stability.

A breathable mesh lining.

The Merrell air cushion heel ensures good support and shock absorbency.

Organic odor control technology to keep your feet fresh and odor free.

A durable and tough outsole.

---
---
4
The Orthofeet Lake Charles is a comfortable and professional looking work shoe with superior comfort and support features that aim at relieving the painful symptoms of hammertoes.
Aids in relieving back, ankle and knee pain as well as pain caused by various foot conditions and disorders.

A specially cushioned insole for shock absorption and comfort.

Facilitates the natural motion of the foot to reduce stress and strain on the feet, ankles, and lower limbs.

A lightweight shoe that enhances gait movement.

A durable outsole for good grip on different surfaces.

---
5
A stunning and comfortable dress sandal the Vionic Natasa will have you going places in no time.
Featuring the popular Othaheel orthotic support for better foot alignment and more comfort.

Beautiful leather uppers that are soft and comfortable.

A unique suede covered and cushioned footbed to absorb shock and reduce moisture.

A rubber outsole and cork midsole for better support and good grip.

Adjustable heel and forefoot strap for a more customized fit.

---
6
For all day breathable comfort, you cannot go wrong the Rockport Cobb Hill Tara. A lightweight and flexible shoe available in wider widths to suit every need.
Soft and flexible perforated leather uppers for breathability and a comfortable fit.

A durable rubber outsole that offers excellent grip on different surfaces.

A 3/4 heel provides better stability and more comfort.

The polyurethane footbed provides excellent support.

Cobb Hill is well known for making the best shoes for teachers that need to stay on their feet all day long.

Available in a variety of widths and sizes to accommodate every foot.

---
7
The Propet W2034 is a comfortable walking shoe with a wider fit to accommodate foot conditions such as hammertoes and bunions as well as wide and flat feet.
Soft and flexible full grain perforated leather uppers for a comfortable and breathable fit.

A brushed nylon lining for comfort and dryness.

A padded tongue and collar for a more comfortable fit.

A durable heel counter for long lasting tough stability.

The EVA midsole supports the arch and absorbs shock.

A removable PU insole for support and comfort.

The slip resistant rubber outsole gives great grip on wet and slippery surfaces.

A flexible and comfortable wide width walking shoe that is also the Best Shoe for Swollen Feet.

---
Please Rate This Article:

[rating_form id="1″]
---
---
---