Neuropathy is a condition that can affect your legs and feet mostly, causing pain and discomfort and even loss of feeling in many cases.
A comfortable and protective shoe for Neuropathy is required to protect the feet as well as to reduce pain and symptoms.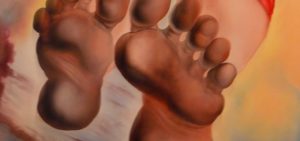 ---
Why do You Need Specialized Shoes for Neuropathy
Neuropathy is a common condition that affects the nerves in the body, mostly faced by individuals who have diabetes.
Neuropathy can cause the following symptoms that affect your feet;
Skin Deterioration – Neuropathy caused by Diabetes can affect the healing process and overall health of your skin. The skin may be more sensitive and prone to sores and chafing, particularly in the feet when wearing shoes and sores may not heal fast or properly.
Pain and Burning Sensation – Peripheral Neuropathy causes a feeling of pain and burning in the legs and feet and feet may be more sensitive and prone to pain.
Loss of Feeling and Pins and Needles – Some individuals suffer a complete loss of feeling in their feet, hands, or legs as well and this can be quite dangerous as they may not know when shoes are hurting them, or when they have stepped on a sharp object causing and injury.
Immobility and Lack of Balance – Neuropathy also has the ability to create a lack of balance and immobility in more severe cases.
Foot deformities – Foot deformities and conditions such as Bunions and Hammertoes may develop as a result of uncomfortable footwear and the individual not feeling it or because of Diabetes causing Neuropathy.
---
What to Look for in a Shoe for Neuropathy
Closed Design – For an individual with a lack of feeling in their feet, a closed design shoe is much more protective and safer to wear with Neuropathy.
Extra Room – In some cases, there may be swelling, and foot deformities and this is where and extra depth, wider with or roomy toe design shoe is more advisable when you have neuropathy. Also, an upper design that is smooth and seam-free which will not squeeze, irritate or chafe the feet.
Breathable – Breathability is essential, especially in a closed design shoe to keep the feet cool and comfortable. Mesh inserts or perforations in leather help to improve ventilation.
Cushioning – Cushioning is essential for comfort and shock absorbency, so look for a cushioned insole and EVA midsole, or even better Gel cushioning in the heel and forefoot.
Protection – Protection such as an underfoot plate or shank, EVA midsole, and thick rubber outsole provides shock absorbency, stability, and underfoot protection.
Stability – Stability features such as a contoured footbed or heel cup, offer better balance in those who struggle with balance and mobility.
---
Features of a Good Neuropathy Shoe
Breathable and lightweight upper.
Seamfree moisture-wicking interior linings.
Extra-depth and roomy toe area.
Wider width availability.
Comfortable cushioned and arch support insole.
Gel heel and forefoot cushioning.
It has cushioned lightweight EVA midsole.
Durable a high traction rubber outsole.
ASdjsutable fit options.
---
Reviews: The Best Neuropathy Shoes
Below are some superb options in comfortable and supportive shoes for individuals who suffer from Neuropathy;
---
1
The Apis Mt Emey is a comfortable and supportive walking shoe that is ideal for people with neuropathy affecting their feet.
The fit is adjustable with a Velcro closure, and the uppers consist of synthetic leather with ventilation to keep feet cool.
A thick and durable rubber outsole and a shock-absorbing midsole.
This shoe accommodates foot conditions such as Bunions and hammertoes and is exceptionally gentle on the feet with comfortable cushioning and seam-free linings.
Also available in the extended size and wider width options to choose from as you like.
---
2
These are the ideal dress shoe from Orthofeet for anyone suffering from Neuropathy affecting the feet or lower limbs.
For the gents, e have a comfortable oxford design lace-up shoes and for the ladies a slip-on pump with a low heel and BioHeel technology.
Both shoes are available in wider with options and have a comfortable and roomy toe box.
Extra-depth and comfortable, non-Binding fit.
Soft and comfortable leather upper an anatomically shaped orthotic cushioned insole.
Excellent arch support and a shock-absorbing midsole.
The durable rubber outsole offers good grip and traction.
---
3
The Go Walk 5 from Skecehsr is another very lightweight, breezy, and comfortable shoe for Neuropathy in the hot summers.
While this is a closed shoe, it is very lightweight, breathable, and cool, which offers protection and comfort for feet with Neuropathy symptoms.
Mesh upper and comfortable slip-on design, available in many color selections to choose from as you wish.
A thick and durable rubber outsole and a Dual-density Ultra Go outsole design with comfort Pillar technology.
Inside is a Skechers Air Cooled Goga Mat design cushioned insole.
This shoe is also machine washable.
---
4
The stability ST from Propet is the perfect walking shoe for imbalance in persons with Neuropathy.
Soft and breathable fabric uppers and a comfortable moisture-wicking interior lining.
It offers optimal stability and motion control for better balance and posture in Neuropathy patients.
A soft PU cushioned insole for comfort with a Gel forefoot and Rearfoot insert toa attenuate shock.
The EVA midsole offers support and stability, and the rubber outsole ensures good traction.
---
5
The Birkenstock Arizona has an anatomical footbed and comfortable and protective open upper design for an individual with Neuropathy who still have some feeling in their feet.
Soft and Smooth Birko-Flor leather upper with a fabric lining and adjustable buckle two straps.
A comfortable suede-lined footbed that wicks away moisture and is cushioned with cork.
A durable rubber outsole for good traction and medium width design.
Available in a few color selection that you can choose form.
---
6
Fisherman's Sandal for Neuropathy
The Orthofeet Naples and Clearwater are two Fisherman style sandals with a more closed and protective design for feet that have less feeling in persons with Neuropathy.
Soft leather and mesh are upper with open gaps for ventilation and cooling comfort.
A comfortable and wider roomy fit with an adjustable closure system.
Ergonomic sole with air cushioning arch support and premium orthotic arch support and cushioned insole.
Extra-depth design that is also available in wider widths to accommodate swelling in foot deformities.
A durable and high traction rubber outsole.
---
7
Running Shoe for Neuropathy
The Hoka One Clifton 6 has a stability design, ample cushioning, and a Rocker Sole, which helps with motion.
The toe box is comfortable and roomy on the Hoka One Clifton 6 with mesh uppers, which are ideal for Neuropathy in the feet.
The thick rocker design sole improves stability and motion and protects your feet.
The Midsole is cushioned with foam, and there is a comfortable insole.
The Embroidered design also provides Lockdown in the fit without any added weight.
---
8
The Soft Uppers and Wider Width options of this New Balance Model, along with removable insert that allows for the use of Orthotics, is perfect for Neuropathy.
Here we have a light and comfortable athletic style shoe, which is ideal for symptoms of Neuropathy.
There are Data Inspired uppers from synthetic and textile materials to adapt to your feet.
The Comfortable Insert provides excellent cushioning, and the Injection Molded Midsole offers complete shock absorbency.
Along with a durable rubber outsole, you have better stability and underfoot protection.
---
9
The Adidas EQT Racing ADV W shoe is an excellent choice in Walking shoes if you have Neuropathy
The EQT ADV is an excellent model from Adidas with an upper fit and underfoot protection perfect for feet with Neuropathy symptoms.
The uppers are flexible and adaptable comprising of breathable and flexible Primeknit textiles,
There is also a smooth lining to absorb moisture and prevent friction.
The sole jas a TPU shank and torsion system for protection and stability along with an EVA Midsole for shock absorbency and an Ortholite cushioned footbed.
You can also choose between a few color variations in this shoe model.
---
Index Table: Top Rated Shoes for Neuropathy
---
---